Born on December 8, 1981, Philip Rivers is a former National Football League (NFL) quarterback. He played for 17 seasons, primarily with the Chargers franchise where he was traded to by the New York Giants after the 2004 NFL Draft. He played college football at North Carolina State. Rivers played for 16 seasons with the Chargers and played his final season with the Indianapolis Colts.
He is among that handful of quarterbacks who were one of the best but never got to play in a Super Bowl. He is a future first-ballot Hall of Famer. After retiring in January, Rivers was hired by St. Michael Catholic High School in Alabama as the head coach of their football team and has taken over the program full-time.
Who is Philip Rivers' wife, Tiffany Rivers?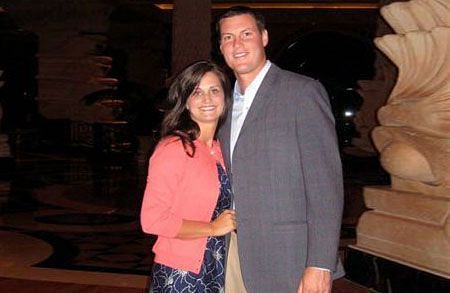 Image source - Google images
Born on November 18, 1982, at Decatur, Alabama, Tiffany Rivers, whose maiden name is Tiffany Goodwin, is the wife of Philip Rivers. She attended Athens High School with her husband, and that's where the pair first met. After graduating high school she went to North Carolina State University in 2000. She is American by nationality. There isn't much information about her parents or siblings available on the internet. She used to work in a daycare center when she was pregnant with her first child and now she owns a Latin-inspired swimwear line called 'Hermoza'.
What is Tiffany Rivers' height and age?
Tiffany Rivers is 38 years old (born on November 18, 1982). She has an average height and a petite figure. No sources mention her exact height details.
What is Tiffany River's Net Worth?
There is no specific information about Tiffany's net worth. On the other hand, Philip Rivers' net worth is estimated to be around $80 million.
What is Tiffany Rivers' Nationality?
Tiffany is American by nationality. Like Rivers, she is a devout Catholic.
What does Tiffany Rivers do for a living?
Tiffany has impeccable taste when it comes to fashion, and owns a swimwear line called Hermoza. She co-founded it with a San Diego-based fashion maven, Marisa DeLecce. Hermoza seems modest but fashionable at the same time. Unlike many, the designs show comfort and style, which is usually lacking when it comes to swimwear.
Hermoza, the brand's name is derived from the Spanish word 'Hermosa' which means beautiful. The line stands by its origin and the collection infuses Latin-influenced prints with vibrant colors, bold designs, and chic-sophisticated elegance. The classic Spanish design is a favorite of many as it perfectly reflects the feminine charm.
Through Hermoza, Tiffany along with her husband launched a campaign in 2019 whose aim is to raise funds and awareness for Type 1 Diabetes. The campaign is called 'Change the Game'.
Tiffany Rivers Social Media
The mother of 9 is not active on any social media platforms. She believes in living in the present rather than capturing images and posting on Twitter and Instagram.
How did Philip meet Tiffany?
Both Philip and Tiffany were born and raised in Alabama and grew close together. But it was in middle school when they started dating. They both also attended the same high school. After their high school graduation, Philip enrolled in North Carolina State University back in 2000, and soon after Tiffany followed him. She also used to stay in Rivers' parents' home when she visited him in college.
After dating for five years, they took their relationship to the next level. In an interview Rivers mentioned how he knew Tiffany was special from the start. He was just a freshman at NC State when they got married in the spring of 2001. Both were 19 and 18, respectively. As one would say relationship goals, the couple has been together for 21 years and counting.
When they welcomed their first child on July 6, 2002, their daughter Halle, the couple was still in college. According to Rivers, it is important to find the people in one's life that bring out the best in them and continue to mold and help them be the person they want to be. Both he and Tiffany complimented each other that way.
How many kids do Philip and Tiffany have?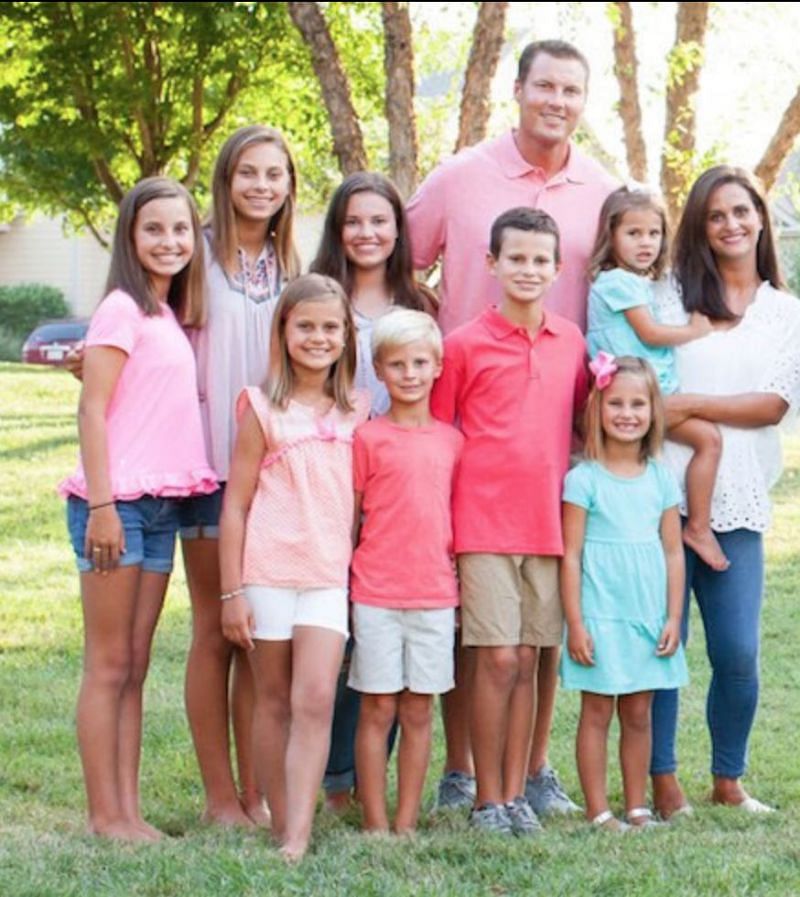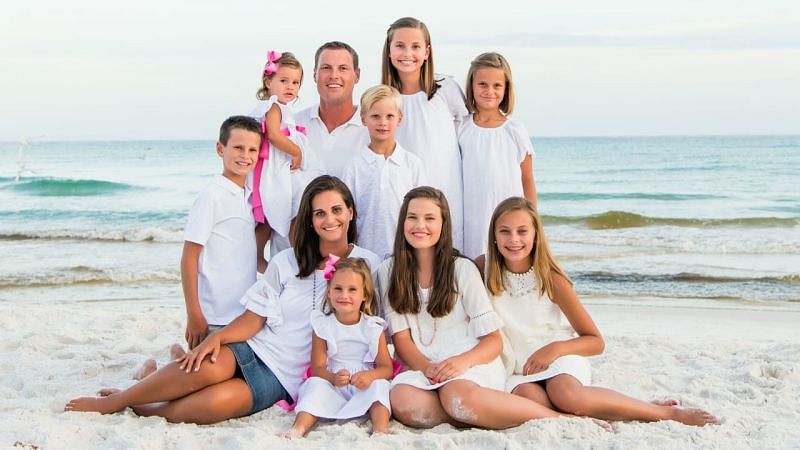 Images source - Google images
The Rivers are proud parents of nine children. They are -
Halle, 19
Caroline, 16
Grace, 15
Gunner, 13
Sarah, 11
Peter, 9
Rebecca, 7
Clare, 5
Anna, 2
In an interview with Page Six, Rivers mentioned that each of his nine children is unique in their way. Halle is in college, Caroline in high school, Grace is an eighth-grader, Gunner is a sixth-grader, Sarah is a fifth-grader, Peter is a third-grader, Rebecca is a first-grader while Clare is just in preschool, and then there's baby Anna.
Also Read: How much is Philip Rivers' Net Worth in 2021?
Other Similar Pages