| | |
| --- | --- |
| Name | Cameron Norrie |
| Source of Income | Tennis |
| Estimated Wealth | $6 Million |
| Age | 27 Years |
| Popular Endorsements | K-Swiss, Babolat, Rado |
| Citizenship | Great Britain |
| Residence | London, England |
Born on 23 August 1995, Cameron Norrie is a professional tennis player. Norrie's hometown is Johannesburg, South Africa. Norrie has British microbiologist parents because his father David Norrie is from Glasgow, Scotland and his mother Helen Norrie is from Cardiff, England. At a very young age, he moved to Auckland, New Zealand, where he initially started playing tennis. While representing New Zealand at the junior level, Norrie was world no. 10.
In 2013, he left New Zealand and started living in London. And then he completed his education at Texas Christian University which is a private institute in the United States of America from 2014 to 2017. Norrie turned professional in 2017, at the age of 22. And his first senior tournament was the ATP Auckland Open, where he only won the first qualifying round.
Cameron Norrie has won 4 ATP titles in his professional career including a Masters 1000 title at the 2021 Indian Wells Masters. His best performance in Grand Slam singles came earlier this year when he reached the semi-final of Wimbledon. The British player was knocked out by Serbian ace Novak Djokovic in the semi-finals at the Centre Court.
Norrie's current ATP singles ranking is 10 while he reached the no. 8 spot on 12 September 2022 after his commendable performance in England. Cameron Norrie has also won an ATP doubles title and his current ranking in doubles is No. 157.
Who is Cameron Norrie's girlfriend, Louise Jacobi?
Louise Jacobi is the girlfriend of British Tennis professional Cameron Norrie. The couple first got to know each other in 2019 at a bar in New York City. Initially, Jacobi was not really interested in him because she didn't like the travelling schedule of the tennis player. But after she lost her job in the end months of the very same year, the couple started getting closer. Louise Jacobi is the co-founder of two agencies that operate in the United States of America.
What is Louise Jacobi's age and height?
Louise Jacobi is 24 years old as she was born on 15 May 1998 in Barcombe, England, United Kingdom. She stands 5 feet 5 inches. Her weight is 55 kg. On the other hand, her boyfriend Cameron Norrie is 27 years old and he stands 6 feet and 2 inches tall.
What Nationality is Louise Jacobi?
Louise Jacobi was born in England and she went to a private high school in Barcombe. Then she moved on to the USA in order to pursue her graduation. Then she came back to England to study Textile and Fashion Design. And now, she's the co-founder of two USA-based firms. She's an American citizen.
What is Cameron Norrie's Girlfriend - Louise Jacobi's net worth?
Cameron Norrie's girlfriend Louise Jacobi completed her Bachelor of Fine Arts at the University of Michigan. Following that, she went to Central Saint Martins in London in order to study Textile and Fashion Design. Her net worth isn't disclosed anywhere. But her lover, Cameron Norrie's net worth is estimated to be around $6 Million. Norrie also has sponsorship deals with K-Swiss, Babolat, and Rado.
What does Louise Jacobi do for a living?
Louise Jacobi is a renowned entrepreneur and Businesswoman. She is also the founder and creative director of the New York-based interior design company Please "Don't Touch". In addition to that, she is also the co-founder of the luxury design firm Studio Virgo, which is based in Santa Barbara, California.
Cameron Norrie and Louise Jacobi's pictures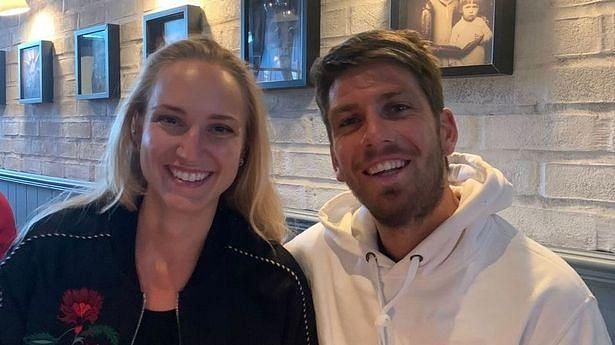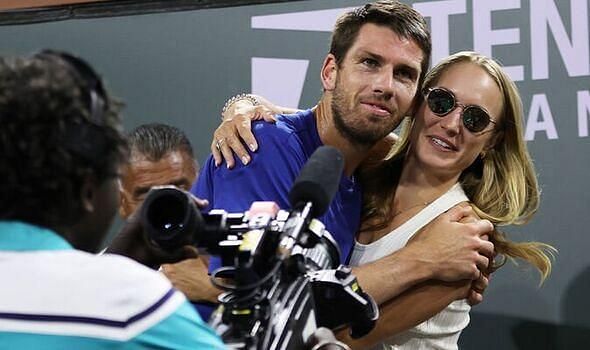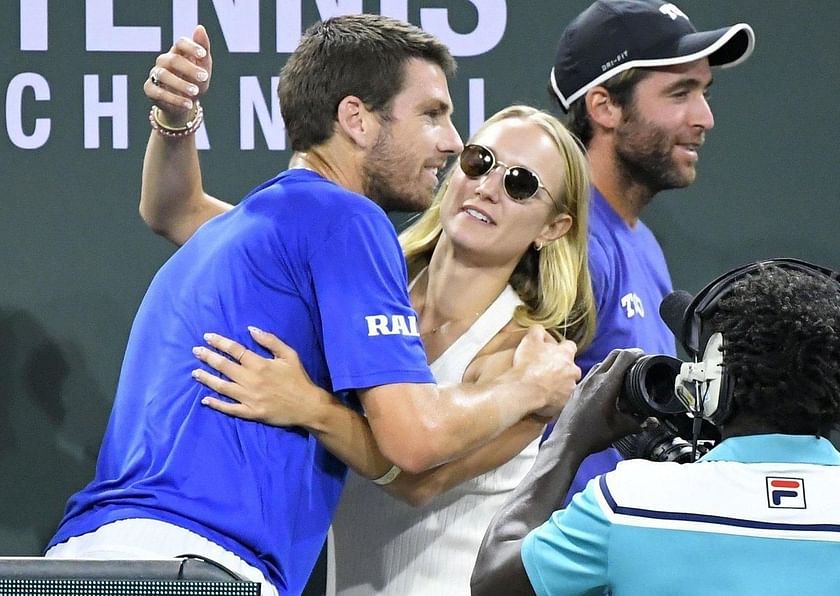 How long have Cameron Norrie and Louise Jacobi been dating?
Louise Jacobi stated that she met Cameron Norrie for the very first time at a bar in New York City in 2019 and they were introduced by a mutual friend. The couple used to keep all things low-key and private but recently, she has started posting about their relationship on Instagram often.
Jacobi has also started watching and supporting her lover very often from stands in recent times. She was spotted at the courtside of the Centre Court at Wimbledon earlier this year, cheering her man. Louise Jacobi even broke down in tears when Norrie defeated David Goffin in the Quarterfinals and reached his first-ever Wimbledon Semi-final.
Not long ago, Jacobi has given people a little insight into her relationship with Cameron Norrie. She stated that she wasn't really interested in Norrie initially because of his travelling schedule. Louise Jacobi lost her job in October 2019. And at the tough time, Norrie asked her to join him at the Vienna Open. She has also regarded their relationship as "special" and "unusual" on various occasions. And now, the couple have been dating for three years.