| | |
| --- | --- |
| Full Name | Brook Robert Lopez |
| Date of Birth | April 1, 1988 |
| Age | 34 Years |
| Nationality | American |
| Height | 7 ft |
| Current Team(s) | |
| Draft | 2008 |
| Role | Center |
| Past Team(s) | |
| Debut | October 9, 2008 |
| Nickname | Brooklyn |
| Partner | Hailee Strickland |
Brook Lopez: A Brief Biography
Born on April 1, 1988, in North Hollywood, California Brook Lopez is an American professional basketball player who plays as a Center for the Milwaukee Bucks in the NBA. He played college basketball for Stanford Cardinal and after 2 years of College Basketball, he was selected 10th overall by the New Jersey Nets in the 2008 NBA draft. He played nine seasons for the Nets until being traded to the Los Angeles Lakers in 2017. He joined with the Milwaukee Bucks in 2018 and has been a key member of the team, helping them win their first NBA title in 50 years in 2021.
His twin brother Robin Lopez is also a professional NBA player (he was drafted 15th Overall by the Phoenix Suns in the same draft).
Lopez is well known for his defensive abilities and for his consistent scoring habit on the court. He has been named to the NBA All-star team once in 2013. Off the court, he is known for his love of comic books and has even written a few himself.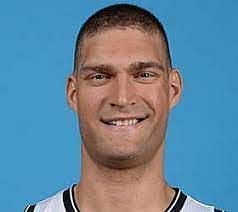 Early Life
Brook was named a third-team All-American selection by the Associated Press, adding to his lengthy list of honors during the 2007-08 campaign, he was an All-Pac-10 Honorable Mention and was named to the All-Pac-10 Freshman Team. He averaged 12.6 points and 6 rebounds in his freshman season and 19.3 points and 8.2 rebounds per game in his sophomore season.
NBA Journey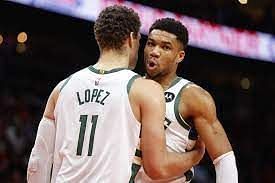 He was selected by Brooklyn Nets as the 10th overall choice in the 2008 NBA Draft. He made his debut in a 95-85 win against the Washington Wizards on October 29, 2008, where he came off the bench for 8 points, 8 rebounds, and 2 blocks in 25 minutes. He had a hugely impressive rookie season as he finished third in the NBA rookie of the Year voting and was named to the NBA All-Rookie first team, The Nets, however, had a disappointing season and failed to qualify for the playoffs.
In 2013, he was selected to play in the 2013 NBA All-Star Game replacing an injured Rajon Rondo. Lopez was a constant force for the Nets and played for them for 9 years before being traded to the Los Angeles Lakers in the 2017 offseason. Lopez is one of the only two players to score 10,000 points for the Nets (besides Buck Williams). He became the Nets' all-time leading scorer at the end of the 2016-17 Season.
He is currently on a contract with the Milwaukee Bucks, a 4-year, $52 million deal. Lopez is a fantastic defender as well. He has had a fantastic year thus far and has the most blocks per game in the league. Thus, the Bucks beat the Suns in a six-match game and won the championship, which was the first for Brook.
Awards and Achievements
| | | |
| --- | --- | --- |
| Award/Accolade | Year | Team |
| NBA Champion | 2021 | Milwaukee Bucks |
| NBA All-Star | 2013 | New Jersey Nets |
| NBA All-Defensive Second Team | 2020 | Milwaukee Bucks |
| NBA All-Rookie First team | 2009 | New Jersey Nets |
Records
He took over as the Nets' all-time leading shot blocker, by surpassing George Johnson's 863 blocks.

He became the second Nets player to ever reach the 10,000-point mark and was the leading scorer in the Nets franchise history surpassing Buck Williams.
Family
Brook Lopez was born to parents, Deborah Ledford and Heriberto Lopez, in North Hollywood, California. He has a twin brother named Robin Lopez who is also a professional basketball player in the NBA. Brook and Robin played college basketball together at Stanford University and were both selected in the first round of the 2008 NBA draft. Brook and Robin Lopez are popular among NBA fans due to their love for Disney. Moreover, much information about their life is not publicly available.
Net Worth
The Bucks Center has an estimated net worth of $26 USD. Lopez had signed to a four-year, $52 million deal contract with the Milwaukee Bucks. For the 2020-21 season Brook Lopez was set to earn approximately $12.6 million, which would have made him the fourth-highest paid player on the Milwaukee Bucks team. His earnings were expected to increase to $13.3 million for the 2021-22 season and $13.9 million for the 2022-23 season. However, his endorsements and other ventures also contribute to his income.
Girlfriend
The 7 '1 " tall NBA player engaged with his longtime partner Hailee Strickland after 13 years of togetherness. Hailee is a digital marketing specialist and a classical pilates instructor. She comes from Burlington, North Carolina and is the eldest of three siblings in her family. She received a bachelor's degree in Apparel Design, Merchandising, and Marketing from Appalachian State University.
Brook Lopez and Hailee Strickland met at Disney's Animal Kingdom Theme Park at Walt Disney World Resort in Florida 13 years ago. He proposed to her in August this year.
Shoes
Brook Lopez has had deals with sports brands such as Adidas and Peak, and has even released his own line of shoes including the Adidas Crazy 8 Lopez Edition and the Peak Team Lightning Lopez Edition but recently Brook Lopez and his twin brother Robin Lopez have both switched to Nike and has been seen wearing his teammate Giannis Antetokounmpo's signature shoe, the Nike Zoom Freak, during games.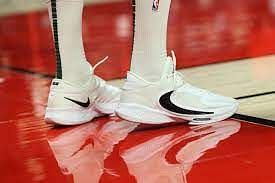 A. Brook Lopez is a center in the NBA, known for his strong defensive skills, ability to block shots and a leading scorer for his team.
A. Brook Lopez is 7 '1 " (2.16 m) tall and weighs 282 lbs (128 kg), plays at the position of Center and is the franchise's all-time leading scorer for Nets.
A. Brook Lopez has played for several NBA teams throughout his career, including the Brooklyn Nets, Los Angeles Lakers, and Milwaukee Bucks.
A. Yes, Lopez has been a NBA All-star once in 2013 while playing for the New Jersey Nets.
A. Yes, Brook Lopez has a twin brother named Robin Lopez who is also a professional basketball player in the NBA.