| | |
| --- | --- |
| Full Name | Devin Armani Booker |
| Date of Birth | October 30, 1996 |
| Age | 26 years |
| Nationality | American |
| Height | 6 ft 6 in |
| Current Team(s) | |
| Draft | 2015 |
| Role | Shooting Guard |
| Past Team(s) | |
| Debut | June 25, 2015 |
| Nickname | Book" or "Dbook |
| Partner | Kendall Jenner |
Devin Booker: A Brief Biography
An American basketball player "Devin Armani Booker" was born on 30 October 1996 and is a player of the Phoenix Suns of the National Basketball Association (NBA). During his college career, he was a player of the Kentucky Wildcats and played for it for one season after that the Phoenix Suns selected him in the first round of the NBA draft, in 2015.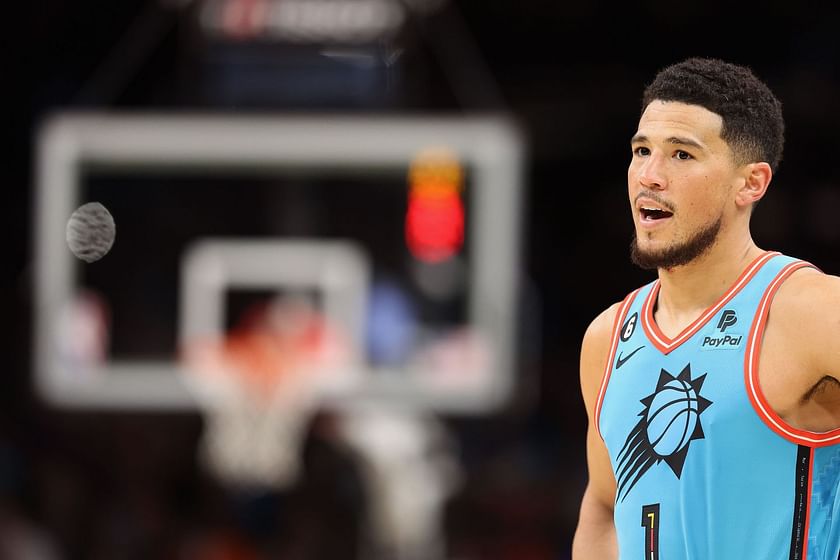 Devin Booker's Net Worth
Devin Booker, an American basketball player has a net worth of 30 million dollars and he played as a shooting guard at Moss Point High School. Booker is a player for the Phoenix Suns and Phoenix Suns are expecting to win the NBA championship one day just because of him. The team offered him an extension with a five-million-dollar salary per annum, it was just because he was so valuable to them and that means that he is going to play for them for the next two years this contract will end in 2024 and if he will accept this contract, then he would have played for the same organization for about 15 years.
A huge proportion of his net worth came from the basketball court and some from the endorsement deals. He is the future of the Phoenix Suns as this team has been built around him and because of this this team always tries to assign him for their upcoming seasons as he has maintained the reputation of the team till now.
Read more about Devin Booker's net worth
Devin Booker Education
Devin was admitted to Grandville High School which is situated in Michigan, United States and he finished his freshman year in this school. later, he moved to Mississippi to live with his father after his retirement from professional basketball. In 2011, Devin enrolled at` Moss Point High School as his father also worked there as an assistant coach. His father trained him in basketball along with his academic education and Devin played many matches against distinct teams but initially, they lose some matches as they are fresher in this game. Despite that, Devin scored good points as compared to his other teammates.
For his Junior Year, he switched to point guard and in his early game in December, he outscored Ocean Springs High School. He lose a game against Harrison Central High School due to an injury in his ligament but fortunately this injury was examined as Minor and did not disturb him in Moss Point's next game he scored 26 points in match with Davidson High School that was held in Jackie Laird Christmas Classic at Biloxi High School.
Devin Booker joined the Kevin Durant Skills Academy in the summer of 2013 and he also participated in the Nike Global Challenge. On the weekend of September 9, he visited the University of Kentucky to observe an alumni exhibition game.
In his college career, Booker was the second leading scorer in Kentucky's first exhibition game against the University of Pikeville on the 2nd of November, 2014 and he played 38 games in total for Kentucky.
He declared for the NBA draft on April 9, 2015, and his fellow teammates (Andrew Harrison, Aaron Harrison, Dakari Johnson, Willie Cauley-Stein, Trey Lyles, and Karl-Anthony Towns) also joined the match.
Devin Booker Parents
The famous basketball player was born in a nuclear family including his father (Melvin Booker), and mother (Veronica Gutierrez) along with his siblings, Davon Wade and Mya Powell. His father was rewarded as the 1994 Big Eight Player of the Year and his mother is a Cosmetologist and belongs to Mexican and Puerto Rican descent. Booker was born and grew up in Grand Rapids Hoops, Michigan. His father continued his career as an international basketball player and taught him a lot about basketball.
Read more about Devin Booker Parents.
Devin Booker Brother
Professional Basketball players brother "Davon Wade" is Booker's older brother and was born on Feb 17, 1993. He realized his talent as a player and he enrolled at Western Michigan University. He lost his grandfather in June 2017. He is recognized as one of the richest family members having a net worth of $5 million, as per the reports, he is possibly single and no past records about his relationship status are available till now.
Devin Booker House
Devin Booker was living in a house in old Paradise Valley for $3.45 million and he lived there for 2 years and shifted to new house in the Paradise Valley that he bought for 3.2 million dollars, it was a 5,000 square-feet house the views of mountains, it is a 4 bhk house with all modern amenities like spa, private pool, 4- car garage. The interior of the house looked modern with a little touch of Nostalgia mixed in it.
The furniture of the house is designed by his team in collaboration with LA-based Karan Brady Interiors and for his teammates tall up to 12 feet, special sofas have been designed, so that they can comfortably relax on them.
Booker has made a very big room in his house and named it as the Great Room, this room has beautiful views of the mountains and a large glass open up to the pool. All the rooms in the house have a fireplace under the Television as there is extreme cold in Arizona.
After the fully loaded rooms, it comes the most important part of the house, 'Kitchen'. The kitchen of this house is full of space which provides an area for people to chill and enjoy the food. Devin has a lot of friends, so he likes to have dinner with them and his own family and for that, a dining table has been placed with a wine cellar on the right as he is strongly obsessed with it.
Devin Booker Contract
As per the latest reports, Devin has signed a 4-year contract worth $224 million with the Phoenix Suns and he acts as a backbone for them. An increment of 6.89 percent is noticed in their earnings as compared to his 2021-22 and became the 27th best-paid player of this year. After assigning Booker, the owner of the Phoenix Suns said in a statement which was released by his team that, "Devin had a great impact on our organization, our fanbase and the valley community since he first arrived in Phoenix" on the other hand Booker released a statement via his team in which he thanked Phoenix and claimed that this organization allowed him to grow.
Devin Booker Tattoo
The last match played by booker was against Kobe, the late Los Angeles and he was told to be legendary, he scored 28 points in that game and became the game's best young talent and rising superstars. Recently, he got a tattoo saying 'Be Legendary' on his forearm as a tribute to Kobe Bryant. Along with his, he got one more tattoo on his wrist with the initials D, D, V, and M. These symbolize the name of his family members including his older brother Davon Wade, younger sister Mya Powell and his mother Veronica Gutierrez as his bond with his family is of great importance for him.
Devin Booker Rookie Card
After being selected as the 13th overall pick by the Phoenix Suns in 2015 and his rookie cards got a lot of attention at that time and their sales was boosted. A lot of variety of cards is available according to the preference and the budget of the buyers. Many of his cards are veery popular among people as they are pocket friendly and have good reputation. One of them is 2015 Panini Prizm Devin Booker RC #308, it is one of the best rookie card as it has a good print and quite easily available. Another reason for this card to be famous is that this card has good reliability. Many other rookie cards are also available in the market ranging from a low price to quite expensive ones.
A. After being selected as the 13th overall pick by the Phoenix Suns in 2015 NBA draft, he became a point of attraction among people and also became the first basketball player to record more than 30 points in his basketball career.
A. Devin Booker is now unable to participate in any match due to an injury in his thigh and cannot play for four weeks.
A. Being a professional basketball player, Booker has invested in many startups like Buzzer, GoPuff and his collaborations with various brands including Nike, Corona beer and Sweetgreen have contributed a lot in his wealth.
A. Devin Booker owns two Buick Grand Nationals and uses them for regular driving and along with these he have a conventional Grand National which he use for city errands.
A. Throughout his basketball career, Booker has a record of 231-275.