Adrian Peterson: A Brief Biography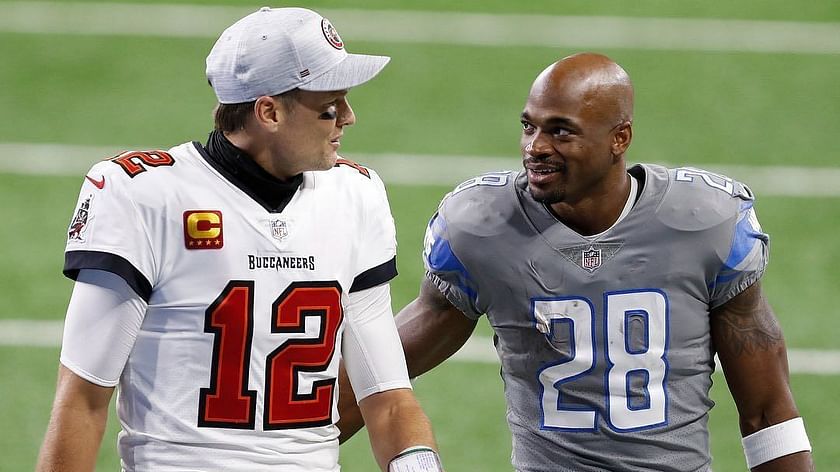 Imagine being so good at football that you get into the hall of fame in states you never played for. That is Adrian Peterson. The man has many talents but one that stands out is his performance on the football field. Some consider him one of the best NFL running backs.
First off, the fact that Peterson only missed 9 games in the 14 seasons he spent as an athlete is ridiculous. When Peterson decided to run and gun to the end zone, there was no stopping him because of his speed, power, and elusiveness.
Peterson holds a lot of personal records in the NFL. The most impressive one is, arguably, the record where he holds the most rushing yards in a single game with 296.
When Peterson came back from the gruesome ACL and MCL injury in 2012, he rushed for 2097 yards where he was just nine yards away from breaking Eric Dickerson's single-season record. Finally, to put the cherry on top, Peterson was named the 2012 NFL Most Valuable Player.
Off-the-field, Peterson had a lot of controversial involvements like child abuse which ultimately led the league to suspend Peterson for the entire 2014 season. Despite some of his injuries and controversies, Peterson is without a doubt, one of the best running backs anyone has ever seen. He was a winner and a championship-caliber player.
Adrian Peterson's Personal Information
| | |
| --- | --- |
| Name | Adrian Peterson |
| Age | 38 years old |
| DOB | 21 March, 1985 |
| Nationality | American |
| Mother Name | Bonita Jackson |
| Father name | Nelson Peterson |
| Profession | Professional American Football |
| Net Worth | $1 Million |
| Height | 1.85 m (6 feet 1 inch) |
| Weight | 98 kgs |
| Education | University of Oklahoma |
| Relationship Status | Married |
Adrian Peterson's Early Life
Adrian Peterson was born in Palestine, Texas, on March 21, 1985. Childhood trauma and loss heavily plagued Peterson's childhood. This is because his older brother was killed by a drunk driver when Peterson was just 7, and his father was imprisoned for drug trafficking when he just started his teen years at 13.
Despite all the negativity surrounding Peterson, Football was an escape for him. He excelled as an athlete at Palestine High School, rushing for over 2,000 yards in his junior and senior years. He was also a track star who won multiple state titles. His speed when he ran was something to behold. It even translated going into the NFL and when he dashed, it was like there was no other like him.
When it comes to his college resume, Peterson selected Oklahoma over other prestigious institutions with scholarships. When Peterson joined, he immediately helped the Oklahoma Sooners. He rushed for over 1,900 yards and set the freshman record in 2004. Adrian Peterson was consensus All-American and Heisman Trophy runner-up after his first stint with the Sooners.
Peterson ran for over 1,000 yards in his following 2 seasons at Oklahoma while also winning the Big 12 Offensive Player of the Year in the year 2006.
Adrian Peterson's Personal Life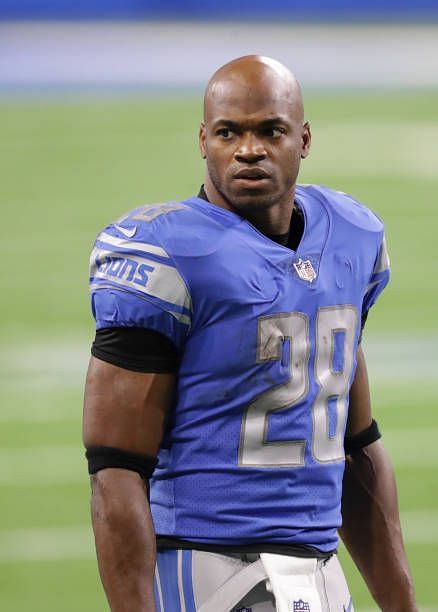 Adrian Peterson chose Ashley Brown Peterson as his life partner. The couple have two children and their names are Adrian Peterson Jr. and Axyl Eugene Peterson. Peterson shared a lot of history with various women. In fact, Peterson has six more children from six different women.
Peterson is a loving husband and parent. He shows this by spending time with his family. His other interests also include his love for cars and motorcycles. He frequently goes out and promotes literacy and education because Peterson has realized how important it is to help his community grow. Last but not least, Peterson founded the Adrian Peterson Foundation to support needy children and give back to the community.
Adrian Peterson has several non-athletic interests that fans would like to know like;
He represents Nike, Gatorade, and EA Sports.

He has been featured in several commercials and TV shows.

He has written a book called "All Day: A Memoir."

Co-founder of Texas Fitness Center which is an All Day Training Facility.

He co-founded the non-profit All Day Youth Foundation, which offers youth educational and athletic programs.
Adrian Peterson's Family Background
Bonita Brown and Nelson Peterson are Adrian Peterson's parents. His father, Nelson, was an Idaho State shooting guard, but a gun his brother was cleaning shot his leg, ultimately ending his NBA career hopes. Other sources also say that Nelson used to be very tough on Adrian. Beating him to a pulp sometimes, disciplining him with strict measures. His mother, Bonita, was a 3-time Texas state champion at Westwood High School. She later attended the University of Houston on scholarship.
Peterson had a hard upbringing. When Peterson was 7, a drunk driver killed his elder brother Brian. When Peterson was 13, his father was imprisoned for 10 years for cocaine money laundering. Being a child, no one should go through this but at the same time, Peterson says that all these events made him unbreakable.
A major influence on Peterson was his mother. She taught him to work hard and pursue his aspirations. Knowing the importance of literacy, she stressed education to him too.
The Peterson family has always supported his work. His mother has attended all his games, while his father has always advised and supported him despite giving Adrian a hard time while growing up.
Adrian Peterson's Wife
Ashley Brown Peterson is Adrian Peterson's wife. Adrian Peterson Jr. and Axyl Eugene Peterson are their children from their 2014 marriage. Ashley, as an individual, is private and rarely posts on social media. She is known for being a supportive wife and mother.
Adrian has had way too many partners to keep up. So the information above may not be 100 percent accurate.
Adrian relied on Ashley throughout his career. She supported him through his 2014 suspension and 2012 ACL injury. She has also spoken out about her domestic violence experience from her other relationships and advocates for prevention.
Ashley inspires many ladies today. Being a strong and independent woman herself, she is dedicated to her family and profession. Her domestic violence prevention advocacy shows nothing but bravery from her side.
Adrian Peterson has always praised his wife's help and support throughout his career. He calls her his "best thing" ever. He also admires her domestic violence prevention efforts.
Adrian Peterson's Kids
Adrian Peterson has seven children from seven different women. His kids are:
Adrian Peterson Jr. (2013) with partner, Ann 'Ashley' Doohen

Axyl Eugene Peterson (2019) with partner, Ashley Brown Peterson

Adrian II (born 2008) with partner, Adrianna Peterson

Peyton Peterson with partner Erica Syion.

Noah Peterson (2011) with partner, Ashley Vadala

2012-born Joseph Peterson with partner, Dacie Peterson

Tyrese Robert Peterson (2008) with partner, Tasha Mack
Please note that the partners that Adrian has dated are not clear and there is very little information about when or who Adrian was dating. So the names of the women could be very different. He may have been involved with many women who are unknown to the public.
Peterson's kids have endured a lot. Some have dealt with the hardships of having a famous sports father, while others have dealt with a negative media father figure. The Peterson children are resilient and have overcome a lot of the adversities that their father brought into the picture.
One of the most tragic stories for a child, however, is the one where Adrian's son, Adrian Peterson Jr, was shot in the head when he was just 2 years of age. Ann Doohen was the mother of Peterson Jr. and Ann's partner at that time, beat Peterson Jr causing severe head damage. This ultimately led to Peterson Jr's death at the age of 7.
Peterson's kids make him proud. He encourages their ambitions. He also wants to give kids an excellent education and a loving home.
Despite talking very positively about his children and how much he loves them, Peterson was charged because of how he beat and spanked his 4 year old. This caused the child to have multiple bruises on his buttocks and his scrotum. Meanwhile, Peterson was asked to perform 80 hours of community service with a two-year probation period and was fined $4,000. This also included being suspended for an entire year from the NFL.
Adrian Peterson's Social Media
Adrian Peterson is quite active on social media. He frequently posts on Instagram and lets the world know what he is exactly up to these days.
Here are his official Social Media links:
Instagram: https://www.instagram.com/adrianpeterson/
Twitter (Now X): https://twitter.com/adrianpeterson
Adrian Peterson's Net Worth
Adrian Peterson's current fortune is estimated at $1 million by Celebrity Net Fortune. This amount includes his professional football earnings, endorsements, and commercial interests.
NFL career earnings exceeded $100 million for Peterson. He also endorsed Nike, Gatorade, and EA Sports. Peterson also runs the Adrian Peterson Foundation, which aids needy kids.
Poor financial management and legal issues have reduced Peterson's net worth in recent years. Having indulged in multiple controversial lawsuits, Peterson is somebody who just could not stay away from trouble. In fact, most of his money is now gone due to his poor choices and making noise a lot more off-the-field for all the wrong reasons.
Some sources also say that Peterson's lawyer had announced that Peterson was bankrupt, some years back. Now Peterson has realized his poor choices and is starting to find his foot again to build his business and reputation back. However, his damaged reputation is not going to be easy to regain. The best example of this is how CCN headlined an article with the title "Adrian Peterson Is Dead Broke Because He Was Too Dumb to Buy Stocks."
A more complete overview of Adrian Peterson's wealth:
NFL salary: Peterson made over $100 million and was the league's highest-paid running backs for years.
Endorsements: Peterson endorsed Nike, Gatorade, and EA Sports. These endorsements made him millions.
Business ventures: Peterson's Adrian Peterson Foundation and his apparel company.
| | |
| --- | --- |
| Year | Net Worth |
| 2022 | $1 Million |
| 2021 | $1 Million |
| 2020 | $2 Million |
Adrian Peterson Brand Ambassador
Adrian Peterson has endorsed many brands, including Nike, Gatorade, EA Sports, Castrol, Verizon, Adidas, Hyperice, 4G Identity Solutions
Peterson's success as an athlete, role model, and philanthropist makes him a popular brand ambassador. Being a father of seven did make him relatable to many consumers and that was the perfect marketing strategy for the majority of these MNCs (Multi-National Corporation). This still comes as a surprise due to his controversial moments off-the-field. Nevertheless, his play may have helped him land the deals mentioned above.
Peterson's brand ambassador engagements have increased his wealth and audience. He has promoted education and domestic violence prevention, to increase his goodwill amongst the people and gain their trust again.
Adrian Peterson's Investments
Past investments by Adrian Peterson include:
Real estate: Peterson has a Palestinian home and a Corsicana ranch.
Businesses: Peterson co-founded the Texas fitness center All Day Training Facility and the non-profit All Day Youth Foundation, which offers educational and athletic initiatives for youth.
Stocks: Peterson may also own stocks and bonds, but is not confirmed. After going from a hundred million dollars to near bankruptcy, Peterson may have learned the importance of investing.
More information on Adrian Peterson's investments:
Digital radio platform Dash Radio was funded by Peterson in 2018.
Peterson launched the All Day Investment Fund with The Colony Group in 2021.
Adrian Peterson's Career Stats
| | |
| --- | --- |
| NFL Stat | Total |
| Games Played | 182 |
| Rushing Attempts | 3,230 |
| Rushing Yards | 14,918 |
| Rushing Touchdowns | 126 |
| Receptions | 305 |
| Receiving Yards | 2,474 |
| Receiving Touchdowns | 10 |
Adrian Peterson's Achievements
Adrian Peterson's NFL accomplishments:
NFL Offensive Rookie of the Year (2007)

2007–2015 Pro Bowl selection

4x First-Team All-Pro (2007–2012)

Winner of the 2009 and 2012 Bert Bell Awards

NFL MVP (2012)

2012 NFL Comeback Player of the Year

2012 NFL Offensive MVP

NFL 2010s All-Decade Team

NFL fifth-leading rusher (14,918 yards)

Seventh in NFL history for running touchdowns (126).
Adrian Peterson's Contract
Adrian Peterson had a long and successful NFL career, earning several hefty contracts. A brief overview of his NFL contracts:
2007–2011: Vikings rookie Peterson signed a $40.5 million contract. Was the highest-paid RB with this.
2012–2017: Vikings signed Peterson to a seven-year, $96 million contract. Yet again he was on top of the highest-earning RB.
2018: Saints signed Peterson to a $1.015 million contract.
2019: Redskins signed Peterson to a $5.03 million contract.
2020: Lions signed Peterson to a $1.05 million contract.
2021: Seahawks signed Peterson to a $1.075 million contract.
Peterson earned nearly $100 million from NFL contracts alone. He lost most of his money and his lawyer declared that the man was almost bankrupt. It is quite shocking when a player like Peterson would spend his money the way he did. Being one of the highest-paid NFL running backs, nobody could have seen this coming.
Adrian Peterson's Diet
Adrian Peterson was noted for his stringent diet and nutrition. He ate six meals a day and stuck to healthy foods. His diet was heavy in protein and complex carbs and low in processed and harmful fats.
The diet of Adrian Peterson during his playing career:
Breakfast:
4-5 eggs

Low-fat bacon

Berries and nuts in oatmeal
Lunch:
A grilled chicken or seafood

Salad with vinaigrette dressing and brown rice.
Dinner:
Salmon or steak

Sweet potato, and broccoli are snack options.
Snakes:
Protein Shakes

Fruits and veggies

Seeds and nuts
Adrian Peterson's House
Adrian Peterson's 10,582-square-foot mansion in The Woodlands, Texas, is his most notable residence. Adrian got the home for $5.05 million in 2013. Later the crib was sold for $4.7 million in 2020.
On a roughly 9-acre wooded lot, the mansion features 7 bedrooms, 8 full bathrooms, and 5 half-baths. A resort-style pool with a swim-up bar and lounging area. His crib also includes a huge chef's kitchen, five fireplaces, two outdoor kitchens, a two-story library, and a walk-in wine cellar are all included. A media room and game room with a full bar are featured in the mansion.
Peterson is noted for his hospitality, hosting several parties at his estate.
Adrian Peterson's Cars
Adrian Peterson owns many cars, but his most memorable ones include:
Since Peterson is from Texas, he owns a Ford F-150. This powerful, durable full-size pickup truck is ideal for hauling gear or pulling a trailer.
Peterson has a BMW M6, a sports car. This vehicle can achieve 190 mph with a 560 horsepower and a V8 engine.
Cadillac Escalade: Peterson has a full-size SUV. This SUV is recognized for its powerful engine and lavish cabin.
A. Adrian Peterson is 38, born March 21, 1985.
A. Adrian Peterson played collegiate football at Oklahoma.
A. Adrian Peterson is known as "A.D." or "All Day."
A. Adrian Peterson left the NFL in 2021.
A. Adrian Peterson is visiting family and friends. He also runs the Adrian Peterson Foundation, which supports needy kids.
A. The Pro Bowl has hosted Adrian Peterson seven times.