Dirk Nowitzki, is one of the greatest basketball players of all time and is known for his impressive skills on the court as well as his humble and down-to-earth personality off it. He is a former Champion, NBA MVP, NBA Finals MVP, a 14-time All-star, and has led his team in 15 playoff appearances. But what many people may not know is that Dirk has been happily married to Jessica Olsson since 2012.
Who is Dirk Nowitzki's Wife, Jessica Olsson?
Jessica Olsson is a Swedish-Kenyan businesswoman and philanthropist, who gained widespread recognition for being the wife of NBA legend Dirk Nowitzki. In her early years, Olsson grew up in Sweden, where she attended school.
Jessica Olsson was born to a Kenyan mother and a Swedish father on November 27, 1977. She was born in Gavle, Sweden.
Olsson obtained her Bachelor's degree from The University of Stockholm and her master's degree in International Business Administration from the European Business School in Germany. After completing her studies, she began working as a project manager for a company based out of Sweden called CSI Sports.
The 44-year-old has younger twin brothers Marcus and Martin, who are professional soccer players in the UK. Marcus plays for the Swedish club Helsingborgs IF and Martin plays for BK Häcken.
What does Jessica Olsson do for a living?
Jessica Olsson is known to be artistically inclined and works at the Dallas Art Gallery. She is also known for her charitable works and is also an Associate Director at Goss-Michael Foundation.
Despite being married to one of the most recognizable sports figures in recent history, Jessica Olsson has largely managed to maintain her privacy. That said, she has been heavily involved with charitable organizations such as The Gates Foundation and UNICEF.
Despite being married to one of the most famous athletes in the world, Jessica prefers to keep a low profile. She rarely gives interviews or makes public appearances with her husband unless they are attending a charity event together.
Jessica Olsson's age and height
Jessica was born on July 19th, 1978 which makes her about 45 years old. She stands at 5 feet 1 inch, much shorter than her 7ft tall, Hall of Famer husband.
Jessica Olsson's Net Worth
Jessica Olsson's net worth can be estimated at over $1 million, which comes from her art gallery, of which she is the director. She is also the proprietor of her husband's holdings.
How long have Dirk Nowitzki and Jessica Olsson been married?
From the moment they met, the couple hit it off immediately and began dating soon after.
On July 20, 2012, the sweet couple tied the knot in a private ceremony that was attended by family members and close friends.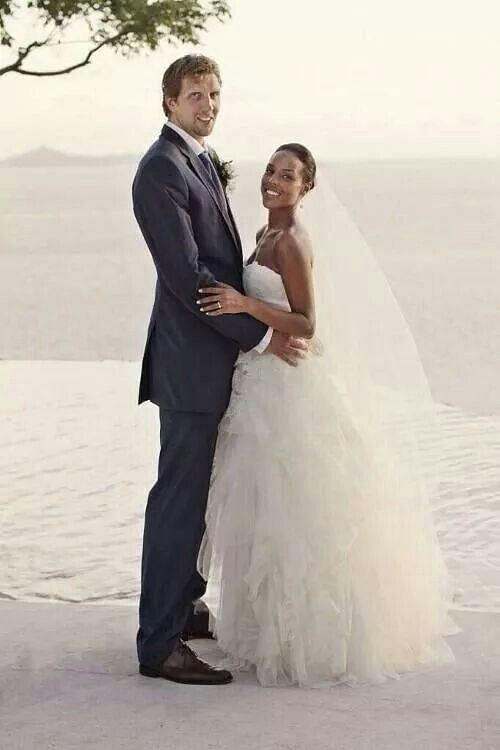 They got married in Dirk Nowitzki's home situated in Texas. However, the couple did have a private, traditional Kenyan wedding ceremony, where Dirk was asked to identify his wife from among five veiled women, a cultural gesture to show his love, which he successfully did.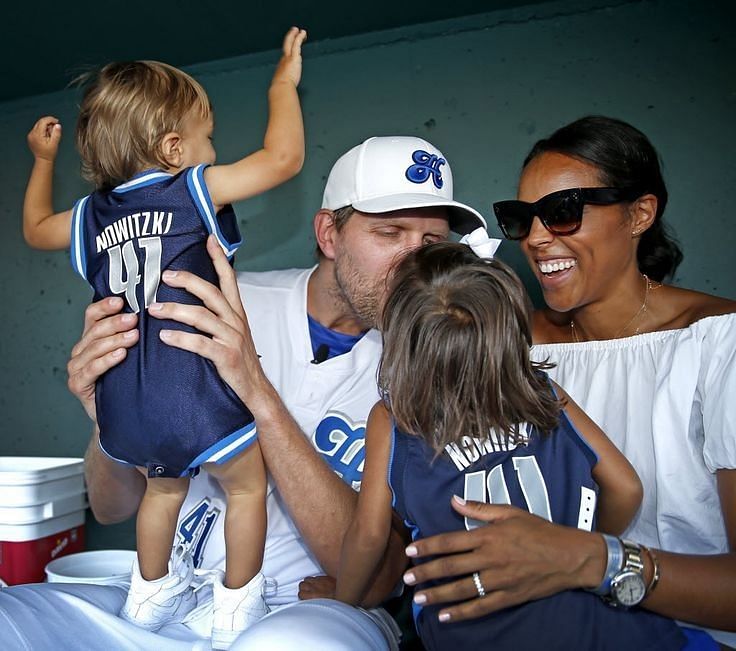 Since their auspicious wedding, Dirk and Jessica have welcomed three children into their family: Malaika, Max, and Morris. They welcomed their first child Malaika in July 2013. In 2015, Jessica gave birth to their second child Max before eventually having Morris in 2016.
Dirk has spoken highly of his wife numerous times throughout their marriage, describing her as "supportive" and "amazing." He credits her with helping him maintain a balance between his personal life and professional career.
How did Dirk and Jessica meet?
The couple met at a charity event for the Sports for Education Economic Development in the year 2010. The organization uses basketball as a platform for youth to be engaged in leadership, academic, and athletic programs.
Dirk Nowitzki was immediately smitten with Jessica Olsson and the couple started dating and soon tied the knot in 2012. They dated for several years before eventually tying the knot during two separate ceremonies - one traditional African ceremony held in Kenya and another private ceremony held shortly thereafter at Nowitzki's home country of Germany.
The president of the Dallas Mavericks Donnie Nelson, in an interview, called Jessica a 'life-changer and stated that she brought balance to his life.
Overall, Jessica Olsson is a well- regarded intelligent, driven woman whose hard work has helped propel her career forward while also making valuable contributions toward global humanitarian efforts.
FAQs
Q. Is Jessica Olsson trilingual?
A. Yes. Jessica is fluent in Swedish and English with considerable fluency in German.
Q. Is Jessica Olsson Kenyan?
A. Jessica Olsson isn't entirely Kenyan but does belong to Kenyan ancestry. Jessica was born to a Kenyan mother and a Swedish father.
Q. Is this Jessica Olsson a millionaire?
A. Yes. Her net worth suggests that Jessica is worth about a million dollars.
Q. How long have Dirk and Jessica been married?
A. For 10 years and 8 months.