| | |
| --- | --- |
| Full Name | Ezekiel Elliott |
| DOB (Age) | 22-07-1995 (28 yrs) |
| Height | 6 ft 0 in (1.82 m) |
| Weight | 225 lbs (102 kgs) |
| Born | St. Louis, MO |
| College | The Ohio State University |
| Draft | 2016 - Rd: 1, Pick: 4 (DAL) |
Ezekiel Elliott: A Brief Biography
Ezekiel Elliott is currently the running back for the NFL team, Dallas Cowboys. The seasoned running back has already turned heads with his performances in the league. He led the league in rushing yards in 2016 and 2018. The Cowboys drafted him in the 2016 NFL draft and since then he has become a starter for the team. He has been selected in three Pro Bowls and two All-Pro selections.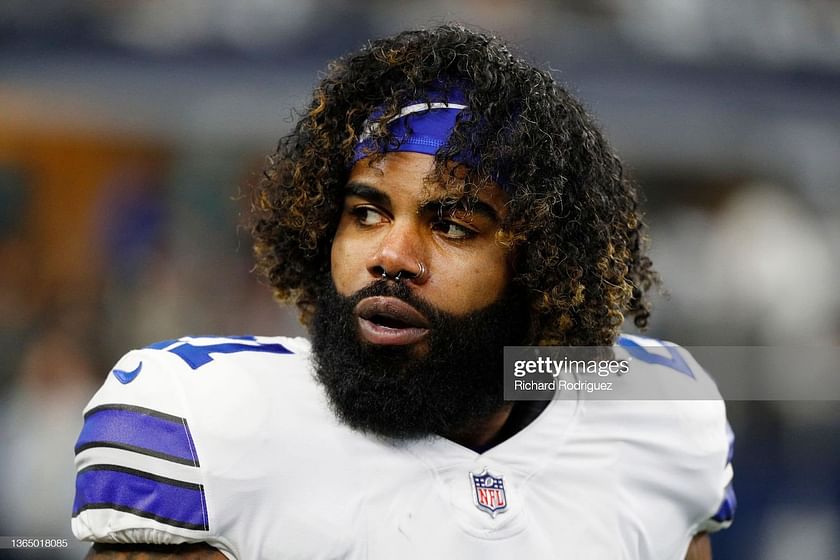 Ezekiel Elliott's Early Life and Background
Ezekiel Elliott was born on July 22, 1995, in St. Louis, Missouri, in the United States.
He hails from an athletics family as former Missouri football linebacker Stacy Elliott is his father. Dawn Huff, his mother, won three state high school championships. His maternal grandfather played basketball at Drake University.
Elliott participated in football, basketball, baseball, and track at John Burroughs School in Ladue, Missouri. He rushed for 1,802 yards and scored 34 touchdowns in football as a junior. He also hauled in 23 catches for 401 yards and six more touchdowns. Elliott amassed 3,061 all-purpose yards and 50 touchdowns as a senior, including 2,155 rushing yards and 40 rushing scores in addition to 16 receptions for 383 yards. He competed in the 2013 U.S. Army All-American Bowl and was rated the ninth-best running back in the nation. As a senior, Elliott won four state championships in the 100-meter dash, 200-meter dash, 110-high hurdles, and 300-meter hurdles in addition to his football achievements. Elliott had several Division I offers, but he chose to attend Ohio State University.
From 2013 to 2015, Elliott was a member of the Ohio State Buckeyes for three seasons.
He was a vital part of the team in 2014 when they won the Big-Ten title and defeated Oregon in the College Football Championship. He had 36 carries for 246 yards and four touchdowns, earning offensive MVP honors in the championship game. Elliott gained more than 4,400 yards from scrimmage in addition to rushing 592 times for 3,961 yards and 43 touchdowns. Elliott was chosen unanimously for the First Team All-Big Ten and was named the 2015 Graham-George Offensive Player of the Year. Behind legendary Ohio State running back Archie Griffin, he had the second-most career rushing yards (3,961) and yards per game (101.6). Elliott tied Eddie George for the most 100-yard running games ever in a season with 12 in 2015. Only he and George have five 200-yard running performances for Ohio State. Elliott won the Big Ten Offensive Player of the Year and Most Valuable Player awards in 2015.
Who Drafted Ezekiel Elliott?
Ezekiel Elliott was selected in the first round by the Dallas Cowboys with the fourth overall pick in the 2016 NFL Draft. Elliott was expected to be selected in the top 10 and was regarded as the most complete running back to enter the NFL since Adrian Peterson in 2007. He was compared to the illustrious Colts running back Edgerrin James in an NFL.com draft breakdown, and was described as a three-down back with a "rare combination of size, athleticism, pass-catching and blocking skills," adding that he "should still come out of the gates as one of the most productive young running backs in the league."
Ezekiel Elliott's NFL Journey
Ezekiel Elliott had a great start to his NFL journey as he was named as the starting running back when the season commenced. Since his 2nd Week in the NFL, Elliott had already established a streak of over 100 yards per game, which continued till Week 6. He passed Tony Dorsett as the second Cowboys rookie to carry for more than 1,000 yards in a season following the ninth game of the 2016 campaign. In addition, he joined Adrian Peterson and Eric Dickerson as the third running back to surpass 1,000 yards in rushing despite playing only nine games in his career.
With 1,631 yards, Elliott concluded his rookie season as the NFL's leading rusher, the third-most by a rookie (after Eric Dickerson's 1,808 in 1983 and George Rogers' 1,674 in 1981), and the youngest player to surpass 1,600 yards. With Dak Prescott, Elliott became the first rookie running back and quarterback tandem in NFL history to be selected to the Pro Bowl as a consequence of his excellent season, being named to the First Team All-Pro and earning his first trip to the big game. The highest-ranked running back on the NFL Top 100 Players of 2017, he was also ranked seventh by his peers.
Elliott was suspended for the first six games of the 2017 NFL season on allegations of domestic abuse against his ex-girlfriend. Although Elliott was never charged criminally he was still suspended by the NFL. However, the suspension was put on hold indefinitely by a federal judge. After playing 2 games in the start of the 2017 NFL season, Elliott Ezekiel had to serve his 5 game suspension. In addition to 26 receptions for 269 yards and two touchdowns, Elliott concluded the 2017 season with 242 carries for 983 yards and seven scores in 10 games and starts.
Peers placed him 54th on the 2018 NFL Top 100 Players list.
Elliott reached the playoffs again in the 2018 NFL season with the Cowboys after he helped them finish top of the NFC East division. In 15 games and starts, Elliott concluded the 2018 season with 1,434 running yards, six touchdowns, and 77 catches for 567 yards and three more scores.
For the second time in three seasons, he was the rushing champion. For his 2018 campaign, Elliott received a second Pro Bowl selection.
Elliott signed a six-year, $90 million agreement with the Dallas Cowboys prior to the 2019 season, making him the highest-paid running back in the NFL with more than $50 million in guaranteed money. During the 31-28 victory over the Minnesota Vikings in Week 11 of the 2020 season, Elliott carried for 103 yards, added 11 yards and a receiving score. Elliott's 100-yard running performance was his first of the year. In Week 16's 37-17 victory over the Philadelphia Eagles, he had 19 carries for 105 running yards. Overall, Elliott had 52 catches for 338 receiving yards and two receiving touchdowns, for a total of 979 running yards and six rushing touchdowns in the 2020 season. In order to free up some salary cap room, the Cowboys restructured Elliott's contract on August 27, 2021, turning $8.6 million of his basic salary for the next season into a signing bonus. Elliott was able to start all 17 games despite suffering from nagging knee and ankle problems for the bulk of the season. He rushed for 1,002 yards and 10 touchdowns on 237 attempts while also catching 47 passes for 287 yards and two more scores. Two of his games went over 100 yards, and four of them had multiple touchdowns.
Ezekiel Elliott's Teams
Dallas Cowboys (2016-Present)
The Dallas Cowboys picked Ezekiel Elliott as the fourth overall choice in the first round of the 2016 NFL Draft. With 1,631 yards and 15 running touchdowns in his debut season, Elliott helped his club get to the divisional round of the playoffs. He was selected for the First-Team All-Pro and 2016 PFWA All-Rookie teams. Ezekiel Elliott has amassed almost 4,000 yards on 868 attempts, 28 running touchdowns, 135 receptions for 1,199 yards, and six more scores. In 2016 and 2018, he was the top rusher in the NFL, and he has been chosen for two Pro Bowls. Ezekiel Elliott is currently playing his 7th season for the Cowboys and remains one of their most important players.
Ezekiel Elliott Awards and Honors
Awards
| | | |
| --- | --- | --- |
| Year | Awards/Honors | Team |
| Pro Bowl | 2016, 2018, 2019 | Dallas Cowboys |
| First-team All-Pro | 2016 | Dallas Cowboys |
| Second-team All-Pro | 2018 | Dallas Cowboys |
| PFWA All-Rookie Team | 2016 | Dallas Cowboys |
| NFL rushing yards leader | 2016, 2018 | Dallas Cowboys |
| CFP national champion | 2014 | Ohio State University |
| CFP National Championship Offensive MVP | 2014 | Ohio State University |
| Chicago Tribune Silver Football | 2015 | Ohio State University |
| Graham–George Offensive Player of the Year | 2015 | Ohio State University |
| Ameche–Dayne Running Back of the Year | 2015 | Ohio State University |
| Second-team All-American | 2015 | Ohio State University |
| First-team All-Big Ten | 2015 | Ohio State University |
| James E. Sullivan Award | 2014 | Ohio State University |
Ezekiel Elliott's Net Worth
It is estimated that Ezekiel Elliot has a net worth of around $25 million. Elliot has earned the majority of his net worth through his NFL salaries. He also has several business ventures such as OnCore Golf, Stay Hungry, eFuse, and XCET. Apart from his NFL salaries and business investments, Ezekiel Elliot also earns through endorsement deals with brands like Nike, Old Spice, BioSteel, Panini Trading Cards and Twin Peaks Restaurants.
Ezekiel Elliott Contract
Ezekiel Elliot signed his first contract with the Cowboys in 2016 worth $24.9 million which also included a $16.3 million signing bonus. In 2019 he signed a 6 year, $90,000,000 contract with the Dallas Cowboys, including a $7,500,000 signing bonus, $50,052,137 guaranteed, and an average annual salary of $15,000,000.
Ezekiel Elliott Family
Ezekiel Elliot is from a prominent athletic background; both of his parents were collegiate athletes. Stacy Elliot, his father, who is currently the CEO of Fifth Down Enterprises is a former linebacker for the Missouri Tigers. His mother, Dawn Huff was a University of Missouri track runner who was similarly accomplished. Ezekiel was raised by his parents and grew up with his two sisters, Lailah and Aaliyah Elliott.
Ezekiel Elliott's Girlfriend
Ezekiel Elliot is currently dating a woman named Halle Woodard. She and Elliot like to keep their relationship under the wraps. Halle Woodard is a nurse by profession. There are no updates on when the both of them started dating but their relationship is apparently going strong.
Ezekiel Elliott has to take care of dietary needs with the utmost restriction. Thus he has hired a personal chef, who prepares him food with lots of protein and carbohydrates. His meal includes mashed potatoes with steak cooked medium-well and some roasted broccoli among his various meals. He also likes to eat asparagus with yellow rice and baked chicken.
Ezekiel Elliott is 6 feet tall in height.
Elliott faced a six-game suspension on account of domestic violence allegations raised by his ex-girlfriend in Columbus, Ohio. She filed police reports and went to the Columbus City Attorney's office to pursue charges in July 2016. Elliott was never charged with a crime.
Elliott did not win a Heisman trophy in his final year of college football. He was placed in the 2015 Heisman trophy voting.
Ezekiel Elliott has played 30 games with 100+ rushing yards.