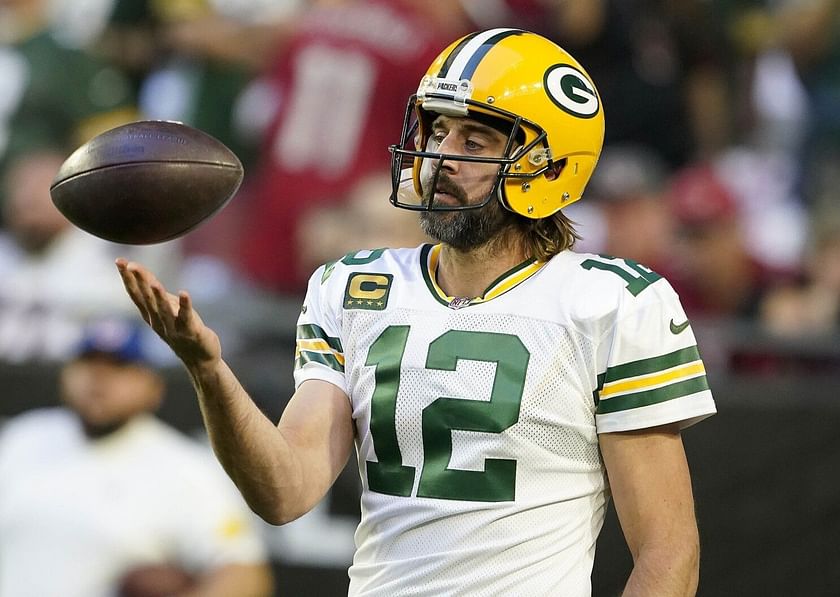 Aaron Rodgers is one of the best quarterbacks in the National Football League (NFL) who currently plays for the Green Bay Packers. He is set to play his 18th season in the NFL in 2022-23. Aaron Rodgers has won a Super Bowl with the Packers in 2011 (Super Bowl XLV). Among other records, Rodgers also holds the record for most consecutive seasons with a passer rating of over 100.0. He has also won the NFL MVP honour back to back in 2020 and 2021.
When did Aaron Rodgers join the NFL?
Aaron Rodgers was drafted by the Green Bay Packers in the 2005 NFL Draft. He was the overall pick number 24 in round 1 of the 2005 Draft. He was one of the best quarterback prospects of the draft but lasted till pick number 24 since many scouts noted his stats may be inflated due to him playing for a quarterback friendly system in college.
How old is Aaron Rodgers?
Aaron Rodgers is currently 38 years of age and he will turn 39 in December 2022. Rodgers was born on 2nd December 1983 in Chico California. With 17 seasons behind him, Aaron Rodgers is a veteran in the game and he is still putting in some of the best performances of his life.
Who did Aaron Rodgers play for before Green Bay?
Aaron Rodgers got drafted by the Packers in 2005 and has been playing for them ever since. Aaron Rodgers got drafted after playing for the University of California, Berkeley. Aaron Rodgers played two seasons for the California Golden Bears. He joined the University of California after one year at Bute College. In his two seasons at Berkeley, Rodgers totalled 5469 passing yards, 43 touchdown passes, and a passer rating of 150.3 He forego his final season to declare for the 2005 NFL Draft.
How many seasons has Aaron Rodgers played?
Aaron Rodgers is one of the oldest players in the NFL and he has completed 17 seasons. Rodgers has been an integral part of the Green Bay Packers. In his 17 seasons of playing Rodgers has won one Super Bowl, and was named the Super Bowl MVP too. He has 4 NFL MVP honours, 10 Pro-Bowl Honours, and has also been named to the 2010 NFL All-Decade Team.
In his 17 NFL seasons, Rodgers has played 213 games in the regular season and 22 games in the postseason.
When did Aaron Rodgers start for the Packers?
Aaron Rodgers was drafted to the Packers as a backup to star quarterback Brett Favre. He spent his first three seasons for the Packers as a backup, playing a total of 7 games over three seasons. He transitioned into a starter after Favre retired in 2008, and then started all 16 regular-season games for the Packers. Aaron Rodgers' first match as a starting quarterback was against the Chicago Bears in a 21-15 comeback victory.
What year did Aaron Rodgers win the Super Bowl?
Rodgers led the Green Bay Packers to a Super Bowl victory in the 2010 NFL season. In the 2010 regular-season Rodgers earned two NFC Offensive Player of the Year Honours. His playoff performances earned the Packers a berth in Super Bowl XLV, where they faced the Pittsburgh Steelers.
| | | | | | | | | |
| --- | --- | --- | --- | --- | --- | --- | --- | --- |
| Year | Super Bowl | Team | Opposition | Result | Passes Completed | Passes Attempted | Yards Gained (by passing) | Passing Touchdowns |
| 2011 | XLV | Green Bay Packers | Pittsburgh Steelers | W, 31-25 | 24 | 39 | 304 | 3 |
What quarterback has played the most years in the NFL?
Aaron Rodgers is one of the oldest NFL quarterbacks at 38 years of age and with 17 seasons already played. Tom Brady is currently the oldest quarterback in the league with 22 seasons played in the NFL. However, the quarterback who has played the most years in the NFL is George Blanda.
Blanda has played 26 seasons in the NFL as a quarterback and a kicker. He played from 1949 to 1975, amassing 1 NFL MVP award, 3 AFL Championships, and being named on the AFL All-Time Team among other accolades. Blanda has played for teams like the Chicago Bears, Baltimore Colts, Houston Oilers and Oakland Raiders.