Tom Brady, born Thomas Edward Patrick Brady Jr., is amongst the most well-known quarterbacks in the National Football League. One of the only two quarterbacks to have won a Super Bowl in their first season, Brady has been a star player since his rookie season in 2000 - whether it be for his first team, the New England Patriots, or his current, Tampa Bay, he holds numerous records - from all-time career touchdown passes to a tie for the longest touchdown pass, as well as oldest quarterback to have won a Super Bowl at age 41.
Along with a prosperous career in American football, the illustrious sportsman has a charming family, which he resides within their mansion in Florida after joining Tampa Bay Buccaneers for the 2020 Super Bowl season.
Now, well over a decade later, Gisele and Tom are happily married with three children (Vivian Lake, Benjamin Brady, John Edward Thomas).
Who are Tom Brady's Kids?
Tom Brady has three children. The eldest child with ex-girlfriend, Bridget Moynahan. The celebrity couple split shortly after Moynahan's pregnancy in 2006. The other two children are with his current wife, Gisele Bündchen. The dashing couple was married in 2009, after dating for a period of 3 years.
John Edward Thomas Moynahan
Affectionately called "Jack", Brady's first child was born on August 22, 2007. Jack's life started out rough, with Brady not being present or involved in his birth. However, the two now share an extremely close bond. At 13, Jack is known to have an inherited interest in football and practices the sport often with his father. He shares a good relationship with his biological mother as well as a stepmom, Bündchen. Jack also played a monumental role in Brady's decision of signing on with Tampa Bay - the player wanted to be closer to his firstborn and did not hesitate to shift with his family to New York.
Benjamin Rein Brady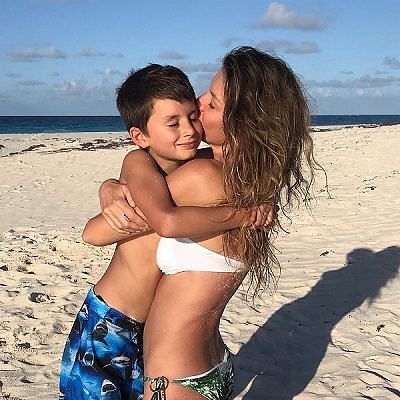 Image source: people.com
Born on December 8, 2009, Benny is Tom's first child with his current wife. He is reportedly the "jester" in the house, entertaining everyone with his dance moves. He loves cheering for Brady during his games. Benny's favorite is dabbing when his father scores.
Vivian Lake Brady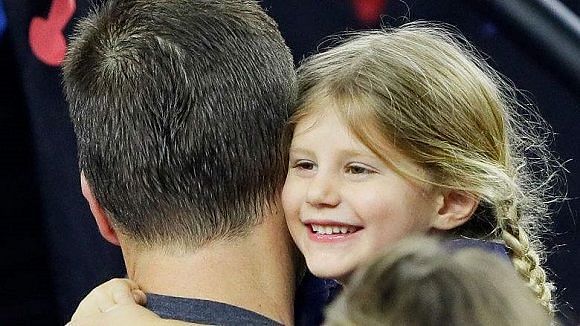 The youngest of the hotshot parents is Vivian. She was born on December 5, 2012. She accompanies her father to many sports events and loves cheering him on from the stands. She is often spotted wearing Tom's football jerseys. A spitting image of her mother, Vivian may grow up to follow in the supermodel's footsteps.
How many baby mothers does Tom Brady have?
Tom Brady's oldest son has two mothers. Just like any star athlete, Tom Brady has had an interesting dating life. He dated actress Bridget Moynahan for a period of 2 years, from 2004 to 2006. The glamorous couple called quits in December of that year when rumors of Brady dating supermodel Gisele Bündchen were discovered to be true. It was only a few months into their relationship when Brady announced that his ex-girlfriend was pregnant. Although it was unexpected, Bündchen accepted the news and vowed to care for Jack like her own son.
Who is Tom Brady's oldest son?
Brady's oldest son is John Edward Thomas 'Jack' Moynahan. He is 13 and lives in New York with his biological mother, Bridget Moynahan.
Who did Tom Brady have his first child with?
Tom Brady had his first child with ex-girlfriend Bridget Moynahan, a Hollywood actress. The son was born after the couple had split.
Who has custody of Tom Brady's oldest son?
Tom Brady and wife Gisele Bündchen share custody of Tom's oldest son with his biological mother, Bridget Moynahan. The 13-year-old lives in New York with Moynahan and spends quality time with his step-brother and sister and shares a close relationship with his stepmother too. Tom Brady's decision of joining the Tampa Bay Buccaneers was largely influenced by the proximity to his firstborn.
Does Gisele Bundchen have a child with Tom Brady?
Brazilian supermodel, activist, and businesswoman, Gisele Bündchen has two beautiful children Tom Brady. The couple welcomed son Benjamin Reid Brady in 2009 and daughter Vivian Lake Brady in 2012.
Also Read : Who Is Tom Brady's Wife, Gisele Bündchen?