| | |
| --- | --- |
| Name | Robert James Gronkowski |
| Net Worth | $45 million |
| Age | 33 (born May 14, 1989) |
| Residence | Miami, Florida |
| Position | Tight end |
| Marital Status | In a relationship |
| Spouse | Camille Kostek |
| Children | None |
| Source of Wealth | NFL, endorsements, investments |
| Salary | $9 million |
| Endorsements | Dunkin' Donuts, Visa, T-Mobile, Lyft, Cheerios, Monster Energy Drink, Tide |
| Endorsement Earnings | $8 million |
No NFL all-time greatest list is complete without arguably one of the best tight-end to have ever graced the game. Four time Super Bowl winner Rob Gronkowski is the best tight-end to have played the game in recent years and has enjoyed a glorious NFL career. In his glorious NFL career the tight end has amassed a net worth of $45 million.

Drafted in 2010 as the 42nd overall pick, Robert 'Gronk' Gronkowski started in the NFL as a tight end for the New England Patriots. Gronkowski has recorded three Super Bowl wins during his 9-year tenure with the Massachusetts-based franchise. Gronk holds several NFL records for his playing position including most postseason career receiving yards (1163), career postseason receiving touchdowns (12), as well as the most receptions in Super Bowl history (18) by a tight end.
Since 2013, Gronkowski has been the highest-ranked tight end in the NFL Top 100 for six consecutive seasons with many believing him to be the greatest tight end to have ever played the game. He was traded to the Tampa Bay Buccaneers in 2020 and won his fourth Super Bowl with long time teammate Tom Brady (with whom he won his previous Super Bowls). Gronkowski is yet to make a decision on whether he will play the 2022 NFL season or not. Here is a look at the wealth amassed by 'Gronk' during his 12 year NFL career.
How much is Rob Gronkowski's Net Worth in 2023?
According to Celebrity Net Worth, Rob Gronkowskihas an approximate net worth of $45 million in 2023. Apart from being one of the 100 Most Famous Athletes according to ESPN, Gronkowski is also known for his charming personality and various endorsements and investments.
Rob Gronkowski Salary
Gronkowski last had a contract with the Tampa Bay Buccaneers and decided to retire in 2022. In 2021 he had a base salary of $8 million. He also received a signing bonus of $6.25 million for his one-year contract with the Bucs.
When he played for the Patriots he earned a whopping $54 million over a course of 6 seasons from his 6-year contract extension with the Patriots in 2012. It was the most expensive deal for a tight end in the league. Gronk claims that he has been living off of his endorsement income and business ventures, and has not spent any of his paychecks from the NFL.
| | | | |
| --- | --- | --- | --- |
| Year | Contract | Signing Bonus | Average Salary |
| 2010 - 2013 | 4 yr(s) / $4,440,000 | $1,760,000 | $1,110,000 |
| 2012-2020 | 6 yr(s) / $54,000,000 | $8,000,000 | $9,000,000 |
| 2021-2021 | 1 yr(s) / $8,000,000 | $6,250,000 | $8,000,000 |
Rob Gronkowski Endorsements
With his charming personality and dashing looks, Rob makes the perfect candidate for commercial endorsements. He has earned approximately $60 million in salary and has earned over $8 million from deals with big name brands such as Bodyarmor Superdrink, Cheerios, DraftKings, Dunkin' Donuts, video game Halo and Mobile Strike, JetBlue, Kids Footlocker, Lyft, Oberto, SixStar Pro, Monster Energy Drink, Tide, T-Mobile, and Zynga. He was also the face of "Gronk Flakes", a breakfast cereal named after him. The same company also launched a hot sauce called "Gronk's hot sauce".
Rob Gronkowski Investments
Gronkowski partnered with CBDMedic, a cannabidiol oil company that uses the non-psychoactive components of the cannabis plant to produce pain relief creams. He attributed the company's product to his recovery from years of pain.
Rob Gronkowski Other Sources of Income
Gronkowski is the co-author of his memoir, "It's Good to be Gronk". It was published by Simon and Schuster and Derek Jeter's Jeter Publishing in 2015 and became a New York Times Bestseller. He co-hosted a sports television program on Nickelodeon, Crashlets from 2016-2017, and WrestleMania 36 in 2020. He has starred in numerous films and TV shows such as Entourage, American Violence, You Can't Have It, The Clapper, Deported, Boss Level, etc.
During his year-long retirement in 2019, he became a sports analyst on Fox Sports.
Rob Gronkowski House and Car
Gronkowski bought a 2,100 sq. ft condo in Boston worth $1.9 million and sold it off in 2019 for $2.3 million. He currently owns two houses in Foxborough, Massachusetts spread over 1.5 acres of land. He resides in a 3,560 sq. ft 6-bedroom penthouse overlooking the beach in Miami worth $1.7 million.
Rob has an exquisite collection of luxury and sports cars, including a Mercedes-Benz S63, an Audi R8 and Q7, and a Bentley Continental GT.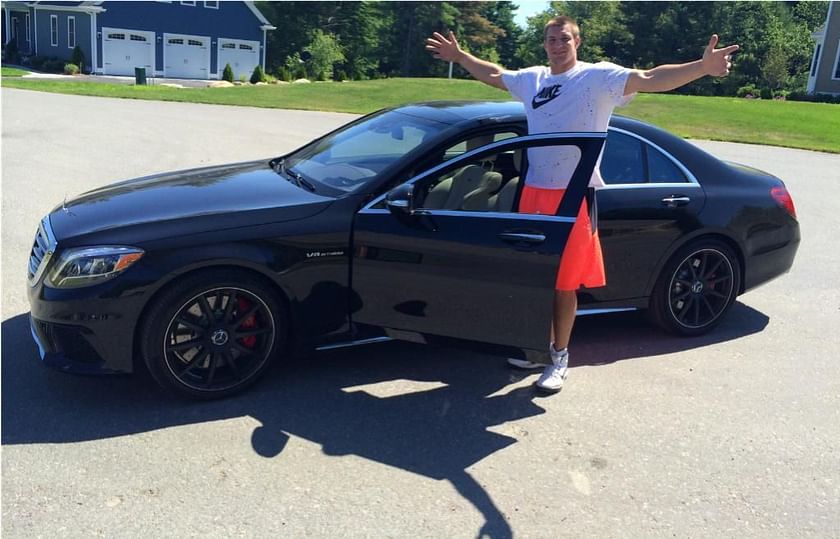 Rob Gronkowski Charity Work
Rob is the co-founder of the Gronk Nation Youth Foundation, which encourages education and extracurricular activities for children and provides grants to sports programs to promote a healthier lifestyle. He has also been actively involved with the Make-A-Wish Foundation and the Patriots foundation. He was accredited with the Ron Burton Community Service Award in 2016, the Merit Award from the United Service Organizations, and the Wish Hero Award in 2019 for his charitable endeavors through the years. He also donated 20,000 PPE kits to frontline healthcare workers during the Covid-19 pandemic.
How much is Rob Gronkowski's contract worth?
The New England Patriots held Rob Gronkowski's rights when he was traded to the Tampa Bay Buccaneers in 2020. His 6-year extension with the Patriots was worth $54 million, the highest ever for a tight end. He then signed a 1-year extension with the Tampa Bay Buccaneers worth $8 million. He is currently without a contract and is yet to decide upon playing the 2022 NFL season or retiring.
Also Read:Who is Rob Gronkowski's Girlfriend, Camille Kostek?
Other Similar Pages