Patrick Mahomes was born on 17th September 1995. He is an American football quarterback who plays for the Kansas City Chiefs in the National Football League (NFL). He was the tenth pick by the Kansas City Chiefs in the first round of the 2017 NFL Draft. In 2020, he entered the fourth year as a quarterback in his fourth season with the Chiefs. Through Week 8 of the 2018 season, he threw 26 touchdown passes and 2810 yards, earning the most passing touchdowns and passing yards in a player's first nine career games in the Super Bowl era. He threw 29 touchdown passes in his first 10 NFL games, more touchdown throws than any quarterback in NFL history in their first 10 games. Prior to the NFL, in NCAA Division I Football Bowl Subdivision (FBS), Mahomes played for Texas Tech University where he secured 5,052 passing yards and a total of 53 touchdowns. He is the only quarterback in history to throw for over 5,000 yards in a season in both college and the NFL. He has also won the ESPY for the Best NFL Player in ESPN's annual awards show in July of 2019.

Who is Patrick Mahomes' Wife, Brittany Matthews?
Patrick Mahomes' wife is his childhood sweetheart Brittany Matthews. The pair have known each other since their high school days and got hitched on 12th March 2022.
Born on September 1st, 1995, Matthews is a star athlete herself and played professional soccer in Europe. She has created an athletic empire of her own and launched her own fitness company. After Matthews graduated in 2013, she went on to play college soccer at the University of Texas at Tyler where she was awarded "All-East Texas Forward" honors. She graduated with a degree in kinesiology and signed on to play soccer professionally with UMF Afturelding/Fram in Iceland in May 2017. She won her team a league title before returning to the US to focus on a career in fitness. She mentions that every coach she had at UT Tyler made a huge impact on her love for this game and her decision to pursue professional soccer.
She went on to become a certified fitness trainer, and in 2019, launched Brittany Lynne Fitness, a website that offers training programs and fitness merchandise designed by Matthews. In an interview, she mentioned she has had experience with all levels of fitness and has carried that experience with her to create exercise programs for people at all stages on their fitness journey. Her program consists of working hard, staying dedicated, not making excuses. Recently she also took on the role as a Balance Elite Leader for the clothing line Balance Athletica. Brittany Matthews is a popular social media influencer on Instagram with more than a million followers.
What is Brittany Matthews' Net Worth?
Brittany Matthews' net worth is reportedly speculated to be around $10 million.
Brittany Mathew Parents
Mathew is the daughter of Diana Massey and Scott Mathew. She was raised along with her brother Ethan. Brittany is more attached to her father and quite often she posts pictures of her and her father on Instagram.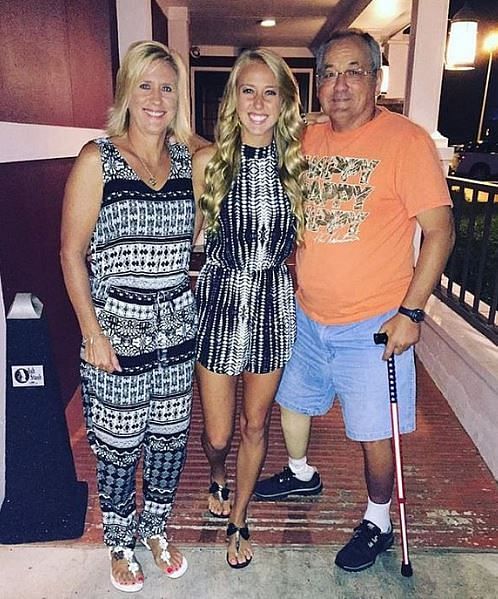 How long have Patrick and Brittany been together?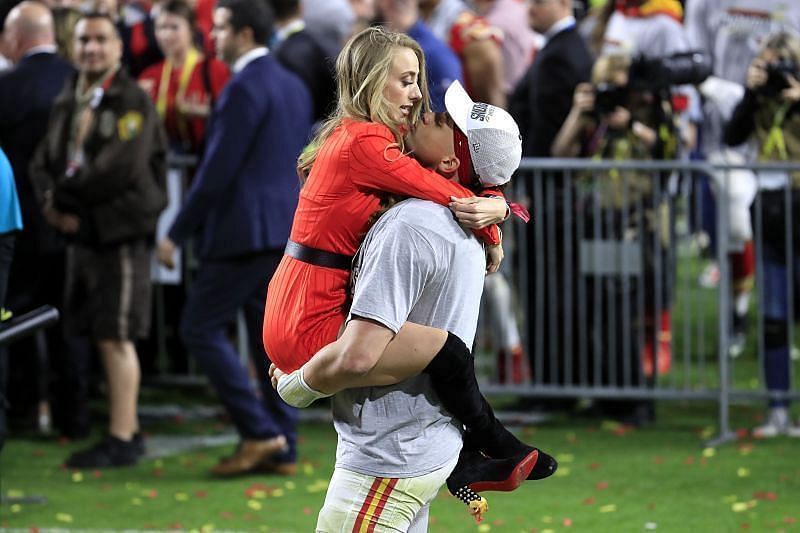 Patrick Mahomes and Brittany Matthews have been childhood sweethearts. The pair met while attending Whitehouse High School in Whitehouse, Texas, and started dating when Mahomes was in 10th grade. They have been dating for over 8 years. Although they attended separate colleges, they maintained their relationship and currently live together in Kansas City with their two beautiful bulldogs, Steel and Silver. Ever since Mahomes joined the team in 2017, Matthews has been a dedicated Chiefs fan and has been by his side all along. She was also there when the Chiefs won the Super Bowl earlier this year. She is quite active on social media and regularly live-tweets games and shares Instagram stories celebrating her beau's wins.
They both attended the Chiefs' Super Bowl ring ceremony together on September 1, during which Mahomes surprised his high school sweetheart with an engagement proposal. The athletic powerhouse very well documents their relationship on Instagram. Matthews shared a photo of a section of the stadium that had been blocked off, covered in roses, with a sign that said "Will you marry me?" and later also shared a photo of her ring.
In 2019, the couple bought a house in Kansas City, spending $1.925 million in the city's Mission Hills neighborhood. In an interview with Bleacher Report, the couple mentioned that setting down roots in Kansas City was huge for them and they wanted to be there for a long time. The couple spent the offseason in Kansas City and recently launched a foundation to help underprivileged youth. Mahomes said in another interview that he wants to give back to the community they love and support he has received all these years, and be a part of it, and show the same love and passion to them.
Patrick Mahomes proposed to Brittany Matthews on September 2, 2020 during the Super Bowl ring ceremony in Kansas city. They had their first child, Sterling Skye Mahomes on February 20, 2021 and got married on March 12, 2022.
Also Read:Patrick Mahomes' contract breakdown
Patrick Mahomes and Brittany Matthews Relationship History - A Timeline
2010: Patrick Mahomes and Brittany Matthews attend Whitehouse High School in Texas.
2012: Mahomes in his sophomore year and Brittany in her junior year, begin dating.
2013: Matthews goes on to pursue soccer at the University of Texas campus in Tyler.
2014: Mahomes joins the football team at Texas Tech University in Lubbock.
April 2017: Mahomes gets picked 10th by the Kansas City Chiefs in the first round of the 2017 NFL Draft.
May 2017: Brittany graduates with a degree in kinesiology and is signed for UMF Afturelding/Fram professional soccer team in Iceland.
September 2017: Brittany wins a league championship in Iceland
October 2017: Brittany returns to Kansas City to be with Patrick who was playing his rookie season with the Chiefs.
2019: Patrick and Brittany purchase a $1.925 million house in Mission Hills, Kansas City. Brittany becomes a certified fitness trainer and launches Brittany Lynn Fitness - a website that offers fitness and training programs designed by her.
December 2019: Brittany becomes part-owner of Kansas City's new soccer team in the National Womens' Soccer League.
February 2020: Mahomes wins his first Super Bowl.
March 2020: The couple celebrates 8 years of their relationship.
July 2020: Mahomes signs a12-year extension with the Chiefs worth up to $503 million, the biggest deal in NFL history, making him the highest-paid quarterback.
September 1, 2020: Mahomes proposes to Brittany after the Chief's Super Bowl ring ceremony.
September 9, 2020: The couple got engaged at the Arrowhead Stadium.
September 29, 2020: Announced their pregnancy
October 2020: Hosted a gender reveal party
February 20, 2021: Patrick Mahomes and his fiancéeBrittany welcomed their child, Sterling Skye Mahomes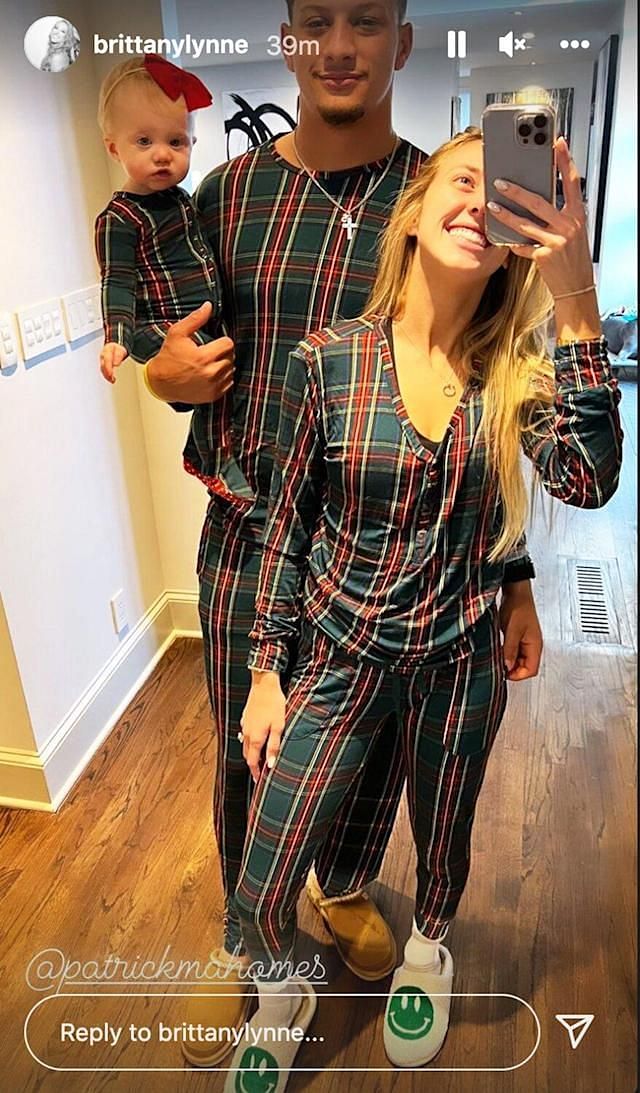 March 3, 2021: Brittany Matthews announced on Instagram that she and Patrick Mahomes had finalized a venue and date for their upcoming wedding.
March 20, 2021: Patrick and Brittany both shared a photo of Sterling Sky Mahomes for the first time on social media. She was one month old and rocked a cute headband with a bow.
March 12, 2022: Wedding bells tolled as Brittany Matthews and Patrick Mahomes got married in Maui, Hawaii with their friends and family beside them.
Also Read:Who is Patrick Mahomes' Mother, Randi Martin?
Brittany's engagement ring from Patrick Mahomes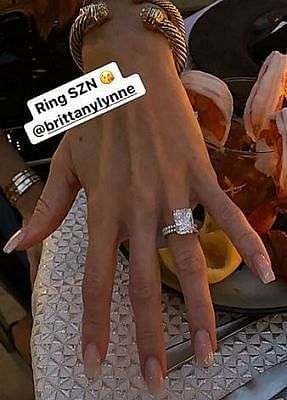 Patrick Mahomes' engagement took place on September 9, 2020, inside a suite at Arrowhead Stadium, the couple surrounded by flowers. Mahomes proposed to Matthews with a massive emerald-cut diamond engagement ring set on a white gold or platinum diamond-adorned double band that could be as large as 10 carats. The estimated retail value of the ring is at $500,000.
Mahomes received his Super Bowl 2020 ring the same day which consists of 10.5 carats of gemstones, including 255 diamonds and 36 genuine rubies.
Are Brittany Matthews and Patrick Mahomes married?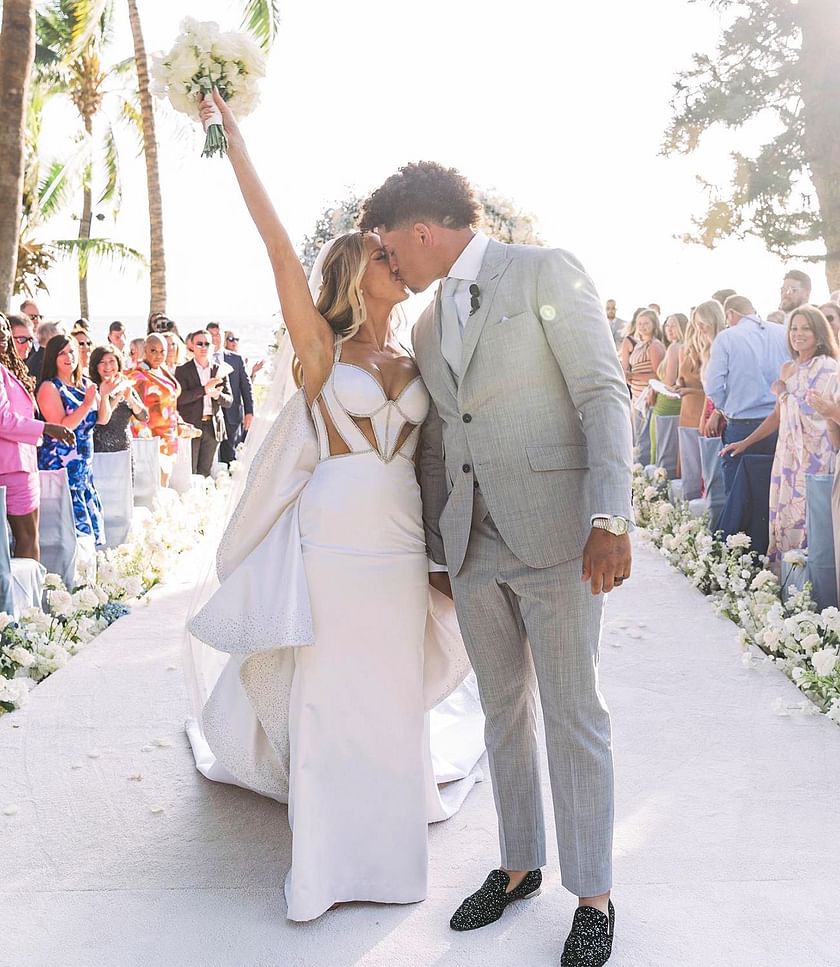 Yes. The couple got married on 12th March, 2022 after being with each other for almost a decade. One of the most adorable NFL couples got hitched in a scenic location at Maui, Hawaii where their baby daughter Sterling Skye Mahomes was also present. Brittany Matthews wore a stunning Versace gown featuring well worked sparkling details and cutouts. Mahomes looked dapper in a gray suit and crisp black shoes.
Also Read:Patrick Mahomes' Net Worth