Kansas City Chiefs star quarterback Patrick Mahomes' has just signed a newly restructured contract till 2026 which will see him pocket a collosal $210.6 million. It is now become the biggest 4-year deal in the history of the sport as Mahomes is set to earn roughly $52.65 million annually. According to the contract, the two time Super Bowl champion and MVP will be in Kansas City through 2026. The best part of the deal for the recently turned 28 year-old is that the entire amount of $210.6 million is guaranteed. Furthermore, Mahomes' contract can rise up to $218.1 million with incentives.
The two time MVP's previous deal was for a period of ten years for $450 million. The Chiefs have just moved up the money of that contract and given it to him for a period of four years. In 2026, Mahomes will once again have the option to negotiate a new contract if he feels that he is falling behind the other quarterbacks in the league by then. As for now, Mahomes finds himself back near the top of the list of highest paid players in the NFL.
Patrick Mahomes' contract breakdown
Patrick Mahomes' previous ten-year deal contract breakdown is as below. This is no doubt set to change now after the restructuring but those details are yet to be revealed.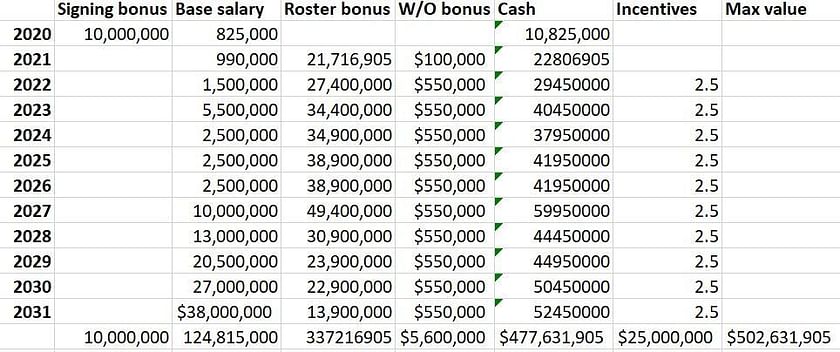 How much is Patrick Mahomes getting paid?
Mahomes was named the Super Bowl MVP for the second time in February of this year, and was named the NFL's MVP for the 2022 season. He's the youngest quarterback to earn this feat. As per the restructured deal, the Chiefs' QB1 will be getting paid $52.65 million per year on an average. The quarterback justified his salary by being the man to beat and has established himself at the top with hsi recent success with the Chiefs.

How much money does Patrick Mahomes make a minute?
Mahomes' hugely restructured contract is now giving him $210.6 million. That means he will be earning approximately $6,000 per day and has touched $100 per minute, thus making him one of the top earners in football.
Also Read: Who are Patrick Mahomes' Parents?
How much of Patrick Mahomes contract is guaranteed?
In the NFL, the incentives are by no means guaranteed and vary based on the player and team. However, as per the current restructure, Mahomes' contract is said to be fully guaranteed.
How much will Patrick Mahome's next contract be?
One can't predict now how much his next contract would be. It would definitely depend on where the quarterback market is four years down the road. A lot will also depend on his on field performances and whether or not he can sustain this type of play and success. Although he will have turned just a shade above 30, Mahomes will have also become one of the veteran quartebacks by then and as a result all these factors will come into play at that time.
Is Mahomes the highest-paid quarterback?
The new four year restructure sees Mahomes get back near the top of the league in terms of highest earners. His $52.65 million per year is now only second behind the Cincinnati Bengals' Joe Burrow who is earning $55 million per year. However, as Mahomes contract is only a four-year deal, it makes him the highest earner for a four-year period.
Also check out: Patrick Mahomes' Net Worth
Other Similar Pages
FAQs
What is Patrick Mahomes' net worth?

Patrick Mahomes has an approximate net worth of around $60-$70 million.




Read More
Does Patrick Mahomes have any children?

Patrick Mahomes has two children. A girl Sterling Skye Mahomes and a baby boy Patrick "Bronze" Lavon Mahomes III .

Read More
Who is Patrick Mahomes' brother?

Patrick Mahomes has a younger brother named Jackson Mahomes who is a famous Instagram star and Tik Tok star himself.
How many Super Bowls has Patrick Mahomes won?

Patrick Mahomes has won two Super Bowls in his career. He won his first Super Bowl in 2020 (LIV) and he won his second Super Bowl in 2023 (LVII).
How much is Patrick Mahomes' contract worth?

Patrick Mahomes has one of the highest valued contracts in the NFL. His newly restructured contract as of September 2023 is a four-year deal worth $210.6 million.