| | |
| --- | --- |
| Name | Russell Carrington Wilson |
| Net worth | $165 million |
| Age | 34 (born November 29, 1988) |
| Residence | Denver, Colorado (current) |
| Position | Quarterback |
| Marital status | Married (July 6, 2016) |
| Spouse | Ex-wife Ashton Meem (2012 - 2016), Ciara (2016 - present) |
| Children | Sienna Princess Wilson (April 28, 2017), Win Harrison Wilson (July 23, 2020), and stepson Future Zahir |
| Source of wealth | NFL, Endorsements, hosting tv shows, business |
| Salary | $48.5 million (average) |
| Endorsements | Amazon, Bose, Mercedes Benz, Alaska Air Group, Nike, Wilson Sporting Goods, Microsoft, Duracell, Braun, United Way, Levi's, Pepsi, American Family Insurance, Larson Automotive Group, Reliant Recovery Water |
| Endorsement earnings | $14 million (yearly) |
Russell Carrington Wilson is an American football quarterback for the Denver Broncos in the National Football League (NFL). Wilson has an outstanding net worth of $165 million. Although many past players have been super successful after getting picked late in the draft, it is still somewhat surprising to see the level that Russel Wilson has reached, especially considering that he was taken in the third round (75th overall) of the 2012 NFL Draft by the Seattle Seahawks. In only his second year with the team, Russel guided the franchise to a Super Bowl win in 2013. Altogether, Russell Wilson has made 9 Pro Bowls. In March 2022. Wilson was traded to the Denver Broncos.
As of now, Wilson is one of only five other quarterbacks in the NFL to have a career passer rating over 100. He also holds a distinct record of having the most wins by an NFL quarterback through nine seasons. Wilson joined another list of quarterbacks becoming the third one to throw for 30 touchdowns in four consecutive seasons. His skills and achievements have made him one of the best dual-threat quarterbacks in the league. Through his various endeavors apart from sports, he has amassed around $42 million.
How Much is Russell Wilson's Net Worth in 2023?
According to Celebrity Net Worth, Denver Broncos quarterback Russell Wilson has a net worth of $165 million. He was ranked as the world's 46th highest-paid athlete of 2022 by Forbes. The majority of his net worth is from his NFL earnings which already add up to $238 million in salaries alone. He invested a lot of his earnings which makes his net worth $165 million.
Russell Wilson's Salary
Russell Wilson takes home an annual salary of $48.5 million through matches played in the National Football League. Wilson became the highest-paid athlete in the NFL after he signed a four-year, $140 million contract extension with the Seahawks on April 15, 2019, and received an additional $65 million signing bonus. This was the most expensive deal in NFL history at the time of signing. The contract earned him a guaranteed income of approximately $107 million.
Russell Wilson was traded to the Denver Broncos in March 2022 where he received a signing bonus worth $70 million. He signed a massive 5-year contract extension worth $245 million with the Broncos in September 2022 which guarantees him at least $161 million by the time his contract expires.
Russell Wilson's Endorsements
Russell Wilson has appeared in endorsements for a multitude of well-known brands, including Amazon, American Family Insurance, Alaska Air Group, Braun, Bose, Duracell, Larson Automotive Group, Levi's, Mercedes Benz, Microsoft, Nike, Wilson Sporting Goods and United Way. He began endorsing Luvo, a frozen fast-food company, and Reliant Recovery Water in 2015. He earns approximately $14 million from these endorsement endeavors. In 2020, Wilson became the Chairman of NFL FLAG, working with flag football organizations across the globe to recruit athletes at a young age. He is also the ambassador for the Charles Ray III Diabetes Association.
Here is a list of Russell Wilson's endorsement deals:
• Nike
• American Family Insurance
• Alaska Airlines
• Microsoft
• Duracell
• Bose
• Braun
• Aerobie
• Boardroom
• Good Man Brand
Russell Wilson's Investments
Russell Wilson has a great sense of business and is an expert in the field, having made numerous investments. He has invested in the Portland Diamond Project that aims to bring a Minor League Baseball (MLB) team to Oregon. In 2014, the player announced his investment as a partner along with hedge fund manager Chris Hansen, NBA player Wally Walker and Erik and Pete Nordstorm to develop a new sports arena in Seattle's SoDo neighborhood for future NBA and NHL teams. The following year, he invested $7 million in a football helmet manufacturing company VICIS. He has also invested in and endorsed "Molecule", a mattress company since 2018. Russel Wilson and his wife, model and music artist, Ciara, took joint ownership for the local Major League Soccer club, the Seattle Sounders FC in 2019.
Russell Wilson's Other Sources of Income
Apart from his income through the NFL and endorsements for multi-million dollar companies, Wilson has started his own ventures. He is the CEO of the brand management firm "West2East Empire" which also oversees two production companies.
In 2016, Wilson launched his own clothing line, Good Man Brand. The same year, he partnered with Juice Press to launch the company's first franchise in Seattle.
The following year, Wilson founded "TraceMe", a platform for fans to connect with celebrities. Amazon founder Jeff Bezos, Alibaba co-founder Joe Tsai, and YouTube co-founder Chad Hurley were some of the investors of the app.
Russell Wilson's House and Car
The Broncos current starter bought a new house when he shifted his family to Colorado just last year. The Wilsons' new residence can be found in Denver's suburb of Cherry Hills Village. The humongous property is on 5 acres of land with more than 20,000 square-feet of room. Russell Wilson dished out $25 million for the house which comes loaded with amenities such as 4 bedrooms, 12 bathrooms, an indoor pool, a game room, a 9 car garage, a basketball court and a theater to name just a few. As far as cars are concerned, Russell Wilson is known to own several luxurious and high end cars. Some of his well known cars are Mercedes Benz G Wagon, an Audi, a Range Rover, and a Tesla. Recently, Wilson has also splurged a great deal of money on a brand new Rolls Royce.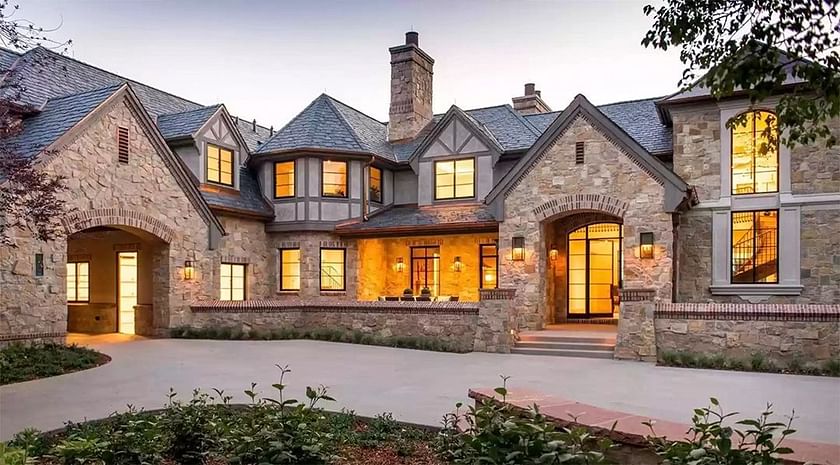 Russell Wilson's Charity Work
Russell Wilson is actively involved in many charitable endeavors. He visits the Seattle Children's Hospital frequently and donated $1,060,005 from his Why Not You foundation for its Strong Against Cancer event in 2016. He hosts the Russell Wilson Passing Academy, the proceeds of which were donated to the Charles Ray III Diabetes Association in 2012.
He partnered with Russell Investments for the "Invest with Russell" program through which he donated $3,000 to Wilson's charity foundation for every touchdown in 2013 and 2014.
The player also supports organizations like Boys and Girls Clubs of America and Seattle Children's' Hospital by hosting an annual charity golf event in Washington. During the Covid-19 pandemic, Wilson and his wife Ciara donated 1 million meals to the needy in partnership with Food Lifeline.
Who makes more money, Russell Wilson or his wife?
Russell Wilson's wife, Ciara is a renowned singer, dancer, and model. She released her debut album in 2004 and was signed by IMG, a modeling agency in 2016. Her net worth is estimated to be $25 million as of 2022.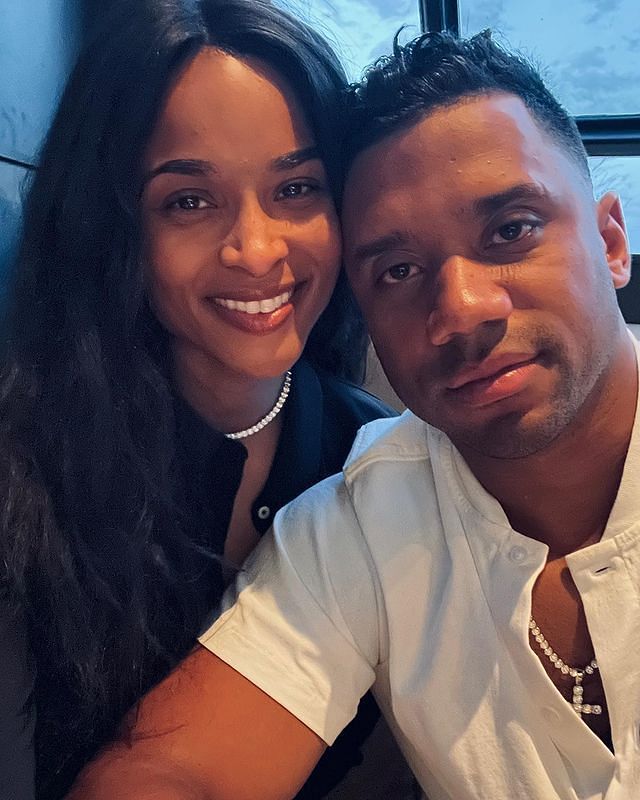 What does Russell Wilson own (other ventures)?
Russell Wilson owns a brand management firm "West2East Empire" which has two production companies under it. He is also the co-owner of the Seattle Sounders football club, clothing line Good Man Brand and app TraceMe.
Is Russell Wilson the highest-paid quarterback?
Russell Wilson was the highest-paid NFL player in 2019, after signing the most expensive NFL deal, a 4-year contract extension with the Seattle Seahawks, worth $140 million, and a $65 million signing bonus. Currently, Wilson is under a contract extension with the Denver Broncos where he is set to pocket $296 million over 7 years. This contract puts him in fourth place as Aaron Rodgers ($50.3 million), Jalen Hurts ($51 million) and Lamar Jackson ($52 million) have surpassed him recently.
How much does Russell Wilson make in a year?
Russell Wilson earns an annual salary of approximately $48.5 million just from his profession as an NFL quarterback. He earns another $14 million from endorsements. He also receives money from his other investments and business ventures.
FAQs
Q. What is the status of Russell Wilson's current contract?

A. Russell Wilson has signed a contract extension with the Denver Broncos that will see him under contract for 7 years and pay him $296 million.
Q. How much money does Russell Wilson earn via endorsement deals?

A. With numerous endorsement deals in his kitty such as Amazon, Bose, Mercedes Benz, Alaska Air Group, Nike, and many more, Russell Wilson is making nearly $14 million annually this stream of income.
Q. What is Russell Wilson's net worth?

A. Being one of the top most quarterbacks in the NFL, endorsing a multitude of high end brands, investments in various businesses and more has seen Russell Wilson build a massive net worth close to $165 million.
Q. Does Russell Wilson have a twin?

A. Russell Wilson has one brother older than him and one younger sister. Wilson's brother, Harrison Wilson IV does look similar to Russell and both of them are very close to each other, however they are not twins.