Patrick Mahomes stays in an amazing mid-century modern marvel in Kansas City. It is a 3,759-square-foot house and is located in Sunset Hills West in its private upscale community. The lavish penthouse is near the Kansas City Chiefs' home base. In 2019 Mahomes bought the house for $1.9 million. The house has plenty of backyard space where Mahomes' dogs can play. It sits on a large green lot. The house was built in 1953. It has three bedrooms with the chef's kitchen. The open floor plan has clean lines and a connection to nature that many of the best homes from that era are known for. The architecture is rather retro while the space isn't outdated at all.
Where does Patrick Mahomes live now?
Patrick Mahomes lives in Kansas City with his wife Brittany Matthews,at the heart of the city. Their neighborhood is called the Sunset Hill West and is near the Mission Hills Country Club located in Jackson County. It is home to million-dollar houses of all styles. Mahomes's mid-century house has zen Asian influences.
Also Read: Who are Patrick Mahomes' Parents?
Patrick Mahomes House
The house Mahomes bought has a huge spread out the driveway. The property is reportedly 67 years old. The living areas are dominated by modern furniture with a sleek finish. Smooth wood finished floorings with an electric chimney helps blend the new and the old styles. The angles of the house create little nooks and crannies to create cozy seating areas. The open plan allows for an easy flow from the kitchen to the seating area. The family room is made for entertaining which is complete with a wet bar.
The gorgeous kitchen has wooden details that help create perfect harmony with the outdoors and has a super sleek and contemporary look.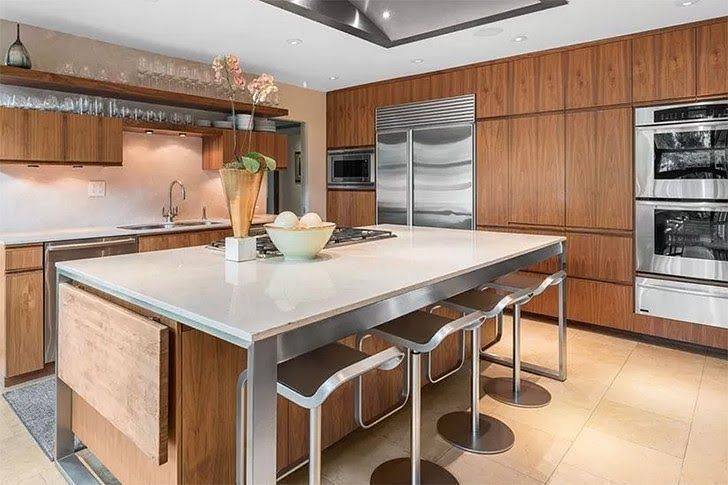 While the dining room consists of an amazing Deco light fixture.
Home to a professional football player and a fitness model is bound to have a top-notch home gym with a beautiful view of the outside.
Also Read: Who is Patrick Mahomes' Brother, Jackson Mahomes?
The massive main suite has a fireplace and direct access to the outdoors with two entrances from the bedroom to the bathroom, thus helping create a seamless flow.
One of the main attractions of Mahomes house is the NFL star's luxurious walk-in closet along with a walk-in shoe closet. For his astounding shoe collection room has been primarily set up. His collection includes BAPE's, and the Icy white Future Crafts has special attention. A few shelves in the shoe closet are dedicated to sunglasses too. Mahomes is also a massive Game of Thrones fan that reflects in his shoe collection. As a tribute to Jon Snow, he possesses an Ultraboost version of a 'Night Watch' Game of Thrones show. He has approximately 180 pairs of shoes and a camera to monitor them!
Last, but not least, the backyard has a pristine in-ground pool surrounded by a large stone patio that's perfect for entertaining and lounging. And here's an aerial view of Mahomes' property -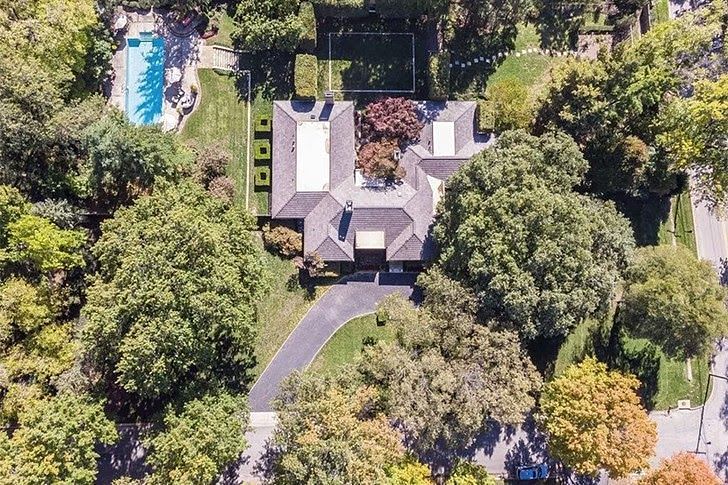 Also Read: When was Mahomes picked in the draft?
FAQs
What is Patrick Mahomes' net worth?

Patrick Mahomes has an estimated net worth of around $40 million. He is earning around $45 million on an average anually.
When did Patrick Mahomes get married?

Patrick Mahomes got married to his childhood sweetheart Brittany Mahomes on March 12, 2022.
How many children does Patrick Mahomes have?

Patrick Mahomes has two children Sterling Skye Mahomes and Patrick "Bronze" Lavon Mahomes III. Sterling Skye Mahomes is his elder child and she is 2 years old. His son is just a few months old and was born on November 28, 2022.
How much is Patrick Mahomes' contract worth?

Patrick Mahomes signed a massive $450 million contract for 10 years with the Kansas City Chiefs. His deal averages upto $45 million per year in wages.
Who is Patrick Mahomes' brother?

Patrick Mahomes has a younger brother names Jackson Mahomes. Jackson Mahomes is a social media influencer.