| | |
| --- | --- |
| Name | Michael Strahan |
| Net Worth | Approximately $65 Million |
| Age | 51 years (born November 21, 1971) |
| Residence | Manhattan, NYC |
| Marital Status | Divorced |
| Spouse | Jean Muggli (m. 1999–2006); Wanda Hutchins (m. 1992–1996) |
| Source of Wealth | Professional Football, TV appearances, journalism |
| Salary | Approximately $17 million per year. |
| Endorsements | Metamucil, Subway, Snickers, Pizza Hut, Dr. Pepper and Right Guard |
| Endorsement Earnings | Approximately more than $1million |
| Philanthropy | St. Jude Children's Research Hospital; Children At Risk and HomeCorp |
Michael Strahan is a former professional football player who played 15 seasons in the National Football League (NFL) with the New York Giants. He was a defensive end for the Giants. In his final season in 2007, he helped the Giants win Super Bowl XLII over the New England Patriots. In 2014 he was elected to the Pro Football Hall of Fame. After retiring he became a media personality and appears as a football analyst on Fox NFL Sunday. He also co-hosts ABC's Good Morning America and its spinoff Strahan, Sara, and Keke. He won two Daytime Emmy Awards for co-hosting Live! with Kelly and Michael with Kelly Ripa from 2012 to 2016. He became a regular contributor on Good Morning America in 2014, and joined GMA full-time, leaving Live! According to wealthygorilla.com Michael Strahan's Net Worth is estimated to be around $65 million.
How Much is Michael Strahan's Net Worth in 2023?
Michael Strahan's net worth is approximately valued to be around a staggering $65 million. This includes his career with the New York Giants for 15 long years and his current career as a media personality.
Michael Strahan's Salary
While in the NFL, Strahan earned just under $60 million. At present his estimated salary is $17 million per year.
Also read about: Michael Strahan's Wife
Michael Strahan's Endorsements
Previously Strahan has been to work with the likes of Metamucil, Subway, Snickers, Pizza Hut, Dr. Pepper, and Right Guard. In April 2016 Strahan signed a deal with ABC as a full-time co-host of the Good Morning America show. His full-time employment with ABC prohibited him from taking on endorsements based on staff contracts. Therefore, he is not known to be actively endorsing any product or company as of now. However, his men's lifestyle brand that he launched through J. C. Penney's chain of departmental stores is still active which sells suits, collared shirts, belts, ties, cufflinks, suspenders, and other accessories.
Michael Strahan's Investments
Strahan has joined his once rival Tom Brady to work together on a sports media venture called Religion of Sports. The goal of the digital platform is to show why sports matter so deeply to communities around the world. The clients of the sports media company include Facebook Watch, Showtime, NBC, ESPN, Apple Plus, AT&T, and Amazon, among others and the company has partnered with brands like Under Armour.
Michael Strahan's other sources of income
Apart from being a former NFL player, Strahan is also a TV personality where he appears as an analyst for Fox NFL Sunday and is a co-host on ABC's Good Morning America.
Michael Strahan's House
Strahan owned a mansion at Montclair, New Jersey which he auctioned following his divorce with Jean Muggliand and the sales money was split evenly. The house was valued at $3.6 million. In August 2008, Strahan paid $1.665 million for a two-bed, two-bath, 1,911-square-foot condo in lower Manhattan which he sold for $2.4 million in 2014. Strahan also had a mansion in the Los Angeles neighborhood of Brentwood which he bought in 2013 for $16 million while he was engaged to Nicole Mitchell Murphy. Built in 2013, the 15,600-square-foot home sits on a one-acre lot with a 59-foot swimming pool, an expansive lawn, and mature trees. The three-story home includes a library, a home theater, a Prohibition-style wine cellar with a drinking lounge, a gym, a game room, a sauna, and two laundry rooms. The master wing includes a sitting room and a fireplace. There are nine bedroom suites and 14 bathrooms. In 2015, Strahan sold the mansion for $21.5 million.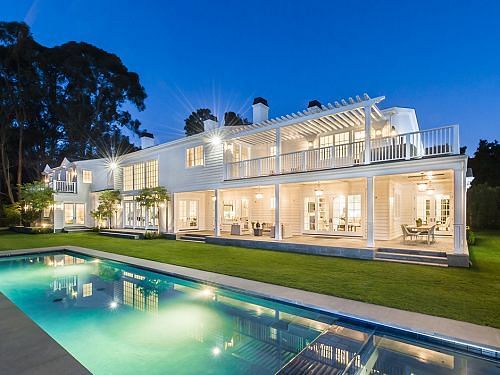 Also Read About: Michael Strahan's Kids
Michael Strahan's Car
Strahan has a large car collection with modern powerhouses and classics alike. According to a 2017 article by MotorTrend, the list of vehicles includes a 2005 Porsche Carrera GT, 2007 Mercedes-Benz SLR McLaren Roadster, 2012 Rolls-Royce Drophead, 2015 Porsche GT3 RS, Mercedes SL65 Black Series, 1966 Mercedes-Benz 600, and a 1990 Lamborghini LM002 SUV among others.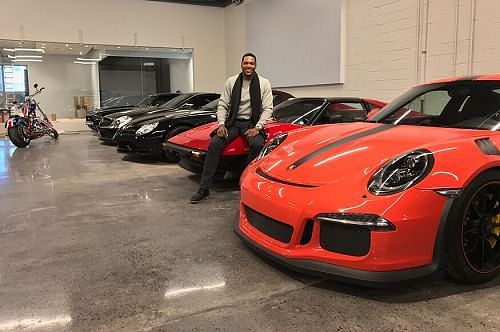 Michael Strahan's Charity
Strahan has worked with the likes of PETA, the American Cancer Society and the Children's Miracle Network, but he is best known for his volunteer work at the St. Jude Children's Research Hospital. He has actively supported the Pat Tillman Foundation, which invests in and empowers military veterans and their spouses.
Other Similar Pages
FAQs
Q. What is Michael Strahan's yearly salary?
A. As of now, Michael Strahan's yearly salary is estimated to be around $17 million.
Q. What is Michael Strahan's salary on GMA?
A. Strahan reportedly makes $17 million per year on Good Morning America.
Q. Why is Michael Strahan not on GMA anymore?
A. Strahan's still on GMA but in a different time slot. Alongside GMA, he is also hosting GMA's spinoff called Strahan, Sara & Keke. He left Live! with Kelly and Michael in 2016 to join GMA full-time.