Patrick Mahomes II is an American football quarterback. He plays in the National Football League (NFL) for the Kansas City Chiefs. In 2017 he entered the first round of the NFL Draft, where he was the tenth pick by the Kansas City Chiefs. In NCAA Division I Football Bowl Subdivision (FBS), Mahomes played for Texas Tech University where he secured 5,052 passing yards and a total of 53 touchdowns. He is the sole quarterback in history to throw for over 5,000 yards during a season in both college and also the NFL. Mahomes has won the All-Pro MVP award and is only the fourth African-American quarterback to do so. Mahomes is married to Brittany Matthews and welcomed a child together in 2021. Mahomes is the youngest quarterback to have been named a Super Bowl MVP and he was also named MVP of the Super Bowl 2023 match against the Philadelphia Eagles.

Who are Patrick Mahomes' Parents?
Patrick Mahomes is undoubtedly one of the biggest stars of the NFL over the past couple of years and has athletic genes as he grew up playing professional sports thanks to his dad. Patrick Mahomes' parents are Pat Mahomes Sr. and Randi Martin. Mahomes was born on September 17, 1995, to Patrick and Randi in Tyler, Texas. Pat Mahomes Sr is a former MLB pitcher. Mahomes believes that training pitching and playing basketball from a young age has improved his quarterback throwing skills.
Who is Patrick Mahomes' Father?
Patrick Mahomes Sr
Pat Mahomes Sr. was born on August 9, 1970. He was a Major League Baseball pitcher. He was a three-sport athlete in high school where he played football, basketball as well as baseball at Lindale High School in Texas. Mahomes Sr did not begin pitching until his senior year of high school, following an injury. He declined both football and basketball scholarship offers from Division I programs to play baseball at the University of Arkansas. In the 1988 MLB Draft, he was drafted by the Minnesota Twins in the sixth round and chose to go pro right after high school. In 1992, he made his Major League debut with the Twins. He performed really well as he played 5 years for them before being traded to the Boston Red Sox. With the Red Sox, he spent two seasons and was released from his contract. He played with the New York Mets, Texas Rangers, Chicago Cubs, and Pittsburgh Pirates until 2003.
After playing in the big leagues, Mahomes Sr. was with the Triple-A Nashville Sounds and took part in a few gigs with the minors and independent baseball in 2003. And he went on like this for the next seven years and retired following the 2009 season. A report says that Patrick Sr was concerned about the brutality that takes place in the game of football and to avoid it taking a toll on his son he wanted him to play baseball initially. The quarterback did follow in his father's footsteps and played baseball as well. During his senior year at Whitehouse High School, Patrick Mahomes threw a no-hitter and was included in the 2014 Major League Baseball draft as one of the top prospects. He got selected only in the 37th round by the Detroit Tigers. However, due to his keen interest in football and his commitment to Texas Tech, he did not sign with the Tigers and went on to pursue an extraordinary football career.
Know more about: Patrick Mahomes sr
Who is Patrick Mahomes' Mother?
Randi Martin
Patrick Mahomes' mother Randi Martin was born in Tyler, Texas, on January 18, 1976. Her parents are Randy Martin and Debbie Bates Martin. Her father, Randy being a school principal prioritized his kids' education before anything. She exhibited good academic performance when she graduated from Texas High School. She married Patrick Sr. in the late '90s and gave birth to Patrick Mahomes Jr on September 17, 1995. With their quarterback son's superstardom, both Randi and Patrick remain extremely close. Randi is often seen to quote in interviews how her son Patrick is a blessing and that they are a close-knit family along with Mahomes' two other siblings, Jackson and Mia, and their unconditional love for each other.
Randi is a homemaker, dedicated to staying deeply involved in the lives of all three of her children, and is very protective of her children. It has been noticed in the media that she hates it when people make fun of Patrick's voice. Both Randi and Pat Sr, may have influenced their son's athletic career. She was very high on the academic side of things for her son and Patrick being a student-athlete, she always made sure to remind him that "student" came before "athlete". In a previous interview, Randi gushed about how her son is truly living the dream, and that although it is a little overwhelming, she takes it one day at a time and tries to enjoy it. When it was time for Patrick to make a decision on whether to go for the MLB draft or to take a college football scholarship, Randi showed her utmost support all throughout and helped him make the fitting decision. She helped him through the process by reminding him of the great opportunity a college education posed for him. Randi Martin is working as a private events coordinator for Hollytree Country Club in Tyler, Texas.
Know more about: Patrick Mahomes' mother, Randi Martin
What nationality are Patrick Mahomes' parents?
Patrick Mahomes' parents' are Americans. His father is of African-American descent and his mother is Caucasian. In an interview, Mahomes mentioned what it is like to be a minority quarterback. He said being a black quarterback shows that it doesn't matter where one comes from. Patrick Mahomes showed his support during the Black Lives Matter movement popularized by Colin Kaepernick.
How old are Patrick Mahomes' parents?
Mahomes' father is 52 years old while his mother is 46 years old. Patrick Mahomes' father was born on August 9, 1970, and his mother was born on January 18, 1976.
Patrick Mahomes Parents pictures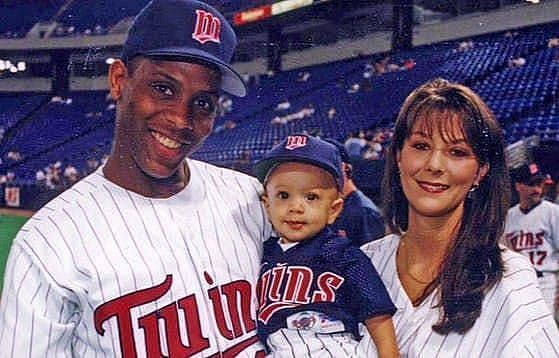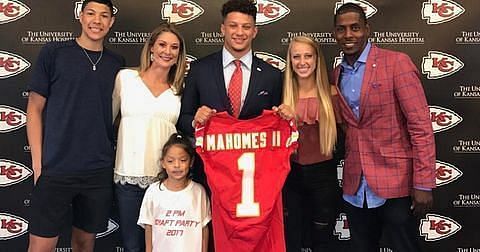 Also Read: Who is Patrick Mahomes' girlfriend, Brittany Matthews?
Patrick Mahomes Parents' Family
Pat Mahomes Sr. and Randi Martin were both born in Tyler, Texas. Randi Martin has 3 siblings - two older sisters named Jill Herrington and Lori Deal, and an older brother named Joey Martin. She gave birth to Patrick Mahomes on September 17, 1995, after tying the knot with Patrick Sr in the late '90s.
Are Patrick Mahomes' parents still married?
Randi Martins and Pat Mahomes have not been married to each other for a long time. Pat and Randi divorced when Mahomes was just six years old. They split on amicable terms, and still consider each other their best friends to this day. To support their son, both parents regularly watch Mahomes' games and attend NFL events together. Even though they split up, they never let their relationship affect Patrick or his brother and provided full support to them.
Also Read: Who is Patrick Mahomes' brother, Jackson Mahomes?
FAQs
How many times has Patrick Mahomes won the Super Bowl?
Patrick Mahomes has played in three Super Bowls with the Chiefs and won two of them.
What is Pat Mahomes Sr. famous for?
Patrick Mahomes Sr. was a famous baseball player who played from the 1980s till 2007. He played for many teams such as the Boston Red Sox, New York Mets, Texas Rangers and the Chicago Cubs among others.
What does Patrick Mahomes' brother do?
Patrick Mahomes' brother Jackson Mahomes is a famous social media star with millions of followers on Tik Tok and Instagram. He is a social media personality.
How much does Patrick Mahomes earn in a year?
Patrick Mahomes earns around $45 million per year from his contract with the Kansas City Chiefs.
Who is Patrick Mahomes' wife?
Patrick Mahomes is married to his high school sweetheart Brittany Matthews Mahomes.