| | |
| --- | --- |
| Name | Brett Lorenzo Favre |
| Net Worth | $100 million |
| Age | 53 (born October 10, 1969) |
| Position | Quarterback |
| Residence | Sumrall, Mississippi |
| Marital Status | Married (1996 - present) |
| Spouse | Deanna Tynes |
| Children | Brittany Favre, Breleigh Favre |
| Source of Income | NFL, endorsements, business |
| Salary | $20 million |
| Endorsements | Nike, Snapper, Remington, Sears, Prilosec, Sensodyne, MasterCard, Wrangler, Bergstrom Automotive, Hyundai. |
| Endorsement Earnings | $7 million as of 2010 |
Brett Favre is a former National Football League (NFL) quarterback. He has played for four teams in the league during his 20 years in the sport. In his long NFL career and then as an NFL analyst, Brett Favre earned a net worth of around $100 million. He was first drafted by the Atlanta Falcons in 1991 as backup and was traded to the Green Bay Packers in the first-round pick of the 1992 NFL Draft. He spent 16 years with the Packers, leading the team to win the Super Bowl XXXI against the New England Patriots. He is the only player to have won the Associated Press NFL Most Valuable Player Award three consecutive times (1995-1997). He was the four-time NFL passing touchdowns leader (1995-1997, 2003), two-time passing yards leader (1995, 1998) and NFL completion leader (1998). He bagged the Bert Bell award consecutively in 1995 and 1996.
What is Brett Favre's Net Worth in 2023?
Brett Favre's illustrious 20-year career as one of the best quarterbacks in the league and other endeavors apart from the sport have accumulated into a net worth of $100 million.
Brett Favre's Salary
Brett started his career in professional football with the Atlanta Falcons, signing a 3-year $1.4 million contract in his rookie year. The paychecks got bigger after he was traded to the Green Bay Packers and signed a 5-year $19 million contract, which was extended in 1997 for almost $40 million. By 2001, Brett had signed another $100 million 10- year extension with the Packers.
The contract with the New York Jets was worth a total of $28 million. He earned a total of nearly $140 million in salary over the span of two decades.
Brett Favre's Endorsements
As a celebrity athlete, Brett was in demand for endorsing and promoting brands such as Nike, Snapper, Remington hunting rifles, Sears, Prilosec, Sensodyne, MasterCard, Wrangler jeans, Bergstrom Automotive, Hyundai to name a few. These endorsement deals earned Favre around $7 million.
Brett Favre's Investments
Having suffered multiple concussions while playing, Brett Favre invested in pharmaceutical company Prevacus, which is developing Prevasol, a concussion medication that the company hopes may be the first step in being able to prevent Chronic Traumatic Encephalopathy (CTE) - a neurodegenerative disease linked to repeated blows to the head.
Brett Favre's Other Sources of Income
Favre appeared alongside former American race car driver Dale Jarret in the Busch Series - a stock car racing series organized by NASCAR in 1991.
He was the owner of a restaurant in Wisconsin, Brett Favre's Steakhouse, later called Hall of Fame Chophouse. It closed in 2018.
Favre is also the ambassador and advisor of Sqor - a sports social media platform.
In 2012, he worked as the offensive coordinator for the Oak Grove High School in Mississippi.
Brett Favre's House
Favre's house in Hattiesburg, Mississippi was destroyed in the aftermath of Hurricane Katrina in 2005. He currently resides in Sumrall, Wisconsin in a 465-acre mansion worth $17 million.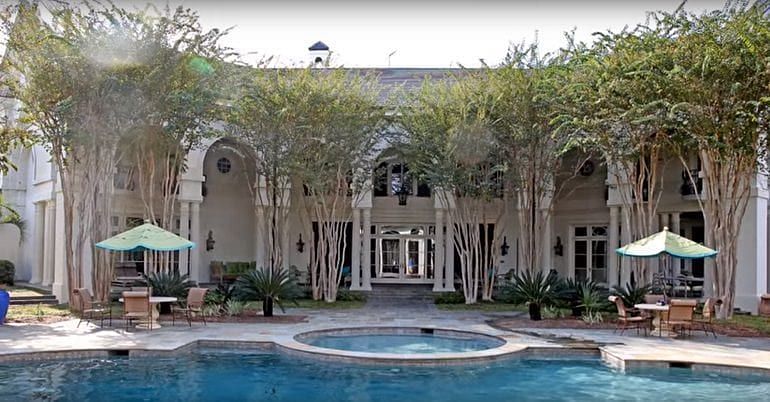 Image source: Sports Retriever
Brett Favre's Charity Work
The Brett Favre Fourward Foundation was set up in 1996. Brett holds annual golf and celebrity softball events as well as fundraisers to raise money for donations to various charity organizations in Mississippi and other states. Brett's wife Deanna Tynes was diagnosed with breast cancer in 2004 and set up the Deanna Favre Hope Foundation which provides breast imaging and diagnosis services to women as well as raises breast cancer awareness.
What
's Brett Favre doing now?
Brett Favre is enjoying retirement, spending his free time traveling, and joined the NFL Network in 2011 to cover the Super Bowl XLVII pregame. He also hosted a show on the radio channel SiriusXM.
Other Similar Pages