| | |
| --- | --- |
| Name | Troy Kenneth Aikman |
| Net Worth | $65 million |
| Age | 56 (born November 21, 1966) |
| Residence | California, West Covina, United States. |
| Position | Quarterback |
| Marital Status | Rumored Separation from Catherine Mooty |
| Spouse | Rhonda Worthey (2000-2011), Catherine Mooty (2017-present) |
| Children | 4 |
| Source of Wealth | NFL, radio, and Monday Night Football Host for ESPN |
| Salary | $18.5 million (estimated) |
| Endorsements | Wingstop, Nike, Rent-A-Center, Silvercar, Acme Bricks, IDLife |
Former NFL quarterback and a legendary figure in the game, Troy Aikman has a substantial net worth of $65 million. Born in West Covina, California, Troy Aikman began playing football at Henryetta High School, Oklahoma. The All-State honors winner pursued the sport at the University of Oklahoma. Despite a rocky start, he came under the spotlight after transferring to UCLA in 1986. He made history as the number two passing leader in UCLA and was elected to the College Football Hall of Fame in 2008.

Impressed by his awards and skills, the Dallas Cowboys drafted Aikman first overall in the 1989 NFL Draft. Although his rookie season was riddled with defeats, 1992 proved to be a victorious year for both the team and him. The quarterback won 13 games in the season and set career highs in completions (302), passing yards (3,445), and touchdown passes (23), and also led the Cowboys to their first SuperBowl appearance in 13 years and was crowned the MVP of Super Bowl XXVII.
He won six Pro Bowls consecutively from 1991 to 1996. By 1997, he was the first quarterback in the team to have three straight 3,000-yard seasons.
Troy Aikman's exciting career came to an end due to persistent injuries he sustained on the field. He retired from the National Football League in 2001 and used his knowledge and experience in football to become an expert commentator on Fox's NFC telecast. Apart from this, Aikman also hosts a weekly radio show on Sporting News Radio and 1310 The Ticket.
---
Also read: Troy Aikman's Super Bowl Wins
---
In 2005, he was inducted into the Dallas Rings of Honor and the following year he made it into the Pro Football Hall of Fame, becoming only the sixth quarterback to do so. The former quarterback excels even off-field, receiving an Emmy nomination in 2004 for his commentary. In February 2022 Aikman signed a multi-million dollar deal with ESPN to host Monday Night Football along with Joe Buck.
Troy Aikman's Net Worth in 2023
Troy Aikman has not only earned a reputation as one of the greatest quarterbacks of all time. He has amassed a net worth of $65 million of which he has earned $55 million over 12 seasons in the league. Even after the end of his professional football career, he continued as a sports commentator. He has received a number of Emmy Awards, and he now also hosts a weekly radio show. His various endorsement deals and investments contribute to his net worth today. He recently signed a deal with ESPN to host the Monday Night Football which is set to increase his net worth even more.
Troy Aikman's Salary
Aikman had a base salary of $27.4 million, with bonuses as high as $17.85 million during the peak of his NFL career as a Dallas Cowboys' quarterback. His 8-year $80 million contract, plus a signing bonus of $11 million made him the highest-paid athlete in the league in 1993.
As a commentator, Aikman was earning an estimated $7.5 million annually, which was the highest for a sports commentator. He is set to earn even more now as he penned a new deal with ESPN in February 2022, which will pay him approximately $18.5 million annually. Although there are no confirmed figures, it is estimated that Aikman signed a 5-year deal worth $92.5 million with ESPN to host Monday Night Football.

Troy Aikman's Endorsements
As one of the most prosperous quarterbacks of his time, Aikman scored many lucrative endorsement deals. Here are some of the prolific endorsement deals signed by Aikman as an NFL player:
Nike

Acme Bricks

Rent-A-Center

Silvercar

IDLife

Wingstop
Troy Aikman's Investments
In 2005, Aikman and former Cowboys quarterback Roger Staubach launched Hall of Fame Racing, a NASCAR Sprint Cup Series racing team. Terry Labonte and Tony Raines were co-drivers in the #96 DLP HDTV Chevrolet in the NASCAR NEXTEL Cup Series in 2006. The team was eventually sold off in 2007 and officially closed in 2009.
Troy Aikman's Other Sources of Income
Troy Aikman owns stocks in the eatery, Wingstop, for which he is also the spokesman. He is also a minority owner of the Major League Baseball team, the San Diego Padres. Aikman is a partner in IDLife, a health and nutrition company that he earlier endorsed. The athlete also owned a car dealership, Troy Aikman Automall, however, he sold 25% of his stake in the company in 2001, after his retirement.
Troy Aikman's House
Aikman listed his French Normandy-style mansion for sale in 2015. He bought the 10,700 sq.ft property in 2013 for $4.5 million. The three-storied house included six bedrooms, a home theater, wine cellar and a pool with spa and waterfall features.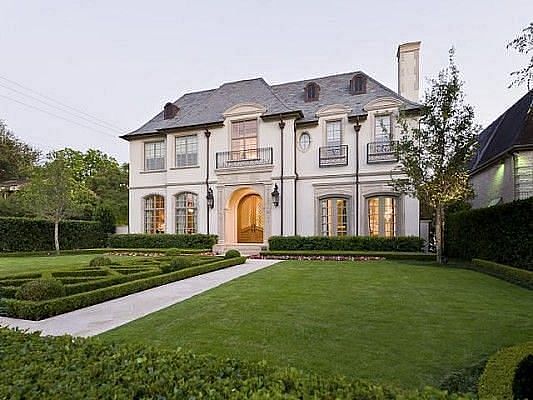 Troy Aikman's Charity Work
Troy Aikman is the chairman of the Troy Aikman Foundation, a charity that focuses on building hospitals for children.
How much does Troy Aikman make as a broadcaster?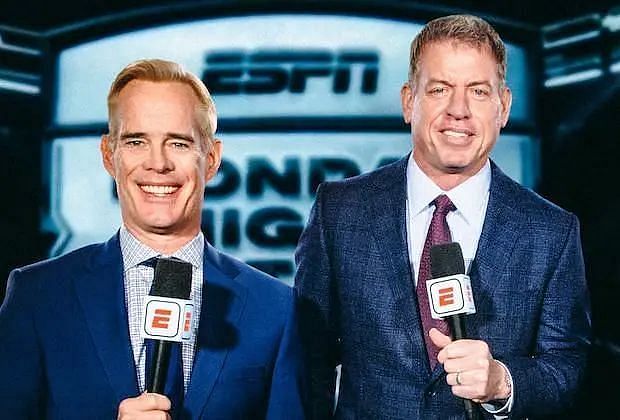 Aikman earned $1 million in the initial stages of his broadcasting career post his retirement from professional football in 2001. His skills and expertise in the field rewarded him with a grand reputation even after his retirement and he was nominated for the Emmys in 2004. Currently, Troy Aikman earns roughly $ 18.5 million per year for becoming the host of Monday night football along with Joe Buck on ESPN.
---
Also Read: Who is Troy Aikman's Wife, Catherine Mooty?
---
Other Similar Pages
FAQs
What is Troy Aikman's Net Worth?

The former Dallas Cowboys quarterback has a net worth of around $65 million.
Is Troy Aikman married?

Troy Aikman was married to Catherine Mooty in 2017 however, there are rumors about his separation. Troy Aikman was spotted with rumored new girlfriend, Haley Clark, vacationing in Italy.
How many Super Bowls has Troy Aikman won?

Troy Aikman has won 3 Super Bowls in his career. He won all of them with the Dallas Cowboys in 1993, 1994 and 1996 respectively.
Why did Troy Aikman retire so early?

Troy Aikman retired from the NFL in 2000. He cited persistent back problems as the reason he could not continue to play for the Cowboys anymore.
When was Troy Aikman induced in the Hall of Fame?

Troy Aikman was induced in the Pro-Football Hall of Fame in 2006, which is a testimony to his illustrous NFL career with the Dallas Cowboys.