Troy Aikman is a former American professional football player who played in the National Football League (NFL). He played as a quarterback for the Dallas Cowboys. Aikman was selected as the first overall pick in the 1989 NFL Draft. He holds the record of the most number of seasons by any Cowboy quarterback as he played 12 consecutive seasons as the starting quarterback with them. He helped the team win three Super Bowl titles, and was the MVP of Super Bowl XXVII. He also has six-time Pro Bowl selections to his name. In 2006, Aikman was elected to the Pro Football Hall of Fame. Following this, on December 9, 2008 he was inducted into the College Football Hall of Fame in New York City. He currently works as a television sports host for the Fox TV network.
Who is Troy Aikman's Wife, Catherine Mooty?
Catherine 'Capa' Mooty was born in Dallas. Capa Mooty is an entrepreneur and a fashion icon. She co-founded the mobile boutique called Luxeliner alongside the Cowboys owner Jerry Jones's daughter, Charlotte Jones Anderson, and four other friends. The boutique sells clothes and accessories. They also have branches set up successfully in other parts of the US and a few other countries. She was previously married to Jerry Mooty, who is a nephew to the Dallas Cowboys owner Jerry Jones. She is known to not be very public about her personal information and seems to be quite reserved on social platforms.
What is Catherine Mooty's height and age?
Catherine Mooty was born on 13th October, 1970, which makes her 50 years old. Her exact height is not available but she's much shorter compared to her husband Troy Aikman. Aikman's height is 6 feet 4 inches.
What is Catherine Mooty's Net Worth?
Capa Mooty's net worth is estimated to be around $3 million. This includes her mobile boutique business Luxeliner which was launched in Dallas in 2012.
Also Read Troy Aikman's Net Worth
What is Catherine Mooty's Nationality?
She is American by nationality and is of white ethnicity.
Troy Aikman's Wife and Family
Before Capa Mooty, Troy Aikman was married to Cowboys publicist Rhonda Worthey. They were married on April 8, 2000, in Plano, Texas. The couple shares two daughters together, Jordan (born 2001) and Alexa (born 2002). On January 24, 2011, they announced their separation, and the divorce became final on April 12 the same year.
Following this, Aikman was reportedly single for more than five years. He met Catherine in early 2016, who was a single mom then. She has two sons, Luke and Val. According to People, the couple got engaged in June 2017 in Lake Como, Italy. They got married three months later in a small ceremony in Santa Barbara, California. Aikman often refers to his family as 'Team Six' on social media. All four children attend the same private school in Dallas. Aikman is also known to coach his stepson's high school football team. The family enjoys spending time outdoors, and likes doing adventure activities like hiking and paddleboarding together.
What does Catherine Mooty do?
Catherine Mooty is an entrepreneur, who is one of the six co-founders of Luxeliner, a mobile boutique that sells fashion clothes, accessories, and gift items. Catherine is also a fashion enthusiast and she is very much into all kinds of fashion trends.
---
Also Read: Tim Tebow Wife
---
Catherine Mooty's Pictures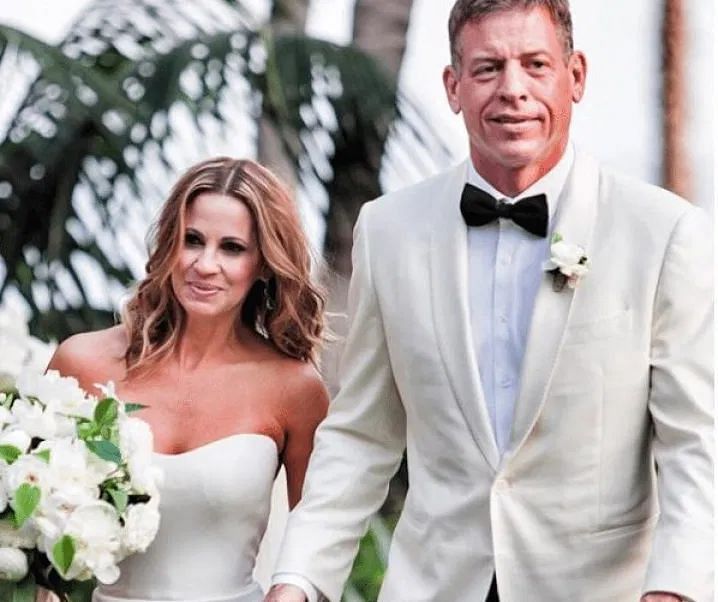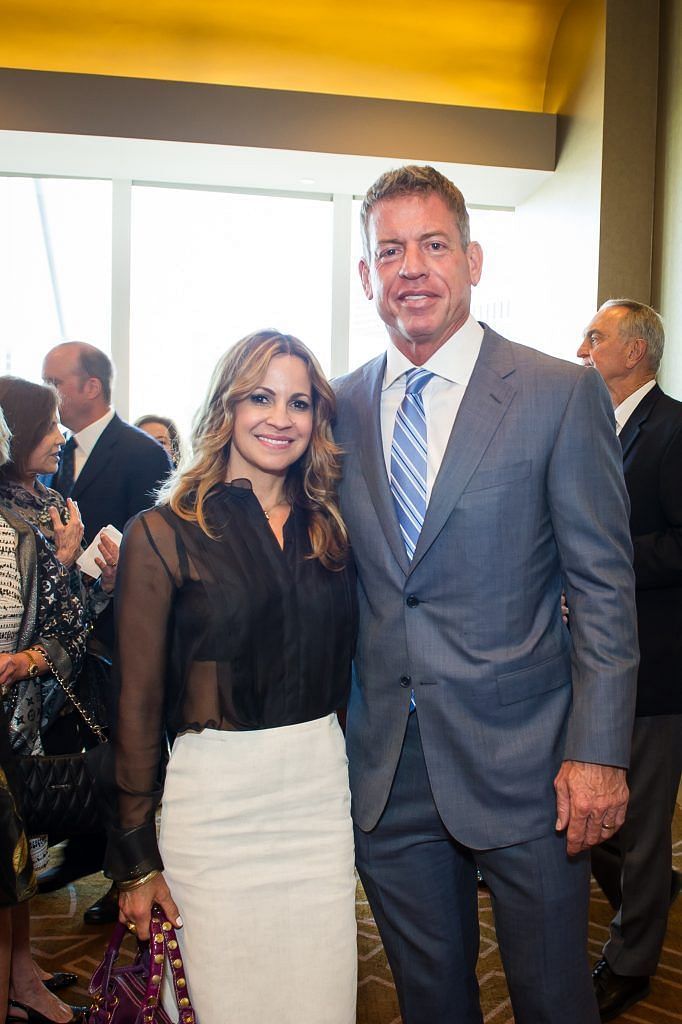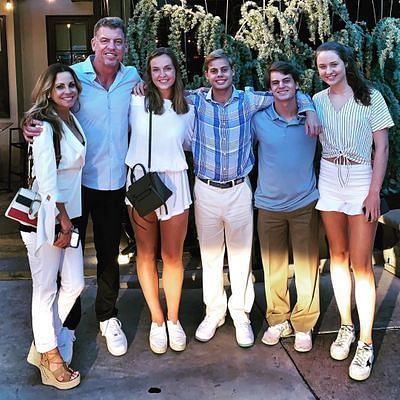 How did Troy Aikman meet Catherine Mooty?
Sources state that Catherine met Troy through her ex-husband who is a relative of the Dallas Cowboys owner Jerry Jones. The couple started dating around February 2016, and after a year, got engaged the following year on 3rd June 2017.
Also Read: Troy Aikman Super Bowl Wins
Other Similar Pages