A former American football running back, Reginald (Reggie) Bush played for the New Orleans Saints in the National Football League (NFL). The Saints drafted Reggie Bush as the second overall pick in the 2006 NFL Draft. Bush played college football at University of Southern California (USC). While in college, he won the Heisman Trophy as the most outstanding player in the nation, and also earned the consensus All-American honors twice. In 2005, he was also the winner of Doak Walker and Walter Camp awards. In 2008, Bush was named an All-Pro punt returner and won Super Bowl XLIV with the Saints in 2010 defeating the Indianapolis Colts. Before retiring from the NFL in December 2017, Bush also played for the Buffalo Bills, Miami Dolphins, Detroit Lions, and San Francisco 49ers.
It was allegedly reported that he received improper benefits from winning the award, due to which an NCAA investigation of the USC football program was conducted. This led to severe NCAA sanctions against USC. They suffered a two-year postseason ban and had to vacate the 2004 national championship. Bush voluntarily forfeited his Heisman Trophy as a consequence of this turmoil. After retiring from the game of football, Bush became a partner and a spokesperson for the skincare company Barc in 2012. He currently works as a college football analyst for Fox Sports.
Who Is Reggie Bush's Wife?
Reggie Bush is married to Lilit Avagyan, who is a well known Armenian dancer. Lilit was born on November 30, 1987, in Armenia. Her father's name is Avag, and he is an engineer working for International Solar Electric. Her mother's name is Juleta Avagyan. She has a sister named Anna, who is a fitness instructor and owns a weekly boot camp. Lilit loved dancing from a very young age. To pursue her career as a dancer she spent 12 years in Europe working on her dancing skills.
She has won several awards over the years for her outstanding skills. In 2008, she won the USA National Championships, and eventually qualified for the 2013 Latin American World Championship in Australia where she represented the USA. In 2010, she won the Rising Star Open dance competition held in Florida. She has also appeared as a guest performer on "Dancing with the Stars" during Ashlee Simpson's season 6 "Boys" performance. Other than English, Lilit is also fluent in both Armenian and Russian.
Reggie Bush's Wife - Lilit Avagyan's Net Worth
According to sources, being a quite famous dance instructor, Lilit earns nearly $50,000 per year as a dance instructor. Although her exact net worth is unknown, it is estimated that it could be somewhere north of $10 million.
What is Lilit Avagyan' height and age?
Lilit Avagyan was born on November 30, 1987. She is 35 years old. Her height is 5 feet 6 inches (168 cm).
What is Lilit Avagyan's Nationality?
Lilit was born in Armenia before her parents settled in the USA. She is an American by nationality, and her ethnicity is Armenian.
What does Lilit Avagyan do?
Lilit Avagyan is a professional dancer, dance teacher, and choreographer. She has participated in Louis Van Amstel's Ballroom With The Twist and also performed as a guest dancer on the famous ABC show, Dancing with the Stars.
When did Reggie Bush get married to Lilit Avagyan?
Reggie Bush and Lilit Avagyan started dating in 2011. Prior to this, Reggie was in an on and off relationship with Kim Kardashian for three years. Reggie and Lilit dated for two years before officially tying the knot on July 12, 2014. They have been happily married for almost 9 years.
Lilit Avagyan and Reggie Bush's Wedding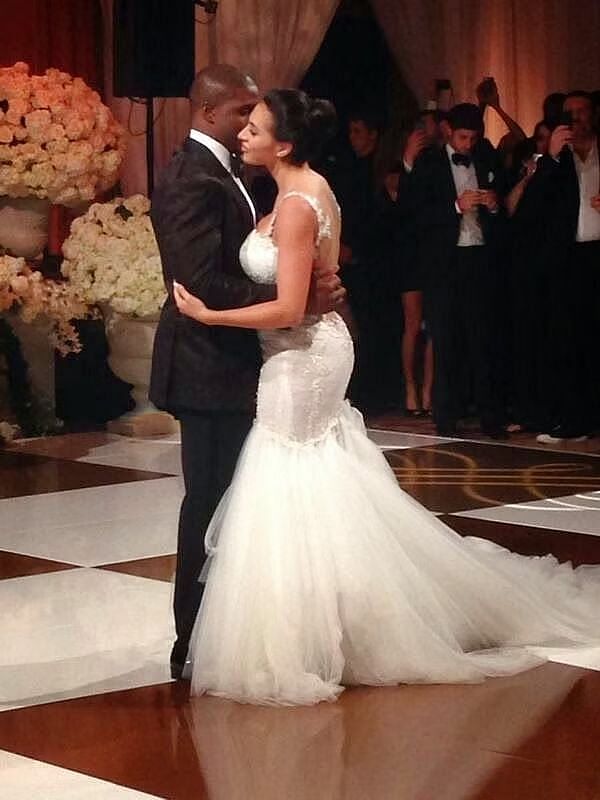 Lilit and Reggie's wedding was a lavish San Diego ceremony, where Bush grew up. The ceremony was attended by well known celebrities and family members. The couple exchanged their wedding vows at the Grand Del Mar hotel in San Diego. Lilit wore a cleavage-baring, mermaid-style gown with a sweetheart neckline, an exposed back aligned with gorgeous beading and flower accents and a long, flowy tulle skirt. While the groom Reggie wore a black and white tux with a bow tie.
Lilit Avagyan and Reggie Bush's Children
Reggie and Lilit have three beautiful children together. They have a daughter Briseis, who just recently turned 10 and two sons Uriah, who is almost 7 and Agyemang who is 5. Both of them were happy to social distance with their kids during the coronavirus pandemic and shared quality time with each other. Bush stated that homeschooling the children during the period was challenging and he and Lilit learned a lot during the process.
FAQs
Q. Which team drafted Reggie Bush?

A. Reggie Bush was selected by the New Orleans Saints with the second overall pick in the 2006 NFL Draft.
Q. Did Reggie Bush marry Kim Kardashian?

A. Reggie Bush and Kim Kardashian were in an on-off relationship for a few years, however they never married.
Q. How did Reggie Bush get into trouble with the NCAA?

A. The NCAA found evidence that Reggie Bush had received impermissible benefits while playing at USC. He was also stripped of his Heisman Trophy for the same.
Q. Who is Lilit Avagyan?

A. Lilit Avagyan is an Armenian dancer and the wife of former NFL running back - Reggie Bush. Lilit along with Reggie have three children, one daughter and two sons.