Christopher Godwin is an American football wide receiver. He plays in the National Football League (NFL) with the Tampa Bay Buccaneers. He played high school football for the Middletown High School's Cavaliers in Delaware and helped them achieve a 41–7 record over his four years there and was an essential member in winning two State Championships. Godwin won the Super Bowl in 2021 with the Buccaneers.
Who is Chris Godwin's Wife, Mariah DelPercio?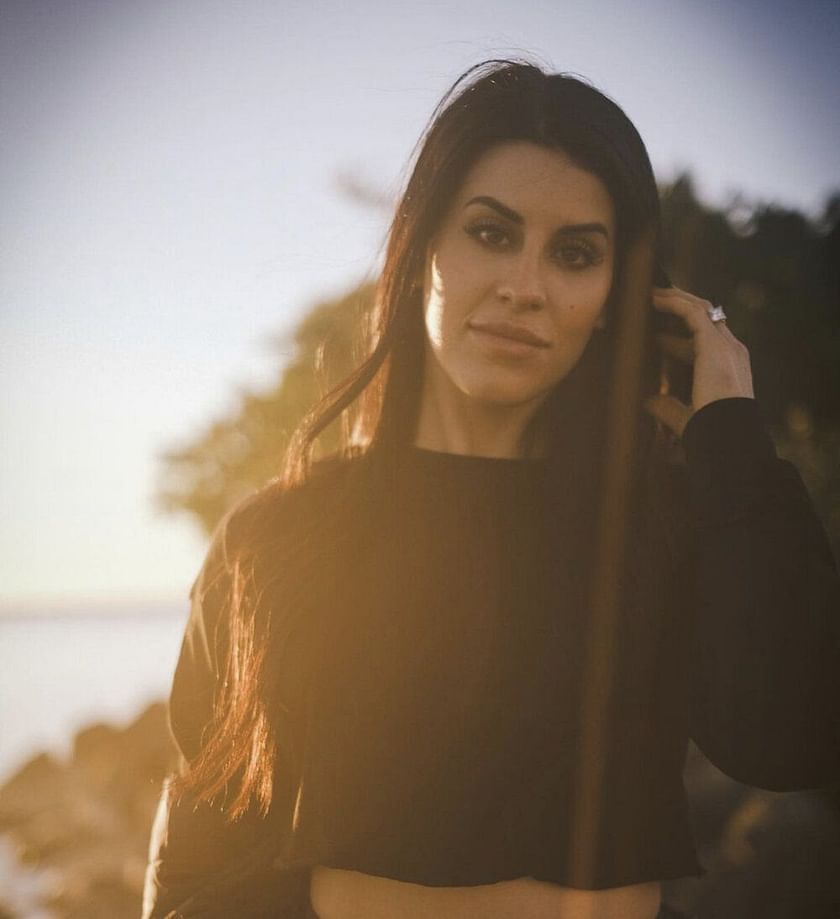 Image source - Google images
Born on January 22, 1996, Mariah grew up in a football family in Delaware. Mariah attended Middletown High School in Delaware and that's where the pair started dating. Her father Mark DelPercio was also the football coach of Middletown. Like Godwin, she also attended Penn State University. She studied Sports Nutrition and Exercise Science.
She is extremely passionate about sports nutrition and devises training and nutrition programs through extensive research. She works as a fitness instructor in Tampa. Previously in 2013, she used to work as a shift supervisor at Jack's Wayback Burgers in Midleton, Delaware. Later she went to work at Middleton High School Youth Football Camp. While in college, she was a nursing assistant at the Centre Crest Nursing Home in Bellefonte, Pennsylvania. She also was an office assistant at South Hall Housing Office while at Penn State.
In early 2018, after Chris got drafted and they moved to Tampa, Mariah began volunteering at the Humane Society of Tampa Bay. That's where she found her passion for animal rescue, and began educating herself on the workings and needs of the animal rescue community. Mariah is a huge supporter of the Adopt Don't Shop movement and hopes to continue to educate people about owning dogs, the importance of spaying and neutering. She wishes to help people understand the real meaning and goals behind the movement. She wants to end breed discrimination and the stigma around animal shelters. Mariah is passionate about making a positive impact in the community in absolutely any way she can, and believes no act of goodness is too small.
What is Mariah DelPercio's height and age?
She was born on 22nd January, 1996 and is years old. Her height is unknown as there's no exact details shared by any sources. Being a fitness guru, she has an athletic physique and tremendous strength. She was into bodybuilding and does weightlifting from time-to-time as part of her fitness regimen.
What is Mariah DelPercio's net worth?
Details about Mariah's net worth are unknown. But being a certified personal trainer and Sports Dietician, she is bound to have a good source of income. Her beau Chris Godwin's net worth is estimated to be around $2 million.
Back in 2017, Chris and Mariah launched a fundraiser to benefit victims of Hurricane Harvey and Hurricane Irma through the Global Giving Foundation in Texas and Florida. The couple also co-founded the Team Godwin Foundation on November 11, 2019 which provides financial assistance to local shelter and rescue groups to assist the lives of pets.
What does Mariah DelPercio do for a living?
Mariah works as a fitness instructor in Tampa, and is a Sports Dietician. She devises training and nutrition plans for her clients, and provides one-on-one sessions. She also volunteers at the Humane Society of Tampa Bay, and is an integral part of the Adopt Don't Shop movement. She is also the co-founder of the Team Godwin Foundation along with her husband Chris. The aim of the foundation is to help the pets in need by providing financial assistance to local shelter and rescue groups.
How long have Chris Godwin and Mariah DelPercio been dating?
Chris and Mariah began dating on May 8, 2012 when they were still in high school. They both attended Middletown High School in Delaware, and later enrolled in the same university at Penn State. They have dated for nine years before tying the knot in 2021.
How did Chris and Mariah meet?
Image source - Google images
Chris and Mariah met each other in early 2010s and their romance started right from high school and they did not slow it down even after going off to college. Mariah's dad was their high school football coach and has been supportive of their relationship since the beginning. He has coached Godwin and he knew what a phenomenal player he was right from the beginning. Both attended Penn State where Mariah studied Sports Nutrition and Exercise Science. All through college, they were together and during Draft Day in 2017, she was sitting right beside him. Mariah, being Chris' greatest supporter, constantly posts pictures on her social media handles with Chris, alongwith fitness posts. She also shares how underrated Chris was coming into the NFL, and doesn't miss an opportunity to remind people that.
Chris Godwin and Mariah DelPercio wedding
Image source - Instagram
After almost a decade of dating, Chris, during the 2020 offseason, took Mariah down to Cape Town, South Africa, and popped the question on a beautiful sunny day. On 12 March 2020, the high school sweethearts went to Franschhoek where the NFL player decided on a good restaurant. On the outside patio the table was set for the couple. However, before starting to eat Chris took Mariah out to the lawn. As she was admiring the surrounding and the beautiful mountains around, Chris got on his knees and proposed to her. They got married a year later on May 9, 2021 in Malibu in a private ceremony.
Other Similar Pages