An American football tight end, Timothy Tebow is currently a free agent in the National Football League (NFL). He last signed for the Jacksonville Jaguars (2021) but was released after the preseason. He was also a former baseball player. He played college football at University of Florida, as a quarterback. In 2007, he won the Heisman Trophy. During the 2006 and 2008 seasons, he also appeared on BCS National Championship winning teams. In the 2010 NFL Draft, he was selected in round 1 as the 25th pick by the Denver Broncos, and then went onto play as quarterback for the New York Jets. Tebow has also played with the New England Patriots and the Philadelphia Eagles, before joining the Jaguars in 2021. In 2016, he also played minor league baseball as an outfielder with the New York Mets. Known for his outspoken Christian faith, Tebow has great athletic prowess.
Who is Tim Tebow's Wife, Demi-Leigh Nel-Peters?
Image source - Pinterest
Demi-Leigh Nel-Peters is the wife of Tim Tebow. She is a South African model and beauty pageant titleholder. She was crowned Miss South Africa 2017 and went on to win the Miss Universe 2017 pageant. She was crowned. From South Africa, she is the second Miss Universe winner, following Margaret Gardiner who was crowned Miss Universe in 1978. Demi was born in Sedgefield, Western Cape, to Bennie Peters and Anne-Marie Steenkamp. Her parents are divorced and have remarried. Her half-sister, Franje, who had cerebellar agenesis passed away on 4 May 2019. Demi considers her sister as the most significant motivator in her life. Demi attended North-West University where she received a bachelor's degree in business management and entrepreneurship. While studying she modeled part-time for Boss Models and Vision Management Cape Town. In March 2017, a few days before winning the Miss South Africa 2017 competition, she graduated from university. She is known to be fluent in both English and Afrikaans.
What is Demi-Leigh Nel-Peters' height and age?
Born on June 28, 1995, Demi is 26 years old. She stands at a height of 5 feet 7 inches.
Tim Tebow's Wife, Demi-Leigh Nel-Peters Net Worth
As of 2021, Demi-Leigh Nel-Peters net worth is estimated to be around $5 million. She has endorsed brands like PrettyLittleThing, Swarovski, Get-Johan Coetzee, Muca Skincare, God's Love We Deliver etc.
What is Demi-Leigh Nel-Peters' nationality?
Demi is South African by nationality while she is of the Afrikaans ethnicity.
Tim Tebow's Wife and kids
Tim and Demi celebrated their 2-year wedding anniversary in January 20, 2022. However, they don't have any kids yet. But in an interview with People, Tebow mentioned having children is definitely on the couple's agenda. She said, "We've definitely talked about it, absolutely. I don't know when that timeline would be right and when the right time is. But it is something we definitely talk about and really hope for one day."
While the couple waits to welcome a baby, they are currently proud pet parents to three adorable dogs - Paris, Kobe and Chunk.
What does Demi-Leigh Nel-Peters do?
Demi-Leigh Nel-Peters is a South African model and also a beauty queen. She won the Miss South Africa crown in 2017, and later the same year went on to win the prestigious Miss Universe title. Demi began her pageantry career in the Miss South Africa 2017 by representing Western Cape. The competition took place on March 26, 2017. After winning the Miss South Africa, she was eligible to represent South Africa in both the 2017 editions of Miss World and Miss Universe. However, the dates of the two pageants coincided, and she eventually participated in the Miss Universe pageant which was held in Las Vegas, Nevada. She went on to win the competition and was crowned Miss Universe 2017 by outgoing titleholder Iris Mittenaere. Semi is the second titleholder from South Africa after Margaret Gardiner who won the title in 1978.
In the pageant she was asked what was the most important issue regarding women in the workplace. To that she replied, "In some places, women get paid 75% of what men earn for doing the same job, working the same hours — and I do not believe that this is right. I think we should have equal work for equal pay for women all over the world." Demi also mentioned that she wants to use her self-defence workshops to help as many women as she can during another segment. In her capacity as Miss Universe, Demi visited the Philippines, Indonesia, Thailand, France, Mexico, Ecuador, India, Lebanon, Egypt, Malaysia, various cities in the United States, and her home country, South Africa. On December 17, 2018 she ended her reign in Bangkok, Thailand, where the 2018 Miss Universe pageant was held. Catriona Gray of the Philippines won the 2018 title, whom she crowned as her successor.
Demi-Leigh Nel-Peters pictures
Image source - GMA network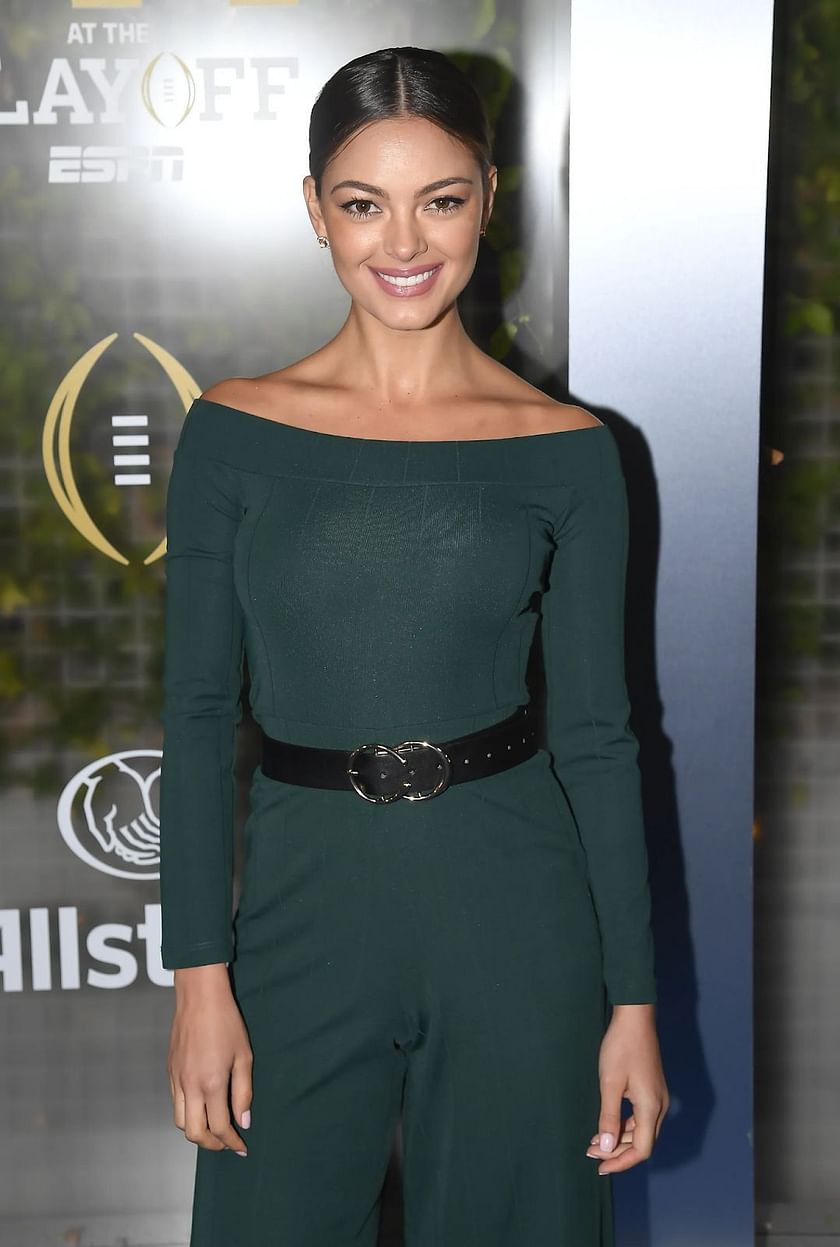 Image source - Getty images
How did Tim Tebow meet Demi-Leigh Nel-Peters?
Tim and Demi met through an event Tebow was hosting for his non-profit, the Tim Tebow Foundation. In an interview, Tebow mentioned that Demi's late sister had special needs, so they invited them to Night to Shine in South Africa. They kind of met and started talking through that and haven't stopped. Their relationship escalated pretty quickly, and they confirmed their relationship in July 2018.
After less than a year of dating, Tim popped the question with an elaborate and sentimental proposal in January 2019. To be a part of the proposal, he had flown in family members from across America and South Africa to Jacksonville, Florida. It was a surprise for Demi who was initially told they were attending a late Tebow family Christmas dinner at their family farm. Tebow also flew Demi-Leigh's favourite South African performer Matthew Mole to Florida to serenade them post-proposal. Then on January 20, 2020, the couple officially tied the knot during a 30-minute ceremony in South Africa at the La Paris Estate in Franschhoek. The bride wore an off-the-shoulder cowl-neck dress by David's Bridal and Tim wore a tuxedo by Antar Levar. The ceremony was attended by 260 guests as the couple wrote their own vows.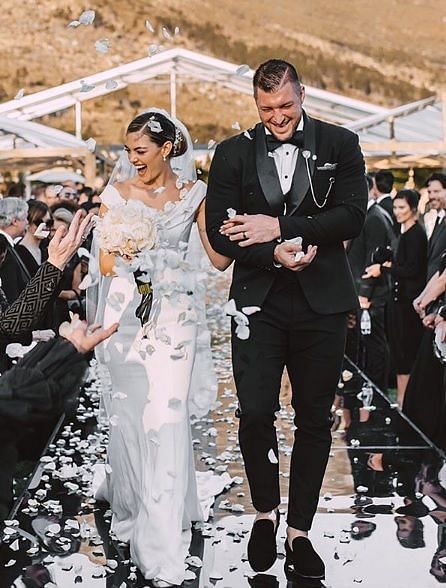 Image source - Conan Daily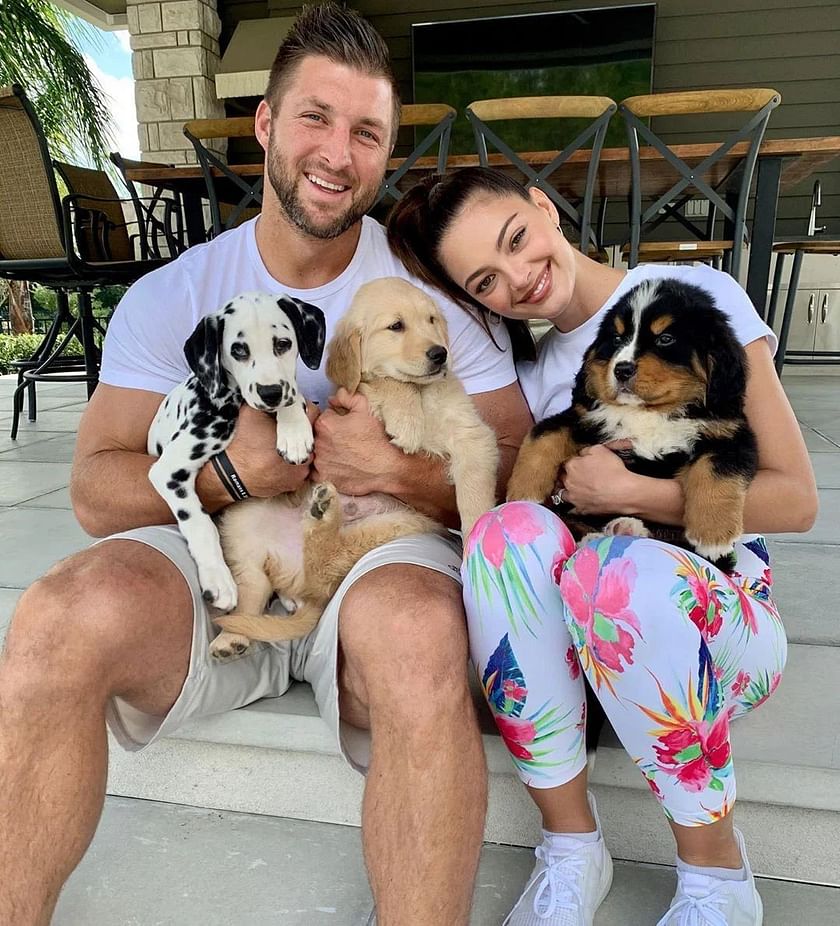 Image source - US Weekly
Other Similar Pages