Matthew Stafford is an American football quarterback who plays for the Los Angeles Rams in the National Football League (NFL). He won the Super Bowl LVI in 2022, with the L.A. Rams. From 2006 to 2008, Stafford attended the University of Georgia, where he played for the Bulldogs. In the 2009 NFL Draft, he was drafted by the Detroit Lions first overall. In pass attempts, completions, passing yards, and passing touchdowns, Stafford ranks in the top 20 all-time and ranks third all-time in passing yards per game. In 2021, he was traded to the Rams in exchange for quarterback Jared Goff and draft compensation.
Who is Matthew Stafford's Wife, Kelly Hall?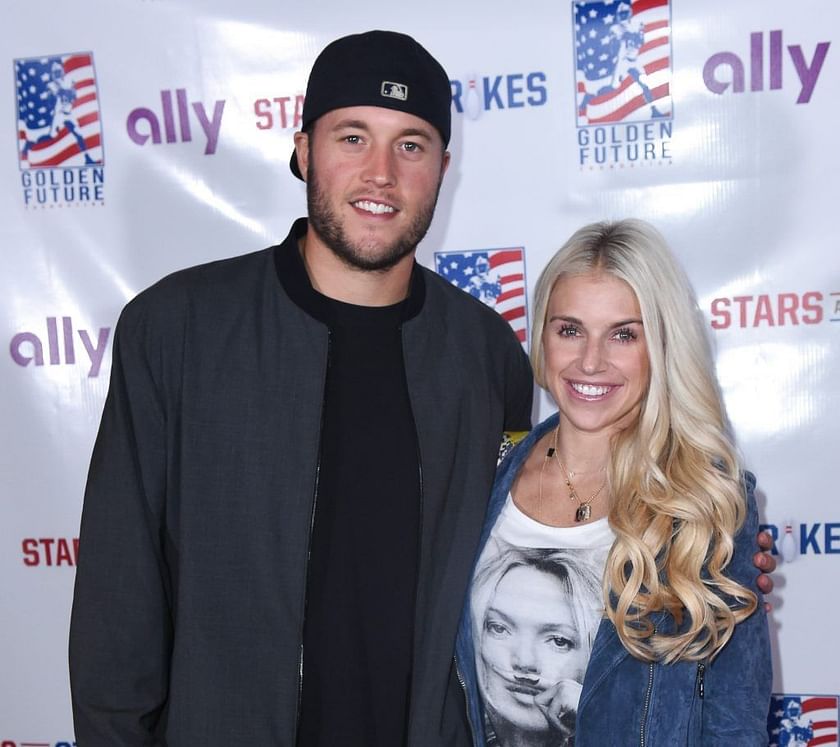 Image source - Google images
Kelly Hall was born in Feltham, Middlesex, United Kingdom. Her parents are Jack and Leslie Hall. She has two siblings - a brother Chad and a sister Jennifer. Chad is a former NFL player and current Buffalo Bills wide receivers coach. Kelly also attended the University of Georgia, where she was a cheerleader, and that's how she met Matthew Stafford. After she finished school, Kelly was keen on modelling, and soon enough she got a chance to work for some of the major brands in the industry. She has modelled for photoshoots, brand endorsement, and advertisement campaigns. She had a brain tumor for which she had to undergo brain surgery in 2019. Kelly Hall defended Matthew from critics after he won the Super Bowl with the Rams. She wrote on her instagram story " Can y'all just let him enjoy this?! It went from Matthew can't win, to Matthew can't win against winning teams, to Matthew can't win big games, to Matthew can't win playoff games, to Matthew can't win it at all." This was posted on 15 February, a day after Super Bowl LVI.
How old is Stafford's Wife, Kelly Hall?
Kelly Hall was born on May 29, 1990 and is 31 years old. Her sun sign is Gemini.
Does Matthew Stafford's wife have cancer?
In 2019, Kelly revealed that she had a brain tumor, called acoustic neuroma and required surgery to have it removed. Finally, on April 17, 2019, she underwent a 12-hour surgery to remove it. According to the doctor, she had a 50% chance to lose her hearing and could even end up losing facial function. She had to re-learn how to do things like turn her head and walk down the stairs with the help of physical therapy, following her operation. In an interview, she mentioned how her husband Matthew supported her wholeheartedly through her recovery.
How did Matthew Stafford meet Kelly Hall?
The couple met when they were at the University of Georgia where Stafford played football for the Bulldogs and Kelly was a cheerleader. They dated for a while as soon as they got interested in each other. Then on April 4, 2015, the couple tied the knot in a private ceremony. Reports claim that everyone who attended the wedding was showered with a gift of a pair of shoes and neon trucker hats.
How many children Stafford and Kelly have together?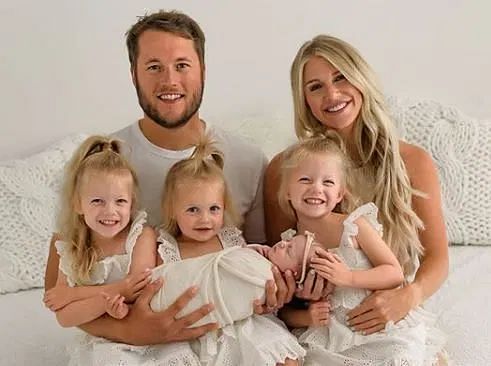 Image source - Google images
Matthew and Kelly have four daughters together. In 2017, the couple welcomed twin girls, Sawyer and Chandler, followed by Hunter in 2018, and their fourth baby girl, Tyler, was born in June 2020.
Other Similar Pages