Carson James Wentz plays in the National Football League (NFL) as a quarterback for the Washington Commanders. He attended college at North Dakota State University and won five NCAA FCS National Championships playing for the college football team. In the 2016 NFL Draft, he was selected by the Philadelphia Eagles with the second overall pick. Wentz became the first quarterback in 2019 in NFL history to throw for more than 4,000 yards with no wide receiver over 500 yards, and his 4,039 yards were also the most in Eagles franchise history. In 2021 he was traded to the Indianapolis Colts. After one season with the Colts, he was traded to the Washington Commanders in 2022.
Who is Carson Wentz's Wife, Madison Oberg?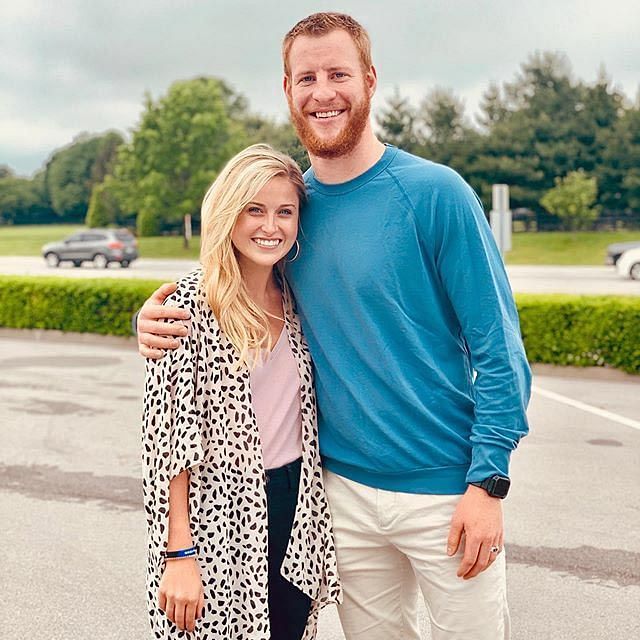 Image source - Google images
Madison Oberg is a native of Lexington, Kentucky. She was born on June 21, 1997. She attended Ozark Christian University. She later transferred to Missouri Southern State University for elementary education. Madison worked at Ozark Admission in Joplin, Missouri. Following this she joined the Mission of the Mobilization Hospitality Team in Haiti. She is of caucasian descent and is of the American nationality. Her parents are Brain Oberg and Lisa Broughton. She is the youngest of two siblings - sister Lauren, born in 1991 and brother Alexis born in 1995.
Did Carson Wentz marry his high school sweetheart?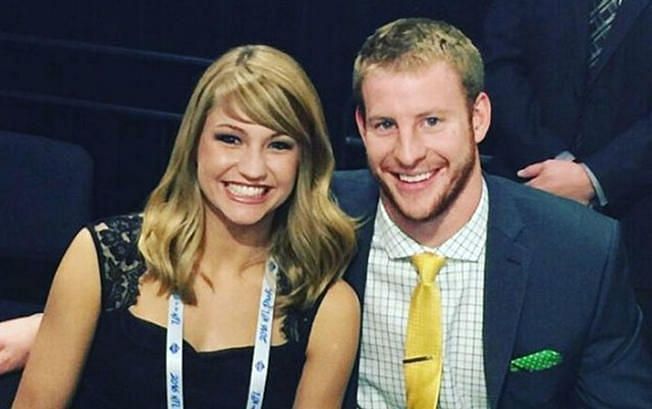 Image source - Google images
Sadly, no. Carson did not marry his former girlfriend Melissa Uhrich with whom he shared a long-time love story as they had known each other since their high school days in North Dakota. However in 2017 the couple separated from each other without citing any specific reason. According to a 2016 article by ESPN the Magazine, Melissa moved in with Wentz but decided to live separately until they were going to marry. Since they are both deeply religious, it was important to both Carson and Melissa not to live together until they tie the knot. The pair also deleted each other from their respective social media pages.
How old is Carson Wentz's wife, Madison Oberg?
Born on June 21, 1997, in Lexington, Kentucky, Madison is currently 22 years old and will turn 23 this June.
How did Carson Wentz meet his wife?
In 2017, Wentz and Oberg both went on a trip to Haiti as part of Mission of Hope. Wentz went as part of his charity The Carson Wentz AO1 Foundation that had granted funds to Mission of Hope, Haiti (MOH) to help launch a sports initiative that would aid in building a multipurpose sports complex and education center on its campus. The sports programs and facilities would give children access to educational tutoring while providing meals and vitamins to support nutrition. It has been reported that the couple had been following each other from a few months until Madison started frequently appearing in Wentz's post. After dating for over a year, the pair tied the knot on July 16, 2018 at The Lake House Inn in Bucks County, Pennsylvania. For their honeymoon Carson traveled to Greece with his wife.
Carson Wentz and Madison Oberg's Kids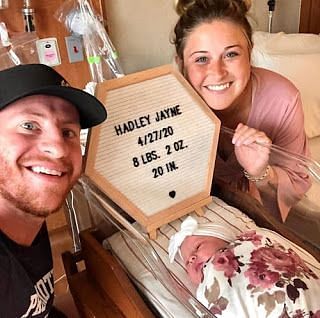 Image source - Twitter
Carson and Madison welcomed their adorable baby girl named Hadley Jayne Wentz on Monday, April 27 in 2020. Wentz shared the exciting news on social media saying in a tweet, "Late last night my beautiful wife and I were blessed to welcome our sweet little girl into the World! Hadley Jayne Wentz is a true blessing from the Lord and we are so pumped to be her parents. I love these two with everything I have! God is soooo good!"
Other Similar Pages