Tom Brady has been one of the most defining players in the National Football League (NFL) in the last two decades as he carved a legacy for being the most successful quarterback in the game. The seven time Super Bowl champion holds a record five Super Bowl MVP awards. Brady announced his retirement from the game early in 2022 but soon reversed his decision as he felt like he had more to give on the pitch. This might have been the reason that led to the split between Brady and his ex-wife Gisele Bündchen. Get to know all about Brady's ex-wife Gisele Bündchen, why they split up and more.
Who Is Tom Brady's Ex-Wife, Gisele Bündchen?
Tom Brady's ex-wife is Brazilian supermodel Gisele Bündchen. Bündchen is an activist and businesswoman too. She was born on 20 July 1980 in Horizontina, the Rio Grande do Sul, Southern Brazil. Her mother Vânia was a bank clerk pensioner, and her father Valdir Bündchen is a sociologist and writer. She has five sisters, one of whom is her fraternal twin.
She was only a teenager when she began her modeling career. She aspired to be a volleyball player but in 1993 in hopes to correct her bad posture, her mother insisted she join a modeling course along with two of her sisters. To launch her modeling career, she moved to São Paulo. There, she was discovered by Elite Model Management at a shopping mall in 1994, and after working with them for a couple of months, got selected for a national contest known as the Elite Model Look (then known as Look of the Year), in which she secured second place. She earned her first break in the 1996 New York Fashion Week at only 14 years old. Bündchen left Elite Model Management in 1999, and switched to IMG Models, as she was no longer satisfied with Elite's work environment.
In 2000, Bündchen officially retired from Fashion Week runway shows, and signed a $25 million deal with Victoria's Secret, and became one of the highest-paid models in the world. The same year she was named "The Most Beautiful Girl in the World" by Rolling Stone magazine. By then she had already posed for Alexander McQueen, Missoni, Gianfranco Ferré, Chloé, Dolce & Gabbana, Valentino, Ralph Lauren, and Versace campaigns. She was also featured on the covers of the Paris, U.S. and British editions of Vogue. For Victoria's Secret, Bündchen wore the Red Hot Fantasy Bra, worth $15 million, which was later listed in Guinness World Records as the most expensive lingerie ever created. In May 2007, Bündchen ended her contract with Victoria's Secret.
She continued her success with many high profile shoots and modeling campaigns and also went on to star in some movies and music videos by some famous artists. Bündchen was named as one of the 100 Most Influential People in the World by Time magazine in 2007 while Forbes listed her 53rd as one of the most powerful celebrities, the same year.
How old is Gisele Bundchen and where is she from?
Gisele Bündchen was born on 20 July 1980 and is currently 42 years old. Gisele Bundchen was born in Horizontina, Rio Grande do Sul in Brazil. She has a German-Brazilian lineage. Bundchen was one out of six sisters (her fraternal twin Patricia, Raquel, Graziela, Gabriela, and Rafaela). Gisele's grandfather used to be the mayor of the town (Horizontina), where she grew up.
What is Gisele Bündchen's net worth?
Gisele Bündchen has a reported net worth of $400 million. From 2002–2017, she was the highest-paid model in the world. From her modeling and endorsement career alone, she has reportedly earned $500 million. This does not include her real estate assets and various other non-liquid investments, which would add up to be even higher.
The Brazilian supermodel has also been involved with lucrative fragrance and beauty deals with Chanel and Carolina Herrera and became the spokeswoman for Chanel No. 5 in May 2014. Along with her own line of lingerie and skincare, she is undoubtedly one of fashion's top-earners. She also launched a line of designer sandals under the Brazilian footwear company Grendene, called Ipanema, and owns the Brazilian hotel Palladium Executive.
Who's richer, Tom Brady or Gisele Bundchen?
Tom Brady's total all-in earnings are estimated to be around $250 million. According to Forbes, Gisele Bundchen earned roughly $45 million a year while Brady earned $27 million over the past year. So clearly, we have a winner in Gisele Bündchen.
There were rumors about how Brady and Bundchen's net worth would get divided post their divorce. However, they signed an 'ironclad' prenuptial agreement at the time of their marriage in 2009. Reports suggest that Tom Brady is keeping their $17 million house in Miami, and Gisele Bundchen bought a smaller home in the area which is apparently going to serve as office space. She will also be keeping their house in Costa Rica.
Tom Brady and Gisele Bundchen Relationship Timeline
How did Brady meet Gisele
Tom Brady and Gisele Bundchen met in 2006 through mutual friends. After meeting on a blind date, the pair hit it off. They officially started dating in late 2006. As per Bundchen, she and Tom were into each other from the day they met. After having a conversation for hours she had to leave home for Christmas. However, they did not spend a day without talking to each other since then.
Brady and Gisele hit their first relationship roadblock in 2007 when it was made public that Bridget Moynahan (Tom Brady's ex-wife) was expecting his child. It was not an easy time for Gisele Bundchen but the couple made it through the difficult time. Eventually Bundchen raised Brady's son as her own and considered him a blessing at it expanded her heart in more ways than she could imagine.
How did Tom Brady propose to Gisele?
Tom Brady and Gisele Bundchen got engaged to each other a little over two years of dating. As per reports, Brady had tricked Gisele into thinking that her house was flooded so she would rush over there. The apartment was flooded with candles and roses when she reached as Tom was waiting for her on his knees. Brady had undergone surgeries and had three staph infections so she yelled at him to get up! However, the two were set to get married to each other.
A small ceremony took place at the St. Monica Catholic Church in Santa Monica, California on February 26, 2009, where Bündchen and Brady got married. The couple had a second ceremony in Costa Rica, in April 2009.
Who was Gisele dating before she met Tom Brady?



Gisele Bundchen dated a number of men before she got hitched to Tom Brady. The person whom she dated just before Tom Brady was actor Josh Hartnett. The relationship was short lived and fizzled out in 2006. Her longest relationship before Tom Brady was with actor Leonardo DiCaprio. Bundchen and DiCaprio dated from 1999 to 2005. The split between them was amicable as Bundchen later revealed that she was struggling with her lifestyle at that point in time.


How old were Brady and Gisele when they got married
Brady and Bundchen were together for almost 14 years and married for almost 13 years. Tom Brady was around 32 years when he got married and Gisele Bundchen was 29 years old. The couple had a very successful marriage which lasted for 13 years till Brady's decision to unretire from football led to the split between the couple.
Do Gisele Bündchen and Tom Brady have kids?
Bündchen and Brady have two children: son Benjamin Rein and daughter Vivian Lake. Benjamin was born in 2009, the same year they got married and Vivian was born in 2012. Bündchen is also a stepmother to Brady's son Jack, from his previous relationship with actress Bridget Moynahan.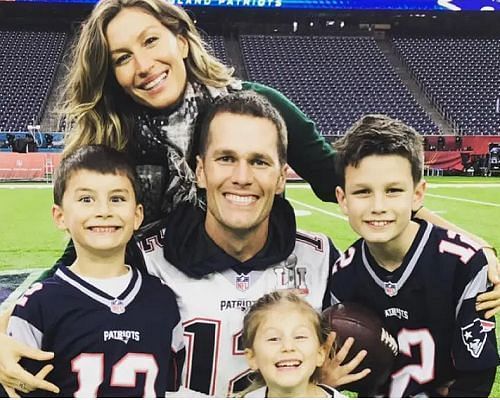 Also Read: All you need to know about Tom Brady's kids
Other Similar Pages