| | |
| --- | --- |
| Name | Elisha "Eli" Nelson Manning |
| Net Worth | $150 million |
| Age | 42 (born January 3, 1981) |
| Position | Quarterback |
| Residence | Summit, New Jersey |
| Marital Status | Married (2008 - present) |
| Spouse | Abby McGrew |
| Children | 4 |
| Source of Wealth | NFL, endorsements, business ventures |
| Salary | $18 million |
| Endorsements | Toyota, Reebok, Gatorade, Kraft, Citizen, Samsung, DirecTV, Nike, Hublot, Visa |
| Endorsement Earnings | $8 million - $10 million |
A 15-year veteran quarterback for the New York Giants, Eli Manning was drafted into the NFL as the No.1 pick in the 2004 draft by the then-San Diego Chargers and then traded to the New York outfit subsequently. He has a net worth of $150 million mainly through his successful NFL career. There isn't much that Manning hasn't done for the Giants, holding franchise records for most completed passes, touchdown passes, and passing yards. The younger brother of retired quarterback Peyton Manning, Eli has won two Super Bowls - Super Bowl XLII and Super Bowl XLVI - picking up as many Super Bowl MVPs
What is Eli Manning's Net Worth in 2023?
Former NFL Giants' quarterback Eli Manning has a net worth of a whopping $150 million. Apart from the NFL paychecks, endorsement deals with major brands and investments in businesses have contributed to the athlete's wealth.
Eli Manning Salary
Eli Manning was among the world's highest-paid athletes in 2018. At the peak of his career, he was earning a salary of $18 million. Over his 16 years on the field, Manning has earned a staggering $252.3 million from contracts alone, surpassing his brother Peyton Manning of the Indianapolis Colts as the quarterback with the highest earnings in the league's history. He remains the highest-paid player in NFL history until Patrick Mahomes' $500 million contract extension for 10 years reaches 2026.
Eli Manning's Salary History
| | | | |
| --- | --- | --- | --- |
| Year | Contract | Signing Bonus | Average Salary |
| 2004 - 2010 | 7 yr(s) / $54,000,000 | $3,000,000 | $7,714,286 |
| 2010 - 2015 | 6 yr(s) / $97,500,000 | $13,000,000 | $16,250,000 |
| 2015 - 2020 | 4 yr(s) / $84,000,000 | $31,000,000 | $21,000,000 |
Eli Manning Endorsements
Manning proved himself to be one of the best quarterbacks in the league. His reputation and popularity landed his endorsement deals with big name brands like Nike, Reebok, Toyota, Gatorade, Kraft, Hubolt, Visa, DirecTV, Citizen, Samsung, Nationwide Mutual Insurance, Panini, and many more, accumulating to an average of $8 - $10 million per year, making him the highest paid celebrity endorser. He also appeared in ad campaigns for Oreo and NFLShop.
Eli Manning Investments
The Manning brothers invested $35 million in SeatGeek, a mobile-focused ticket platform that lets fans buy and sell tickets for events. Eli Manning has also invested $100 million in Whoop, a performance optimization system that tracks athlete recovery, training, and sleeping hours to help boost performance as well as $50 million in Step, a financial services company that builds mobile-based banking for teenagers.
Eli Manning's Other Sources of Income
Apart from breaking records and scoring touchdowns for his team, endorsing multi-million dollar brands, and investing in upcoming business ventures, Eli Manning partnered with older brother Peyton and father Archie in 2009 to co-author Family Huddle - a children's book depicting the Manning's journey in football through simple language and pictures. Eli has also hosted NBC's SNL show in 2012, featuring pop icon Rihanna.
Eli Manning House and Car
Manning sold a condo he lived in with his family in Hoboken, New Jersey in 2018 for $3.55 million, the highest ever for a condo in the city. In 2014, Eli bought a 6-bedroom mansion in Summit. The 1.1-acre Georgian revival-style property includes 8 fireplaces and bathrooms, a home gym, a 750-bottle wine cellar, a temperature-controlled pool, and a golf simulator.
In 2017, he purchased a 7,500 sq. ft beach house worth $8.5 million in Quogue, New York.
Manning was given a 2008 Cadillac Escalade Hybrid after winning the title of the Super Bowl MVP in 2007 and traded a C6 Corvette for a Toyota Sequoia and a Cadillac Escalade after his second Super Bowl win in 2011.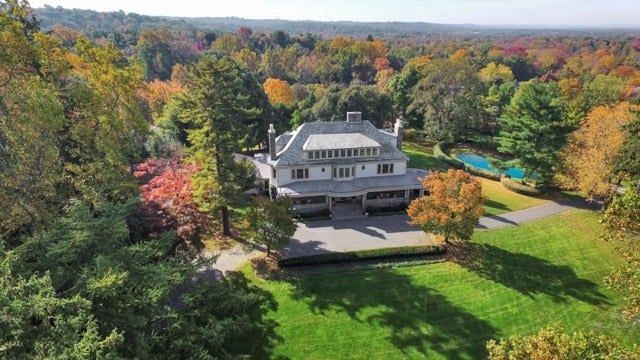 Also Read: Who is Eli Manning's Wife, Abby McGrew?
Eli Manning Charity Work
Eli Manning is actively involved in charities across the nation. He volunteered in the delivery of basic necessities and essential items for victims of Hurricane Katrina in 2005. He raised $2.5 million through a 5-year campaign for the construction of The Eli Manning Children's Clinics at the University of Mississippi Medical Center's Blair E. Batson Hospital for Children. Manning also raised funds for awareness of the Deepwater Horizon oil spill catastrophe.
He has also been involved in a nonprofit guide dog school charity event, the Guiding Eyes for the Blind's Golf Classic, which serves visually impaired and autistic people.
Other Similar Pages