| | |
| --- | --- |
| Name | Rayne Dakota Prescott |
| Net Worth | $70 million |
| Age | 29 |
| Residence | Frisco, Texas |
| Position | Quarterback |
| Marital Status | Dating |
| Spouse | Natalie Buffett (girlfriend) |
| Children | - |
| Source of Wealth | NFL, Endorsement earnings |
| Salary | $40 million (average anually) |
| Endorsements | AT&T, Adidas, Beats by Dre, Campbell's Chunky Soup, Direct TV, 7-Eleven, New Era, Sleep Number, Oikos, Pepsi, Citibank. |
| Endorsement Earnings | $50 million |
Dak Prescott is an American football quarterback for the Dallas Cowboys of the NFL with a net worth of $70 million. Picked 135th in the 4th round of the 2016 NFL Draft, Prescott is one of the strongest quarterbacks in the league. Initially a backup to Tyler Russell, Dak took over as the starting quarterback when Russel was injured. Dak caught the eye of scouts during college when he played for Mississippi State University and scored the Conerly Trophy twice in a row in 2014 and 2105. He impressed everyone with his performance in his rookie season and was awarded the NFL Offensive Rookie of the Year in 2016.
Dak Prescott's contract extension signed in 2021 was worth $160 million and included a $66 million signing bonus. This was the highest contract signed by a Cowboys player, as well as the highest signing bonus in the history of the NFL. The deal boosted Prescott into second in the list of highest-paid quarterbacks in the league, with an average annual salary of $40 million.
What is Dak Prescott's net worth in 2023?
Dak Prescott has a net worth of $70 million. He became the second highest-paid quarterback in the NFL after signing a 4-year contract extension worth $160 million with the Dallas Cowboys. Apart from his earnings as a professional footballer, Dak's endorsement deals have pocketed the rising athlete millions more.
Dak Prescott's Salary
Dak Prescott is currently one of the highest paid players in the NFL with an annual average salary of $40 million. His 4-year $160 million contract deal with the Cowboys will earn him a base salary of $31 million in 2023. His contract carries a cap hit of $49,130,000 in 2023 along with a dead cap value of $89,070,000.
Dak Prescott Career Earnings
Dak Prescott has amassed a total of approximately $131.3 million in career earnings over 7 seasons as a Cowboys quarterback. Out of this, $39,404,000 was just salaries. He has also earned around $50 million through endorsement deals with major brands.

Dak Prescott Endorsements
Dak Prescott is reported to earn almost $50 million through endorsements alone. Some of the brands he endorses include AT&T, Adidas and Beats by Dre. Here is a comprehensive list of Dak Prescott's endorsement deals:
• 7 Eleven
• Beats by Dre
• Oikos Triple Zero
• Keurig
• Gentleman's Playbook
• Jordan Brand
• Sleep Number
• Blockchain
• DirecTV
Dak Prescott Investments
Prescott is one of the investors in a Plano startup, OxeFit - a workout service that uses artificial intelligence and robotics to enhance strength training. Prescott invested $12.5 million in the startup, along with Lydia Partners and other former NFL athletes.
Dak Prescott Expenditures
Dak Prescott owns a 9,000 sq.ft mansion in Prosper, Texas. The house is surrounded by 7 acres of land and is worth $3.3 million. It includes an indoor sports simulator theater, game room, outdoor pool, as well as a custom field for football practice. The master bath in the mansion also has a jetted tub, steam shower and a private exercise room that opens into the backyard.
Dak also owns an Escalada and a Tesla.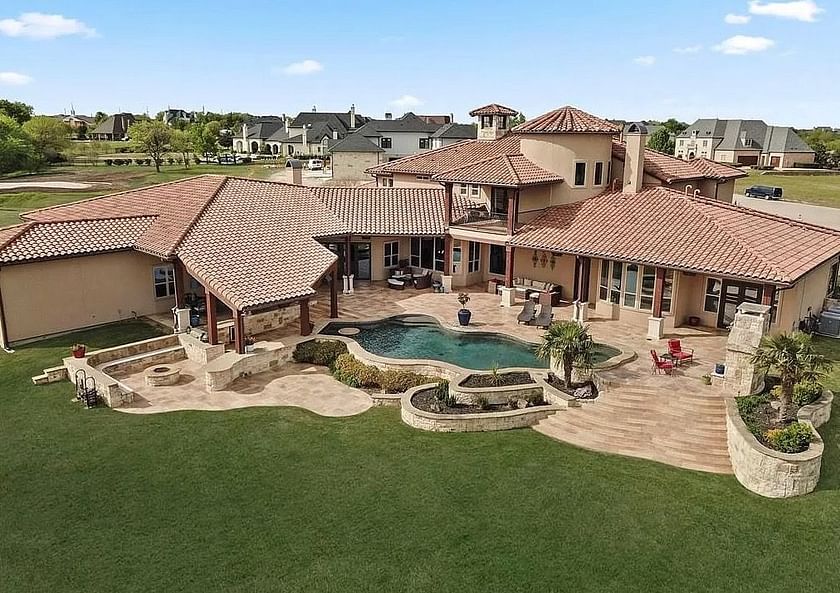 Dak Prescott Charity
Dak established the Faith Fight Finish Foundation in 2013 to honor his mother, who passed away that year after a long battle with colon cancer. The foundation helps people in need by providing funds.
---
Also Read: Dak Prescott Contract with Dallas Cowboys
---
Other Similar Pages