| | |
| --- | --- |
| Name | Antonio Tavaris Brown Sr. |
| Net Worth | $20 million |
| Age | 34 (born July 10, 1988) |
| Residence | Miami, Florida |
| Position | Wide Receiver |
| Marital Status | Dating Cydney Moreau |
| Spouse | None |
| Children | 6 |
| Source of Wealth | NFL, endorsements, business ventures |
| Salary | $ 3.1 million (last recorded base salary) |
Antonio Brown is a football player who is currently a free agent. He had been playing in the National Football League (NFL) for 12 years. He was initially drafted by the Pittsburgh Steelers but later played for the Tampa Bay Buccaneers. Brown was set to earn over $77 million through his NFL contracts however, he missed out on the earnings since he often did not complete the contracts due to off-field controversies. However, one of his biggest earnings came from the Oakland Raiders (now Las Vegas Raiders). He signed a contract with the Raiders in 2019, which was worth $50.125 million. $30 million of the contract was guaranteed and Brown received the amount even though his contract was canceled even before the season started.
How much is Antonio Brown's Net Worth in 2023?
It is estimated that Antonio Brown's current net worth is approximately $20 million. He earned nearly $77 million through his NFL contracts and could have easily been more had he not been involved in off-field controversies. Brown used to earn an average annual salary of $17 million with the Steelers. He used to have endorsement deals with Nike and helmet maker Zenith. These were canceled after he got involved in different controversies.
What is Antonio Brown's Salary?
Antonio Brown is currently a free agent and last had a contract with the Tampa Bay Buccaneers. Antonio Brown got paid $3.1 million from his 1-year deal with the Buccaneers. Brown was terminated by the Buccaneers after an on-field controversy in January 2022, when he stripped his clothes and ran across the field in a match against the New York Jets. He received the money even after being terminated by the franchise.
Brown is currently pursuing a career in music after bonding with Kanye West. The label Vydia production pays him $5million a year to drop his music on their platform.
You can check out Antonio Brown's music video for his song 'Pit Not the Palace' below.
Antonio Brown Endorsements
Antonio Brown is currently not endorsing any brand since his endorsement deals got canceled after numerous off-field controversies. Brown used to be a Nike athlete before they canceled the deal. He also used to represent the helmet company Zenith but they canceled the deal only days after he signed it. He also used to endorse Pepsi.
Antonio Brown Investments
Brown has made a number of investments throughout his playing career. Among his various investment ventures, some of the largest include a real estate company called Boomin Estates. He has even invested along with Floyd Mayweather in commercial real estate projects. In Florida, Brown owns a gym called '84/7'. Brown has an apparel line and is currently the PResident of Kanye West's sports apparel venture, Donda Sports. His brand, 'Boomin Brand' also has another offshoot called 'Boomin Productions' which handles apparel, licensing, publishing and entertainment projects. His latest multimillion-dollar investments include NFTs and investments in his music career.
Antonio Brown's other sources of income
His other sources of income include his earnings from music and investments in real estate and other entertainment ventures.
Antonio Brown House and Car
Antonio Brown owns a number of homes but his main house is in Hollywood, Florida. He purchased the house worth $6.6 million and it is spread over 18,000 square feet. There are 12 bedrooms, 14 bathrooms, a home theatre, a media room, two swimming pools and a guest house.
Brown has a collection of mean cars which include some luxury models like the Rolls Royce Cullinan, Mercedes Benz G-Wagon, Lamborghini Huracan Spyder, Polaris Slingshot R, McLaren 600S, and Kia Stinger.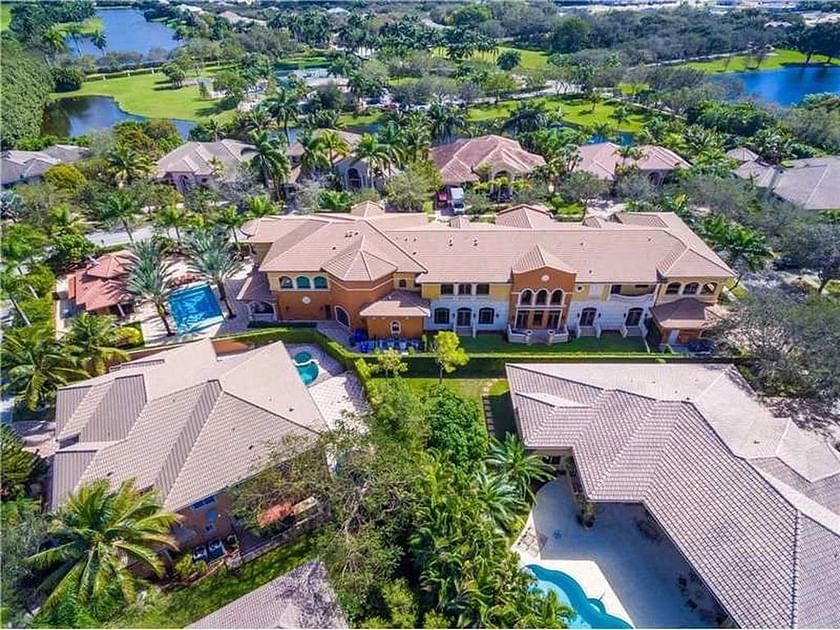 Antonio Brown Charity Work
Brown is involved in charity work and gives back to his community, especially in Pittsburgh. He has put together charities called 'Live Your Vision'. It helps disadvantaged youth with educational resources and academic services to help them follow a better path. He has also teamed up with 'Big Brothers and Sisters of Greater Pittsburgh' to provide assistance for disadvantaged youth from the Pittsburgh region.
Other Similar Pages
FAQs
Why did Antonio Brown leave the Bucs?
Antonio Brown left the Tampa Bay Buccaneers after an on-field scandal in the 2021 NFL season. He removed his jersey in the middle of a Week 17 match of the Buccaneers against the New York Jets. He jogged to the locker room and never returned to play. He got into a heated argument with Mike Evans which lled to his meltdown. Brown was released shortly by the Buccaneers.
Is Antonio Brown still playing in the NFL?
Antonio Brown has not returned to play in the NFL since his release by the Tampa Bay Buccaneers in 2021.
Read More
Are Marquise and Antonio Brown related?
Marquise Brown of the Baltimore Ravens is related to Antonio Brown. Marquise Brown is Antonio Brown's cousin.
Is Antonio Brown married?
No, Antonio Brown is not married to anyone. He is currently dating model and Instagram influencer Cydney Moreau.
Where does Antonio Brown live?
Antonio Brown lives in Tampa, Florida with his children. He lives in a lavish Florida neighborhood known as Hollywood in a house worth $6 million.