Rob Gronkowski Contract
Rob Gronkowski is a four-time Super Bowl winner who has played for the New England Patriots and the Tampa Bay Buccaneers. He is considered by many to be the best tight-end player to have played the game and is currently a free agent after eleven seasons in the NFL. He was initially drafted by the Tampa Bay Buccaneers in the 2010 NFL draft and signed an entry-level contract worth $4.4 million. In 2012, Gronkowski signed a six-year contract extension with the Patriots worth $54 million. He received a signing bonus of $8 million. Gronkowski was traded to the Tampa Bay Buccaneers, where he reunited with former Patriots teammate, Tom Brady. Gronkowski signed a one-year contract. He signed another contract in 2021 worth $8 million.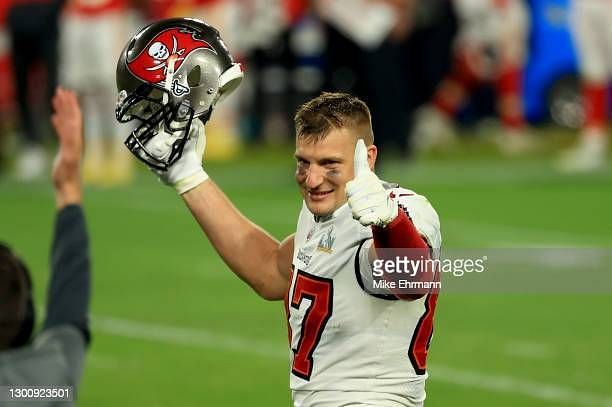 Rob Gronkowski has been a free agent after the end of the 2021 NFL season. Here is a look at the last contract he had with the Tampa Bay Buccaneers:
| | | | | |
| --- | --- | --- | --- | --- |
| Contract | Signing Bonus | Average Salary | GTD at Sign | Total GTD |
| 1 yr(s) / $8,000,000 | $6,250,000 | $8,000,000 | $8,000,000 | $8,000,000 |
How much is Rob Gronkowski getting paid?
Gronkowski's last contract with the Buccaneers was worth $8 million. He earned a total of $8,500,000 that season with added bonuses.
How much of Rob Gronkowski's Contract is guaranteed?
A guaranteed amount in a contract is there to ensure that a player receives a certain part of the total value of their contract regardless of any circumstances. The guaranteed sum as the name suggests is an assured sum to a player in case they miss out on games due to injury or being dropped from the roster, or if their salary cannot be paid due to salary cap concerns. He was guaranteed his full contract amount of $8 million of his 2021 deal with the Buccaneers.
Other Similar Pages