| | |
| --- | --- |
| Full Name | Marcus Osmond Leopold Smart |
| Date of Birth | September 2, 1989 |
| Nationality | American |
| Height | 6 ft 9 in (2.06 m) |
| Role | Forward |
| Past Team(s) | |
| Family | Thomasine "Angel" Morris (Mother), Markieff Morris (Brother) |
Marcus Morris: A Brief Biography
Born on Sep 02, 1989, Marcus Morris, is an American professional basketball player who plays as a power forward for the Los Angeles Clippers of the National Basketball Association (NBA). Throughout his NBA career, Morris has played for multiple teams, including the Rockets, Phoenix Suns, Detroit Pistons, Boston Celtics, New York Knicks before joining the Los Angeles Clippers. He is known for his versatility and ability to play both forward positions, as well as his toughness and physicality on the court. He was selected by the Houston Rockets as a 14th overall choice in the 2011 NBA Draft.
Off the court, Morris is known for his philanthropic work and has been involved in numerous charitable initiatives throughout his career.
Early Life
He was born on 2nd September 1989 in Philadelphia, Pennsylvania, USA. He went to the Prep Charter High School in Philadelphia, where he played basketball and was a standout player.
After high school, Morris earned a college scholarship and went to the University of Kansas, majoring in American Studies. He played with the Kansas Jayhawks, one of the most successful basketball programs. A regular starter for three years, he averaged 12.6 PPG, and 6.2 rebounds in 109 games. He was a key player on the Jayhawks team that made it to the final four in the 2012 NCAA tournament. In his junior year, Morris was named to the All-Big 12 Second Team and after that season he was declared for the NBA draft and was selected by the Houston Rockets in 2011.
NBA Journey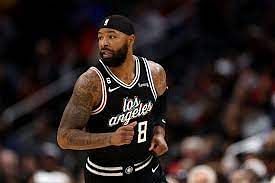 He was picked by the Houston Rockets in the 2011 NBA draft, where he was the 14th pick in the first round. He made his debut on 26th December 2011, in a 95-104 defeat to Orlando Magic.
He got to play with his twin brother when Marcus was traded to the Phoenix Suns in 2013. It was the second time in the NBA that twin brothers played for the same team.
However, his time at the Suns can be best described as torrid, as he was labelled notoriously as "one of Arizona's biggest sports villains" because of an altercation with head coach Jeff Hornacek.
Controversy happened to follow Marcus, as he and his brother were involved in two aggravated assault cases in 2015. And despite being considered innocent, it was one of the many reasons why he was traded to the Detroit Pistons for the 2015-16 season.
During the two seasons at the Pistons, he regularly started and earned game time. He helped the Pistons reach the playoffs for the first time since 2009, as he averaged 14.1 PPG and 2.35 APG.
2017 saw Morris traded to the Boston Celtics in an exchange deal for Avery Bradley during the off-season. With the horrific injury to NBA All Star Gordon Hayward, Morris was expected to step up and he quickly proved his worth to the team.
Awards and Achievements
| | | |
| --- | --- | --- |
| Award/Accolade | Year | Team |
| All-Big second team | 2011 | University of Kansas |
| NBA All-Rookie Second Team | 2012 | Houston Rockets |
| NBA Western Conference Rookie of the Month award twice | Jan and Feb 2012 | Houston Rockets |
Net Worth
The Clippers forward has a net worth of $25 million. During his time with the Detroit Pistons, Morris signed a deal with Nike's Jordan Brand, which allowed him to wear and promote their products on and off the court.
Family
Marcus Morris was born to Thomasine "Angel" Morris in Philadelphia, Pennsylvania. Morris has four brothers Donte Morris, Blake Morris, David Morris and a twin brother named Markieff Morris, who also plays in the NBA. Both brothers played college basketball at the University of Kansas before entering the NBA in 2011. Not much information about them is publicly known and tends to keep his private life personnel.
Shoes
The LA Clippers forward is often found wearing Nike PG 6 this season. Both Marcus and Markieff Morris are known for their love of sneakers and often wear a variety of different shoe brands and models on the court, but in past seasons, he has also been seen wearing the Nike Kyrie 5, Kyrie 6, and Kyrie 7, as well as the throwback Nike LeBron 3. Marcus Morris' has been known to wear flashy and unique colorways that stand out on the court
A. The 33-year-old Power forward for the Los Angeles Clippers was born on September 02, 1989. Morris is reported as being 218lb or 99 kg and 6 feet 8 inches (2.03 meters) tall.
A. Marcus Morris has played for several teams throughout his career, including the Houston Rockets, Phoenix Suns, Detroit Pistons, Boston Celtics, Los Angeles Clippers, and Miami Heat.
A. Marcus Morris played college basketball at the University of Kansas.
A. Marcus Morris is a forward in the NBA for the Los Angeles Clippers.