| | |
| --- | --- |
| Full Name | Amanda Nunes |
| Age (2022) | 32 |
| Amanda Nunes' Net Worth (2022) | $4 Million |
| Source of Wealth | MMA, Endorsement |
| Endorsement | TEN spring water, Reebok |
| MMA Record | 21-4-0 |
| Marital Status | Married (Nina Ansaroff) |
Check out all the details of Amanda Nunes' Net Worth below.

Amanda Nunes is a Brazillian professional mixed martial artist who currently competes in the UFC bantamweight and featherweight divisions. Nicknamed 'The Lioness', this fierce in-ring competitor has shocked the world with her achievements.
Knocking Ronda Rousey out in the first round and becoming the first and only women's double champ are just two of the many achievements associated with her name. Nunes is widely considered to be the greatest female fighter of all time and is #1 in the UFC women's pound-for-pound ranking.
Amanda Nunes' Career
Amanda Nunes made her professional debut on March 8, 2008, at Prime MMA Championship 2 where she lost to Ana Maria by armbar submission in the first round. Since then he has gone on an impressive run. She had five straight knockout wins prior to her strikeforce debut and then went on to debut in UFC on August 3, 2013, in Brazil. Nunes has an impressive resume when it comes to her UFC fights and it comes as no shock that she is currently the highest paid women's fighter.
Having a record of 5-1 in her first six fights, Nunes earned herself a match against Miesha Tate for the UFC bantamweight title on July 9, 2016 at UFC 200. With a flurry of knees and punches, Nunes submitted Tate via a rear naked choke in the first round which made her the first openly gay champion in UFC history. Nunes then went on to beat Rousey in the main event of UFC 207 via TKO. The result shocked everyone and was the beginning of the rise of Amanda Nunes.
After beating Shevchenko and Pennington, Nunes moved up in weight to face Cris Cyborg for the UFC featherweight championship at UFC 232. In a performance of the night, Nunes knocked out Cyborg after 51 seconds of the first round to become the first woman to hold two weight championship belts simultaneously. She has since defended her belt thrice, with the most recent being against Megan Anderson at UFC 259 which Nunes won via triangle armbar in round one.
What is Amanda Nunes' Net Worth in 2022?
According to Wealthy Gorilla Amanda Nunes' net worth is said to be around $4 million. She had humble beginnings as her guaranteed purse for UFC 196 was a meagre $28,000. Since then her value has kept on increasing and now she earns $350,000 to just show up for the fight. Another $100,000 is her win bonus which she secures more often than not.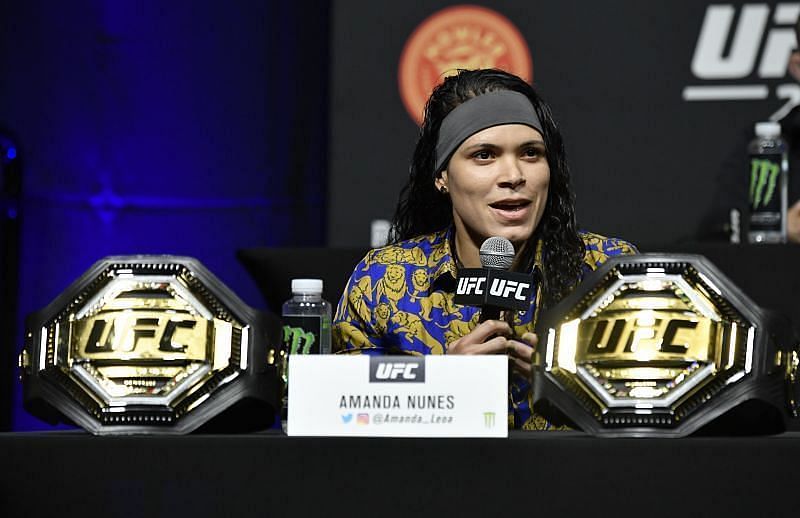 Amanda Nunes' Career Earnings
The Lioness is now a household name and that has helped not only the UFC, but also herself to catapult her career. Here are the top 5 fights of Amanda Nunes in terms of her earnings for the fight
Read More: Why is Amanda Nunes nicknamed 'The Lioness'?
| | | | | | |
| --- | --- | --- | --- | --- | --- |
| S. No | UFC Event | Opponent | Guaranteed Purse | Sponsorship Bonus | Date |
| 1 | UFC 259 | Megan Anderson | $500,000 | $40,000 | March 7, 2021 |
| 2 | UFC 250 | Felicia Spencer | $500,000 | $15,000 | June 6, 2020 |
| 3 | UFC 245 | Germaine de Randamie | $350,000 | $40,000 | December 14, 2019 |
| 4 | UFC 239 | Holly Holm | $300,000 | $40,000 | July 6, 2019 |
| 5 | UFC 232 | Cris Cyborg | $250,000 | $40,000 | December 29, 2018 |


Net Worth of other Popular UFC Fighters
* Last Updated: January 7th, 2022