Born on September 12, 1980, in Shanghai, Yao Ming is a former professional Chinese basketball player. He played center for the Houston Rockets in the National Basketball Association. The 7ft 5 inches giant is the only non-US player to lead the NBA league in All-Star voting. He already grew six feet tall in ninth grade. Yao signed a contract with the Shanghai youth team in the same year and became the Shanghai Sharks' star player at the age of 17. He also played for the Shanghai Sharks in the Chinese Basketball Association for five years. In the 2002 NBA draft, Yao Ming was selected by the Houston Rockets as the first overall pick. Ming is an 8-time NBA All-Star and 5-time All-NBA team member. Currently, he is the 6th president of the CBA (Chinese Basketball Association).
| | |
| --- | --- |
| Name | Yao Ming |
| Net Worth | 180 million USD |
| Age | 42 years |
| Residence | Shanghai |
| Position | Center |
| Marital Status | Married (2007) |
| Source of Wealth | Basketball |
| Salary | 17.6 million USD (2010-11) |
| Endorsements | McDonald's, Visa, Garmin, Reebok, Apple |
| Endorsement Earnings | 34.37 million USD |
What is Yao Ming's Net Worth in 2023?
As of 2023, the net worth of Yao Ming is estimated to be USD 180 million. He is one of the star and highest-paid NBA players who came from China.
Yao Ming had a very successful basketball career in the National Basketball Association. He started his journey as a teenager by joining Shanghai Sharks and representing its senior team in the CBA for five years. Then he moved to join the NBA in 2002. The Houston Rockets picked him up as the first overall pick in the 2002 NBA draft. Earlier, the deputy general manager of Shanghai Sharks Li Yaomin pressured him to enter the 1999 NBA draft. He has earned a massive fortune in his professional basketball career in the NBA. Additionally, Yao also earned money under his endorsement contracts with various brands.
Yao Ming Salary
Yao Ming, as described above, was one of the highest-paid athletes in the NBA league. He played only for the Houston Rockets in this league and accomplished superior achievements throughout his career. His salary continued to grow since his first season and he got his highest career salary in the final season. Yao was paid USD 17.6 million in the 2010-11 season.
In 2002-03, Yao Ming received USD 3858240 as his first salary. The figures grew bigger through his career seasons. He was paid US$4.14 million in 2003-04, US$4.43 million in 2004-05, US$5.59 million in 2005-06, US$12.4 million in 2006-07, US$13.76 million in 2007-08, US$15.07 million in 2008-09, and US$16.37 million in 2009-10. Collectively, Yao Ming earned roughly 93 million US dollars as an NBA salary. Ming continues to earn money through brand endorsements and other investments.
Yao Ming Endorsements
Endorsing brands was another window for Yao to earn money since he is a pretty popular face in the basketball world. Ming did lots of endorsement deals with several brands, including McDonald's, Apple, Reebok, Visa, and Garmin among others. As per a report by Sports Illustrated published in 2010, Ming earned USD 34.37 million from endorsements alone.
The professional NBA basketballer managed to sign multi-million-dollar agreements with some globally-reputed companies. Also, the NBA has never experienced a phenomenon that Ming brought while entering the league.
In terms of endorsements, Yao Ming came across several brands that are well-accepted throughout the world. In 2003, the technology giant Apple signed Yao Ming for its new TV commercials. It wasn't an easy path for the company to sign Yao for commercial ads. They first got permission from the Chinese government. Apple was lucky enough to get the permission since many US companies usually had difficulty negotiating with the Chinese government. In the same year, the basketball phenom also came under a multi-year partnership (worth US$70 million) with the prestigious shoemaker Reebok. The company already possesses the rights to design, develop and market NBA apparel for 19 NBA teams.
In 2004, Yao signed a multi-year deal with the world's largest restaurant company McDonald's. They approached one of China's biggest celebrities to use him in the company's global marketing campaigns.
In 2005, Garmin signed the pro basketballer for their TV commercials and print ad campaigns to feature the brand's GPS products. Garmin is one of the leading manufacturers of consumer navigation gear and other technology products.
Yao Ming Investments
Yao Ming also has invested across several portfolios to extend his business map and income. He kept on establishing his business empire by investing in different sectors. His investment map is likely to grow over years with the opening of a family restaurant to investing in some publicly traded companies.
Ming owns Yeeha Restaurant in Shanghai and Yao Restaurant in Houston. He made an investment of USD 1.5 million in the Yao Restaurant and Bar. It was Yao's attempt to enter the food and beverage business. The Yeeha restaurant, on the other hand, is the second restaurant and it is decorated with Ming's autographed T-shirts, photos and basketballs.
Furthermore, Yao Ming launched Yao Family Wines in 2009 in California. Later, he also made an investment in Byejoe, a private enterprise owned by Chinese and American investors. In 2006, Yao Ming invested USD 3 million in 'Top 100', a music website. However, the deal proved to be a failure due to the website shut down for several reasons.
He launched the NBA Yao Basketball Club in collaboration with NBA China in February 2014. It aims to deliver basketball and fitness training to boys and girls. Ming also invested in Ablues Design, a Shanghai exhibition company, and held its 0.6% shares.
Yao Ming Other Sources of Income
Yao Ming is one of the most favorite and successful basketball personalities in the world. The Houston Rockets center owns a range of income sources in addition to his professional NBA career. Apart from the above-mentioned alternatives, Yao Ming has some other sources of income as well.
Yao Ming is the co-founder of Yao Capital, a Chinese private equity firm. It aims to raise USD 250 million against its first US dollar fund. These funds are said to be invested in overseas sports assets. The pro basketballer has already earned impressive money from his contracts with franchise and commercial companies.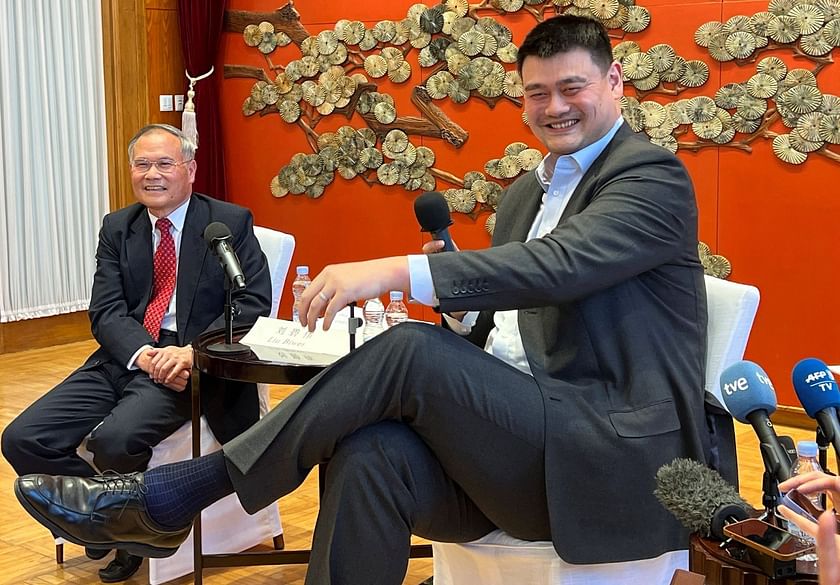 Yao Ming's House
The professional Chinese basketball player Yao Ming owns a house in Houston. He bought this 9,580 square-feet house in March 2007 that includes 5 bathrooms and 12 rooms. Later, we came to learn that Ming is selling his Houston TX house and he had put it on the market for USD 3.99 million.
Yao Ming's Car
Surprisingly, it isn't less than a struggle for Yao Ming to sit behind the driving wheel. It is obvious when you are 7 feet and 6 inches. Once the NBA superstar fell in love with a midnight blue BMW 7-series sedan. While sitting in the driver's seat, he felt trapped and extremely comfortable. He bought a BMW in Houston and then sought a customizer to make it fit his physique. Ming also bought a Toyota Sequoia but he gave this car to his parents before buying another BMW 740.
Yao Ming's Charity Work
Yao Ming also has done much philanthropic work throughout his basketball career. He participated in the NBA's Basketball Without Borders program. He hosted a telethon in 2003 and raised USD 300,000 to help curb the spread of SARS. Yao competed in a charity match to raise funds for underprivileged children in China. Basketball superstars like Steve Bash, Carmelo Anthony, Baron Davis etc. also joined him in this initiative. Ming also donated US$2 million after the Sichuan earthquake in 2008. He did this through his foundation named Yao Foundation. It supported reconstruction works after the earthquake.
FAQs
Q. When was Yao Ming born?
A. Yao Ming was born on September 12, 1980, in Shanghai. He is now 42 years old.
Q. How many NBA championships has Yao Ming won in his career?
A. Yao Ming hasn't won any NBA championship in his entire NBA career. However, he is an 8-time NBA All-Star and 5-time All-NBA Team member.
Q. Is Yao Ming married?
A. Yes, Yao Ming is married to Ye Li. They became life partners of each other in 2007 and have a daughter, Yao Qinlei Ming.
Q. How tall is Yao Ming?
A. Yao Ming is one of the tallest players in the NBA. He stands 7 feet and 6 inches (2.29m).
Q. When was Yao Ming introduced to the NBA?
A. Yao Ming entered the National Basketball Association in 2002. The Houston Rockets selected him as the first overall pick.
Q. What is Yao Ming's net worth?
A. Yao Ming's net worth is estimated at USD 180 million in 2023.