Jamal Murray. is a professional basketball player. Murray is an NBA player with the Denver Nuggets. Before being selected by the Denver Nuggets as the seventh overall choice in the 2016 NBA Draft, Murray played one season of collegiate basketball for the Kentucky Wildcats. On November 22, he surpassed that total by shooting 24 points in a 110-107 victory over the Chicago Bulls. He received the Western Conference Rookie of the Month award for contests played in October and November on December 1.
A career-high 48 points were scored by Murray in a 115-107 victory over the Boston Celtics in 2018. He defeated the Dallas Mavericks 126-118 on December 18 with 22 points and a career-high 15 assists. He defeated the Phoenix Suns 122-118 later that year with 46 points and nine 3-pointers. He contributed 17 of his 36 points during the final quarter in Denver's 117-113 victory over the Sacramento Kings on January 3.
Who is Jamal Murray's Girlfriend, Harper Hempel?
Harper Hempel, born on August 30, 1997, is a native of Kentucky. She received her degree from the University of Kentucky's Gatton School of Management. Harper successfully finished her advertising and digital media degrees. She played volleyball for the Kentucky women's team as well. She played for around three years till her final year of high school. Hempal has a sizable following on social media. Harper enjoys taking trips. Photos of Harper travels worldwide are posted on her social media accounts.
Harper's father, Rich Hempel, is also involved in the basketball scene. He co-founded eCoach, a company that offers high-level sports instruction remotely to NBA coaches to reduce the price of basketball coach training.
Given that she was a collegiate athlete dating an NBA player, she has kept her life very discreet. Nevertheless, the pair were embroiled in a scandal after Jamal's social media account was hacked and a confidential video of the couple was made public. After that, Jamal and Harper removed their social media accounts and maintained their privacy.
Harper Hempel Net Worth
Harper hasn't shared a lot of personal information. So, it is also unknown how much money she is worth. Harper holds a bachelor's degree in marketing and digital media and now manages social media marketing.
The worldwide average pay for a social media promotions manager position in the United States is around $65k annually. Likewise, she is predicted to make about $40k a year from her photography company. Hempel, a social media celebrity, photographer, and community manager, is thought to be valued between $1 million and $5 million.
How long has Jamal Murray been with his girlfriend?
Since Harper started dating Jamal as a junior at the University of Kentucky, they have stayed together.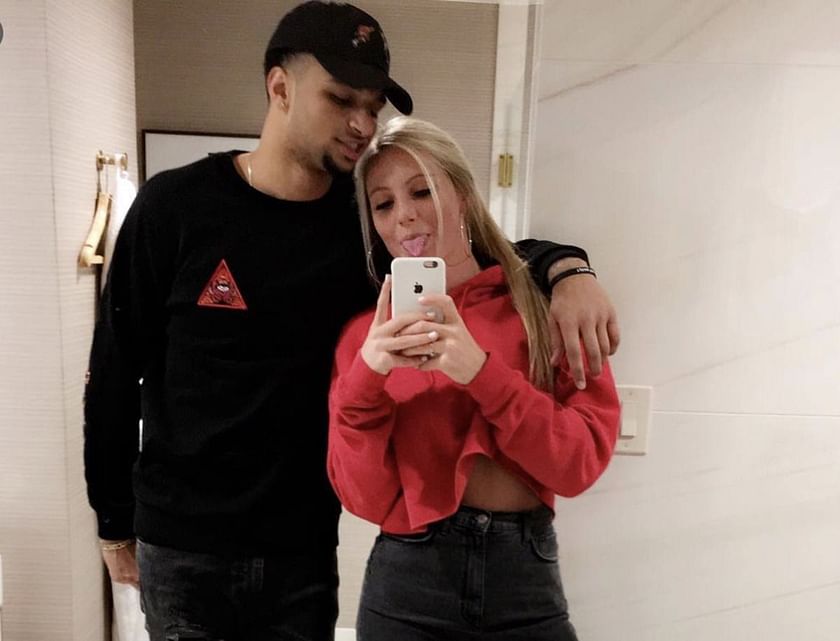 What does Harper Hempel do for a living?
She has a job now that she has graduated. Kentucky-based Harper, who is also a photographer, operates a business there. She holds a second job as a social media consultant. As of March 2020, Harper is employed at Fact & Fiction as a social media brand manager. Yet, the contentious video made her career and emotional health suffer greatly. She joined All Media Jessie as a social media marketing executive in August 2019. Harper currently has a $100,000 net worth.
How did Jamal and Harper meet?
They both met while they were both students at the University of Kentucky. Hempel played a significant role for the Kentucky Women's Volleyball team while majoring in marketing. During their stay in Kentucky, Jamal and Hempel began dating, and things have remained steady ever since. As Jamal decides to move to Denver after getting picked by the NBA, Harper stays in Kentucky to complete her bachelor's degree and continue playing volleyball. The pair has persevered throughout their separation, though.
Are Jamal and Harper still together?
They both made an effort to keep their private matters private. They are unable to engage using their personal life on either account. They each have pictures of themselves, friends, and family on their accounts, but there are no particular posts linking the pair. Since Jamal went to compete in the NBA playoffs, the couple have had to spend some time apart owing to COVID rules. The players must stay inside their bubble in order to prevent catching the virus. Harper, Jamal's girlfriend, was compelled to spend her 24th birthday alone due to their present predicament. Recent rumours claim the pair would get back together shortly after the Nuggets' loss to the Lakers.
FAQs
Q. What is Harper Hempel's net worth?
A. Harper Hempel's net worth is $1 million.
Q. What is Harper Hempel's age?
A. Harper Hempel, who is 25 years old today, was born on September 30, 1997.
Q. When Harper dated Jamal, how old was she?
A. Haper met Jamal that year when she was 18 years old.