Michael Jordan has accumulated a massive fortune from his basketball career, businesses, and other investments. In addition to his six NBA titles, his plethora of records and his GOAT status, Jordan is also the first NBA player to enter the billion dollar empire, with Forbes valuing his net worth at $2.1 billion. He also achieved the status of a real estate mogul as the owner of several multi-million dollar houses.
Where are Michael Jordan's houses?
Chicago
Before moving to Florida, Michael Jordan lived in his iconic Chicago mansion for almost 19 years. The house is located in a suburb called Highland Park. It spans over 56,000 square feet, situated on land that spans over 7 acres. The house has nine bedrooms, five full and four half bathrooms, and a basketball court. The property also contains an infinity pool, a full-fledged golf course, a tennis court, several outdoor spaces, and the actual living space itself which is 32,000 square feet. One can also find a pond, many lounges, and media rooms, a fully-stocked bar, and a cigar room with customized card tables.
North Carolina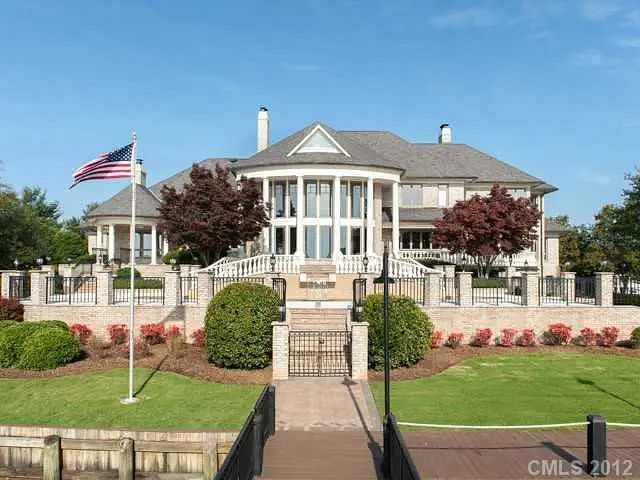 Image source: Business Insider
Michael Jordan owns two large properties in his home state, in addition to owning their NBA team, North Carolina's Charlotte Hornets. One property is a lakefront villa which Jordan purchased in 2013 for $2.8 million. Situated in Cornelius at Jetton Park on Lake Norman, it includes six bedrooms and is located on the Peninsula golf course which is a luxury country club. The home, in itself, spans over 12,300 square feet, with an outdoor pool and a private dock connected to the lake.
Image source: Highrises
The other property is a luxury condominium on N. Tyron Street, downtown Charlotte. It spans over 70,000 square feet and makes up the seventh floor Penthouse at the Trust Condos. The building is a renovated modernist structure, with elements of Japanese architecture. It has a roof terrace with a glass canopy for sunbathing and an outdoor kitchen with a 360 degree view of the city.
Park City, Utah
Image source: Highsnobiety
Jordan is also the owner of a small property in the upscale ski town of Park City. Estimated to be around 10,000 square feet, this private getaway is currently listed on the market for $7.5 million. The property has five bedrooms and eight bathrooms and provides a breathtaking view of the Wasatch Mountains. The various features available include an infinity pool, a fully equipped gym, a private theatre with stadium-like seating, cascading waterfalls, built-in fireplaces, and a golf room.
Florida
Image source: Echo Fine Properties
These days, Michael Jordan spends his time at his mansion in Jupiter, Florida. Estimated to cost $12.8 million, the building took 18 months to complete and was finally ready in 2013 after a $20 million renovation. The property spans over 28,000 square feet and is built on modern architecture. It is rumored to include around 11 bedrooms and 11 and a half bathrooms, a cigar room, a basketball gym, a full-scale media room, a guardhouse, a guest house, and pool house. 'The Bears Club', known for its high-profile residents, is a heavily guarded and gated community.
Where does Michael Jordan live now?
Image source: The Bears Club
Michael Jordan and his wife Yvette now live at 'The Bears Club', Jupiter, Florida. The home is spread across 3 acres of land and is surrounded by lush greenery with complete privacy.
Michael Jordan's House Address
Michael Jordan currently resides at 103 Bears Club Dr, Jupiter, FL 33477, United States.
Michael Jordan's House Tour
The architecture is more open and the house counts 18 separate roof structures that separate the building into houses within the house.
The house is surrounded by a forest, giving complete privacy to the 28,000 square foot area.
The $12.4 million house is complete with a guardhouse, guest house, and pool house. Jordan spent $4.8 million on the land and $7.6 million for construction, making the mansion the most expensive non-waterfront home in the area.
The mansion consists of 11 bedrooms in total, with 6 of them being on the 2nd floor, a two-storeyed guardhouse, a basketball gym, a state-of-the-art media room, and a cigar room.
Image source: Echo Fine properties
The property also holds a golf course, which is not a typical palm tree-lined Florida course. It is, however, lined with mature pine trees and well-maintained grass that is firm and ultra-fast.
Is Michael Jordan's house in Chicago still for sale?
The house, which was Jordan's primary residence till 2007, is still up for sale since he put it up on the market in 2012. The price dropped over the years from $29 million to the current value of $14.8 million. It is understood that the $100,000 annual property tax is what is standing in way of sale.