Michael Jordan is the former American professional Basketball player and a businessman. He was the most lethal, unapologetic talent in the NBA of his time and regarded as the greatest of all time. He played 15 seasons in the NBA and won six championships with the Chicago Bulls. He also holds the record for the six NBA finals MVP, ten NBA scoring titles and many more.
His will to win was so acute that it took a toll on the players he played with but his greatness, his aura of invincibility was so much more than what could be perceived just on the basketball court. Off the court, he was a husband, a father, someone who deeply cared about his family. We all know how he left to play baseball after the tragic death of his father. His passion to win has been misunderstood many times but his devotion to his family and to his loved ones has always been held in high regard. He embodied not only being a great athlete but also being an equally good family man.
Who is Michael Jordan's wife, Yvette Prieto?
Michael Jordan is married to Cuban-American model Yvette Prieto, who he met a year after divorcing from his ex-wife Juanita. In 2013, Yvette and Michael married each other in Florida, with a ceremony rumored to have cost over £8 million and the guest list included celebrities like Tiger Woods, Usher, and Robin Thicke. One year later Yvette and Michael welcomed identical twin daughters Ysabel and Victoria. The couple is still going strong together, though they choose to keep their lives as private as possible.
By profession Yvette is Model who endorses several fashion brands. She also worked in real estate, a hospital, and her parents' business in addition to modelling.
Michael Jordan's Wife Yvette Prieto: Quick Facts
| | |
| --- | --- |
| Full Name | Yvette Prieto |
| Birth Date | March 26, 1979 |
| Birth Place | Cuba |
| Age | 44 years |
| Height | 5'6"(1.68m) |
| Nationality | American, Cuban |
| College | University of Florida |
| Profession | Fashion designer, American Model, Social Media influencer |
| Marital Status | Married |
| Husband Name | Michael Jordan |
| Net Worth | $55 million approximately |
What is the age, height and weight of Yvette Prieto?
Jada was born to Carlos and Maria Prieto on March 26, 1979 in Cuba. She was brought up in Miami. She is 44 years old and reported to be 5'6"(1.68m).
Yvette Prieto Net Worth
Yvette Prieto, a Cuban-American model has a net worth of $55 million as of 2023 while her husband has a net worth of approximately $2 billion and was the former highest paid player in the NBA.
When did Michael Jordan meet Yvette Prieto?
Michael Jordan met Yvette Prieto in 2008 at a nightclub in Miami. The couple moved in together in 2009 and got engaged in 2011.
How long has Michael Jordan been married to Yvette Prieto?
On April 27, 2013, Michael Jordan and Yvette Prieto tied the knot at Bethesda-by-the-Sea Episcopal Church. They have been married for 10 years now.
Michael Jordan and Yvette Prieto's Wedding
NBA legend Michael Jordan married Yvette Prieto on April 27, 2013. The lavish wedding of NBA's greatest took place at an Episcopal church called Bethesda-by-the-Sea in Palm Beach, Florida. The wedding reception was held at The Bear's Club in Jupiter.
As per Huffington Post, Michael Jordan and Yvette Prieto set a new record with their 40 thousand square foot tent. Their tent was reportedly the 'largest tent in wedding history'. The tent was apparently 5,000 thousand square feet larger than Jordan's own house. The reception had artists like Usher and Robin Thicke perform.
Celebrities like Patrick Ewing, Tiger Woods, and Scottie Pippen attended the reception. Jordan met Prieto at a club in 2008, before they moved in together in 2009. They got engaged in 2011 before finally getting married a couple of years later.
The Last Dance star asked for Yvette's hand in marriage by giving her the most jaw-dropping ring, and celebrity net worth reported that its value could be in excess of $1million - an astounding figure which is equivalent to five engagement rings at the value of Meghan Markle's beloved ring from Prince Harry which is thought to be worth £134,500.
How many children do Michael Jordan and Yvette Prieto have together?
The couple has 2 kids together. Jordan and Yvette gave birth to their twin daughters named Victoria and Ysabel on February 11, 2014. Jordan was previously married to Juanita Vanoy, with whom he has three children ' Jeffrey, Marcus, and Jasmine. Jordan's daughter Jasmine married to Rakeem Christmas, a NBA player and the couple together gave birth to a son in 2019 thus, Jordan became a grandfather.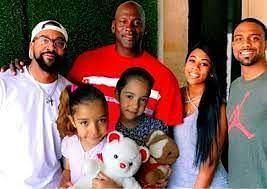 Why did Michael Jordan & Ex-wife, Juanita Vanoy split?
Micheal Jordan and Juanita Vanoy filed for divorce in 2002, indicating marriage ending differences, but reconciled shortly thereafter. The couple again filed for divorce a few years later in 2006, before it was mutually and amicably settled. Michael Jordan's ex-wife reportedly received $168 million in settlements, making it one of the largest celebrity divorce settlements on public record at the time.
FAQs
Q. What does Yvette Prieto do for a living?
A. Yvette Prieto, the wife of basketball legend Michael Jordan, is an Model, social media influencer in addition she manages her parent's business and works in real estate.
Q. How old is Yvette Prieto?
A. Yvette Prieto is of Cuban descent born on March 26, 1979, and is 44 years old.
Q. Did Jordan's first wife remarry?
A. Michael Jordan's ex wife, Juanita did not remarry. She claimed that she preferred a low-key profile life which includes her kids,close friends and wants to keep things simple.
Q. How tall is Yvette Prieto?
A. Yvette Prieto stands 5 feet 6 inches(1.68m) in height.