| | |
| --- | --- |
| Full Name | Zion Lateef Williamson |
| Date of Birth | July 6, 2000 |
| Age | 22 Years |
| Nationality | American |
| Height | 6 ft 6 in |
| Current Team(s) | |
| Draft | 2019 |
| Role | Power Forward |
| Debut | July 5, 2019 |
| Nickname | Zanos |
Zion Williamson: A Brief Biography
Zion Williamson is an American professional basketball player who plays as a power forward for the New Orleans Pelicans in the NBA. He is currently playing his 2th season and has been in the 2020 NBA All-Rookie First Team and was chosen for an All-Star game, making him the fourth-youngest NBA player ever. He was selected by the New Orleans Pelicans with the first overall choice in the 2019 NBA Draft. He is a natural freak. He was the second-best prospect in his class when he was in high school, and his high-flying dunks made him famous.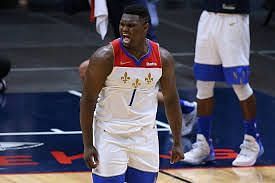 Early life
Zion was born on July 6, 2000 in Salisbury, North Carolina. He attended Spartanburg Day School in Spartanburg, South Carolina where he would play out his highschool career.Beside, basketball zion also used to play soccer. At age nine, he started waking up early and used to compete in youth league with his mother sharonda sampson and with the players four years older than him.
Later, Williamson started working with his stepfather Lee Anderson, a former collegiate basketball player, to enhance his point guard abilities. His mother once again served as his coach when he joined the basketball team at Johnakin Middle School in Marion, South Carolina, where he scored an average of 20 points per game.He was a highly recruited player coming out of highschool with many division one college teams trying to pick him up. On January 20, 2018, he committed to play for Duke under legendary coach Krzyzewski. He ended up having a dominant season for the Duke Blue Devils, picking up the Naismith National Player of the Year. After the end of the season, he declared for the 2019 NBA Draft.
NBA Journey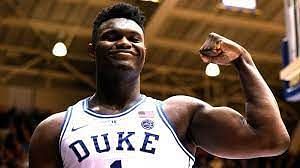 The New Orleans Pelicans selected Zion with the first overall pick in the 2019 NBA Draft. During a preseason game, he tore his meniscus which caused him to miss the first 48 games of the season. But when he did play, he dominated the paint due to his grown man strength. Williamson averaged 22.5 points on 58.3 percent shooting from the field, 6.3 rebounds, and 2.1 assists per game to end his rookie campaign.He ended the 2019-2020 season in contention to win the NBA Rookie of the Year having just played 24 games and made it to the All-NBA Rookie First Team. He was the rookie with the most points per game, second most rebounds per game, and first most offensive rebounds per game.
During the 2020-2021 season, Zion would stay healthy and play more than 80% percent of the regular season games. His play improved from his rookie season and it showed on the stats sheet.Williamson became the youngest player in NBA history with 30 points on 90% shooting on February 12, 2021, when he recorded a new career best 36 points in a 143-130 loss to the Dallas Mavericks. He would go on to earn his first NBA All-Star selection, which as projected should be the first of many.
Williamson signed a 5-year rookie agreement with the New Orleans Pelicans on July 6, 2022, for $193 million guaranteed, with an additional $231 million payable if he is selected to the All-NBA team for the 2022–2023 season.On October 4, 2022, Williamson returned from injury, defeating the Chicago Bulls 129-125 in a preseason game. Williamson finished the game with 13 points, four rebounds, one assist, and one steal.Playing with the same zeal Williamson again defeated the San Antonio Spurs 117-99 on December 2 by scoring 30 points, 15 rebounds, and 8 assists—all career highs.
Zion williamson college
Williamson went to Duke for his college.Williamson scored 28 points in 23 minutes as Duke defeated Kentucky in a one sided win 118-84 in his debut game..While playing his last season with Duke, Williamson won the ACC Player of the Year, ACC Athlete of the Year, and ACC Rookie of the Year awards in his freshman year. Williamson was coached by the great Krzyzewski. For the Duke Blue Devils, he had a spectacular season that earned him the Naismith National Player of the Year award. He announced his intention to enter the 2019 NBA Draft after the season ended.
Awards and Achievements
| | | |
| --- | --- | --- |
| Award/Accolade | Year | Team |
| NBA All-Star | 2021 | New Orleans Pelicans |
| Consensus first-team All-American | 2019 | Duke Blue Devils |
| Wayman Tisdale Award | 2019 | Duke Blue Devils |
| Karl Malone Award | 2019 | Duke Blue Devils |
| ACC Athlete of the Year | 2019 | Duke Blue Devils |
| ACC Player of the Year | 2019 | Duke Blue Devils |
| ACC Rookie of the Year | 2019 | Duke Blue Devils |
| ACC Tournament MVP | 2019 | Duke Blue Devils |
| South Carolina Mr. Basketball | 2018 | Duke Blue Devils |
Zion williamson Records
In January 2019, he broke the freshman scoring record for a single game at his school. He also earned the Wayman Tisdale Award, was named ACC Rookie of the Week five times, and set several more records.

Williamson was the camp's top scorer in June 2016 as he took part in the National Basketball Players Association (NBPA) Top 100 camp.

Williamson won the Farm Bureau Insurance Classic's most valuable player award with a performance of 31 points and 14 rebounds.

Later on, he made NBA history by being the first teenager to score at least 20 points in ten straight games.

He recorded 16 20-point games in his first 20 games, becoming the first rookie since Michael Jordan in 1983 to do so. He also had the highest scoring average through his first 24 NBA games.Thus, becoming NBA All Rookie first team.

In his 2020-2021 season, Williamson tied Kareem Abdul-record Jabbar's for the most consecutive games with at least 20 points on 50 percent shooting in his first two seasons.
Zion Williamson Net worth
Zion Williamson's net worth was recently evaluated at $18 million by Celebrity Net Worth.When he graduated from college, he was a viral possibility, and many well-known brands wanted to sign him. With a shoe contract, he will receive $75 million from the Jordan Brand over the following seven years.It surpasses LeBron James' original Nike shoe contract, which paid him $12.4 million per year over seven years, to become the highest rookie shoe deal in NBA history in terms of yearly pay. His other major endorsements include Gatorade, Mountain Dew, and NBA2K.
Read more about Zion Williamson's net worth.
Zion Williamson Contract
The young American Basketball Player of the New Orleans Pelicans Williamson is this year's 110th highest-paid NBA player. The New Orleans Pelicans selected Zion Williamson with the first overall choice in the 2019 NBA Draft. He was initially signed by the Pelicans to a rookie-scale contract worth $44.27 million for four years,Williamson and the organization immediately came to terms on a five-year, $193 million rookie maximum agreement. The new contract will become effective at the beginning of the 2023–2024 season, and if Williamson makes the All–NBA team or receives a significant honor the following year, the amount could increase to $231 million.
Read more about Zion Williamson's contract
Zion Williamson Endorsements
He has been chosen for both the NBA All-Star Team and the NBA All-Rookie First Team in his two years. and has gained so much popularity and his popularity ensures that he will have plenty of options for endorsements.He will undoubtedly have numerous endorsement deals because he is one of the NBA's young faces. With Jordan, he has a personal signature shoe. Jordan, Gatorade, Panini, Fanatic, Mountain Dew, and NBA2K are among the brands he has endorsed. Zion earns $20 million from endorsements alone, according to Forbes.
Zion Williamson Salary
The 6 feet 6 inches tall American basketball player who plays in the NBA as a power forward. In the 2022–23 NBA season, Zion Williamson will earn $13,534,817, and his deal will take effect the next year. He agreed to a 5-year, $193 million rookie maximum extension contract that contained provisions that, should he win certain awards, could increase his salary to as much as $231 million. In the NBA season 2023–24, he will earn $33.2 million, and in the last year of his contract, $43.8 million (2027-28).
Zion Williamson Family
ion was born in Salisbury, North Carolina to Lateef Williamson and Sharonda Sampson. At Mayo High School in Darlington, South Carolina, Lateef played defensive lineman football.Sampson was a sprinter at Livingstone and later graduated to teach health and physical education in middle schools.His parents divorced when he was five, with his mother remarrying Lee Anderson a former college basketball player for Clemson. Noah Anderson is Zion's step brother and is 6 years old.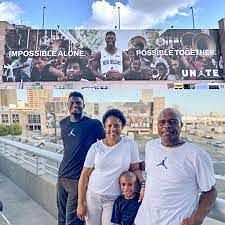 Read more about Zion Williamson's parents.
Zion Williamson Girlfriend
In 2022, Zion Williamson is single at the moment. However, before that, he was dating Tiana White. Since their senior year of high school at Spartanburg Day High School, Zion Williamson and his ex-girlfriend Tiana White have been involved in a relationship.They both had a stable relationship since their High School days but due to some unknown reasons they broke up. Williamson was one grade senior than White, She was also a committed volleyball player for the school and a member of the cheerleading squad.
Read more about Zion Williamson's girlfriend.
Zion Williamson Mother
Williamson comes from a distinguished athletic family that includes college football player Lateef Williamson, his father and track star or sprinter Sampson.Sampson went on to teach health and physical education in middle schools after her time competing in track at the university level. Every youth basketball league Zion ever participated in had her as his coach. When Williamson was 5 Sampson got divorced with Lateef and subsequently wed Lee Anderson, a former Clemson college basketball player.Both sampson and anderson had a very big role in making Zion to the NBA, they used to push williamson whenever he was down and helped him to wake up at 5:30 am and send him to the nearby basketball court and help him in practise.
Zion Williamson Car Collection
Zion Williamson, a power forward with the New Orleans Pelicans, was born on July 6, 2000, and currently plays in the NBA. Williamson has Mercedes AMG G63, Mercedes AMG GT, Jeep Wrangler, Mercedes AMG S63. Moreover, Williamson also Drives a Wild Ford F-150 Raptor With Off-Road Modifications and a Custom Interior.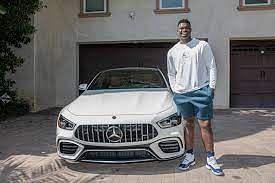 The 22 year old point forward from New Orleans Pelicans was born on july 6 2000.He is presently in his second season of play, was selected for an All-Star game, and was named to the 2020 NBA All-Rookie First Team, making him the fourth-youngest NBA player in history.
His most recent weight is 284 pounds or 129 kg, according to NBA.com. But his heavyweight doesn't make him lazy, he is agile and relatively quick.
Williamson is reported as being 284 pounds and 6 feet 6 inches (1.98 meters) tall (129 kg). He is a basketball player who is heavier than average, but is renowned for his quickness and leaping skills.
The New Orleans Pelicans' young American basketball star, Williamson, is this year's 110th highest-paid NBA player. Williamson and the team quickly agreed on a five-year rookie max extension worth at least $193 million. The new deal will start in the 2023-24 season.
Early in the 2022–23 season, the Pelicans' star player was forced to miss several games due to a troublesome foot injury.