EPL Articles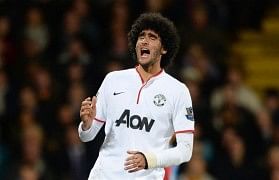 Roberto Martinez believes that Everton have moved on since Marouane Fellaini left to join Manchester United last summer and isn't convinced that ...
Horadings on the field at KC Stadium Sunday's Premier League clash between Hull City and Arsenal at the KC Stadium was stopped for a while as ...
Manchester United striker Danny Welbeck is rumoured to be mulling over his future at the club after reports have emerged that he is unhappy about ...
Liverpool captain Steven Gerrard has revealed that he had given up on winning the Premier League after years of stagnating and failure. The Reds ...
Chelsea manager Jose Mourinho suffered his first defeat at home since 2011. Losing at home is something that Chelsea manager Jose Mourinho is not ...
Chelsea assistant coach Rui Faria lost his cool last night after referee Mike Dean's decision to award Sunderland a late penalty which ...
English Football has been rocked by a drug scandal as a "major club" is right at the centre of it In what comes as a shocking ...
Chelsea manager Jose Mourinho mocked referee Mike Dean and head of refereeing Mike Riley with a sarcastic speech after Chelsea's 2-1 defeat to ...
Even though Chelsea midfielder Ramires escaped a red card from referee Mike Dean for his vicious elbow on Sunderland's Sebastian Larsson, chances ...
20th place Sunderland stunned everyone last night with their 1-2 victory over Chelsea at Stamford Bridge thus ending his long running 77 league ...