EPL Articles
Of Moyes and Managers David Moyes being Sir Alex Ferguson's personal choice exempted him from having a plan or an impressive CV David Moyes ...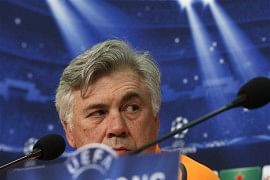 By now, everyone is acutely aware of the fact that David Moyes has been sacked by Manchester United. The news, tweets, memes and reactions have ...
Brendan Rodgers and David Moyes – Comparing the two managers   After the first half of their respective seasons, it seemed like United had ...
Manchester United players already knew of the imminent departure of David Moyes before the loss to Everton on Sunday, according to ...
The  on Tuesday came as little surprise to many. After a troublesome nine-month reign which has seen them record their lowest points tally since ...
Manchester United legend Gary Neville is adamant that the club's players need to take responsibility for their poor performances that have led ...
During the current campaign, Karim Benzema (17) has scored as many goals as Santi Cazorla (4), Mesut Ozil (4) and Aaron Ramsey (9) combined Arsenal ...
Liverpool now just 3 games away from the Premier League title A scrappy win after one of their most disjointed performances of the season. But, at ...
Netherlands manager Louis van Gaal is set to reject an offer from Totenham Hotspur and begin talks with Manchester United over the managerial ...
Former Liverpool defender Jamie Carragher believes Ryan Giggs should not take over on a permanent basis when the managerial position is filled at ...
It never quite worked out for David Moyes at Manchester United "The Club would like to place on record its thanks for the hard work, honesty and ...