Jorge Masvidal, a UFC fighter, became a fan favorite due to his antics both inside and outside the Octagon. After his accomplishments with the now-defunct Strikeforce, the controversial welterweight made a name for himself. Although the American combatant fought in the UFC octagon for more than ten years, the year 2019 stands out for his standout performances.
He defeated Nate Diaz for the first BMF championship, and he also won a title shot that he used the following year. He did not succeed, though, in his two subsequent title defenses against Kamaru Usman at UFC 251 and UFC 261, respectively. He is ranked #11 in the welterweight division as of March 2023.
What is the net worth of Jorge Masvidal in 2023?
| | |
| --- | --- |
| Age | 38 years old |
| Net Worth | $6 million |
| Source of Wealth | MMA, Boxing, Endorsement, Entrepreneurship |
| Salary | $500K |
| Endorsement | Metro PCS, Reebok, El Recuerdo de Oaxaca Joven Mezcal |
| Residence | Miami, Florida |
| Marital Status | Divorced (Maritza Collado) |
| Charity | UFC Foundation |
| Last Updated | April 6, 2023 |
The net worth of Jorge Masvidal is estimated to be $6 million as of March 2023. Additionally, "Gamebred" signed a new contract with the promotion a few days prior to his March 2022 feud with former friend and rival Colby Covington.
Notably, the 38-year-old's payday occurred when he reluctantly accepted the fight at UFC 251 with "The Nigerian Nightmare." Pay-per-view sales brought in $500,000 and an undisclosed sum for him.
Through his partnership with Recuerdo Mezcal in 2020, Jorge introduced a mezcal label called "El Recuerdo de Oaxaca Joven." Masvidal established the Gamebred Fighting Championship, a promotion for bare-knuckle mixed martial arts, which held its pay-per-view debut in June 2021 in Biloxi, Mississippi.
Jorge Masvidal introduced iKON UFC in January 2022, a different MMA promotion that featured both seasoned UFC competitors and up-and-coming combatants. The first one was broadcast on UFC Fight Pass.
Jorge Masvidal's Salary
Jorge Masvidal has received a salary of nearly $5.5 million during his professional MMA career. The $1.3 million he earned from his UFC 251 match against Kamaru Usman was his biggest payday.
Masvidal earned $270,000 after defeating Nate Diaz to win the BMF Championship in 2019. He earned $530,000 in the first fight against Kamaru Usman for the UFC welterweight title and $532,000 in the second.
The Sports Daily reports that Masvidal earned about $18,000 in 2007 for his Strikeforce match against Matt Lee at the Playboy Mansion. Against Tim Means in his UFC debut in 2013, he earned $60,000. He made $191,000 when he fought Donald Cerrone in 2017 and $247,000 when he defeated Ben Askren at UFC 239.
Jorge Masvidal's Endorsement
Metro PCS and Reebok have endorsement agreements with Masvidal. His El Recuerdo de Oaxaca Joven Mezcal brand also brings in money for him. Gamebred Boxing, his fight organization, has worked with a variety of sponsors.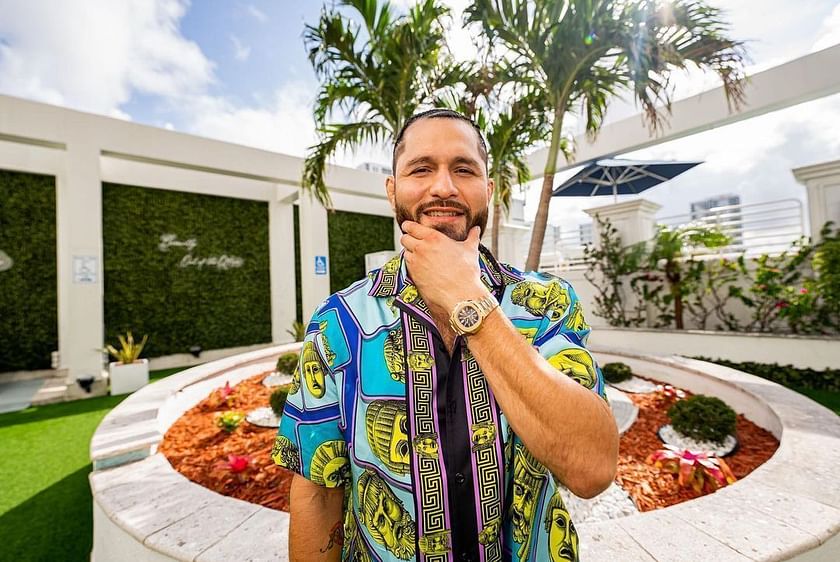 Jorge Masvidal's Charity and Foundation Work
Prior to his 2019 fight with Nate Diaz, Masvidal provided food for the hungry. Through the UFC Foundation, he also gave back to the AfterSchool Allstars of Southern Florida. Outside of the cage, Masvidal has engaged in grappling competitions with different MMA fighters, with the proceeds going to charity.
Jorge Masvidal's House
The #11 welterweight owns a lavish $2 million Miami home that was designed in the style of the classic Hollywood film "Scarface." The house has all of the luxuries, style, and amenities that one could want.
Jorge Masvidal's Car Collection
Masvidal is the owner of a stunning red Ferrari 296 GTB. He paid $321,400 for it, which was a fair price given the performance it offers. There is no additional information available about Masvidal's other car purchases (if any).
Net worth Comparison with other Popular UFC Fighters (2023)
| | | | | |
| --- | --- | --- | --- | --- |
| Jorge Masvidal Net Worth | Donald Cerrone Net Worth | Coby Covington Net Worth | Kamaru Usman Net Worth | Ben Askren Net Worth |
| $6 million | $9 million | $4 million | $3 million | $500,000 |
Net Worth of other Popular MMA Fighters
FAQs
Q. What is the net worth Jorge Masvidal?
A. The net worth of Jorge Masvidal is estimated to be $6 million as of March 2023.
Q. What is Jorge Masvidal's biggest payday?
A. His largest paycheck came from his UFC 251 contest with Kamaru Usman, which netted him $1.3 million.
Q. Who is richer in between Jorge Masvidal and Ben Askren?
A. Jorge Masvidal, with a net worth of $6 million, is richer than Ben Askren, who has a net worth of $500,000.