Born on December 30th, 1984, LeBron Raymone James senior is a professional American basketball player in the National Basketball Association (NBA). Born in Ohio, King James, as he is more popularly known, plays for the Los Angeles Lakers and is considered as one of the greatest in the NBA.
Having won an NBA Championship with the Cleveland Cavaliers, Miami Heat, and the LA Lakers, LeBron James is the only player in league history to win Finals MVP with 3 different franchises. His all-around game and versatile style of playing have led many to draw comparisons to NBA greats such as Magic Johnson, Michael Jordan and Oscar Robertson.
Who is LeBron James' wife, Savannah James?
Savannah Racheal James (Brinson), born on August 27th, 1986, is an American philanthropist and entrepreneur. Raised in Akron, Ohio, she is the youngest of 5 children born to J. K. and Jennifer Brinson.
She attended Buchtel High School, where she was a cheerleader and softball player. Savannah owned a juice store called 'The Juice Shop' in Florida, which she closed down in 2016 to move back to Ohio. In collaboration with the furniture retail company 'American Signature', she began 'Home Shop' in 2018. She also established a mentorship program called Women of Our Future.
How did LeBron meet Savannah James?
LeBron and Savannah's love story began in high school when a mutual friend told Savannah that LeBron had asked for her phone number. She took his number instead and gave him a call a few years later. He invited her to his game, which ended with the team hanging out at Applebee, and shortly after, asked her out on a date. LeBron was quoted saying that she was with him, even when he had nothing, and credited her for being a motivational factor for his success.
In 2003, during LeBron's rookie year in the NBA, the couple discovered that they were expecting their first child, LeBron James Jr., affectionately called Bronny. Nearly three years later, the couple welcomed their second child Bryce Maximus.
After being together for a decade, LeBron finally proposed to Savannah on New Year's Eve 2011, who said yes, minutes after midnight. In 2013, they officially tied the knot at the Capella Chape Grand Del Mar Hotel, San Diego, in the presence of friends and family. The following year, they welcomed their third child and first girl, Zhuri.
What is Savannah James' height?
Savannah Brinson (now James) stands at 5 foot 7 inches while her husband, LeBron, is 6 foot 9 inches.
What is Savannah James' Net worth?
Despite being married to one of the wealthiest basketball players whose net worth in 2020 stood at $450 million, Brinson has had success with her own businesses, including interior designing. She also started a mentorship program, 'Women of our future' for young girls to provide one-on-one counseling and support for mainly 9th and 10th-grade girls. Savannah James estimated net worth is around $50 million.
What does Savannah James do for a living?
Savannah James is a businessperson, philanthropist, entrepreneur, and designer. She has always been a woman of charitable interests. It was because of her upbringing where she developed an interest in helping others. Savannah also owned a juice store, The Juice Shop in Florida but closed back in 2016 due to moving back to ohio. She found the perfect partner in LeBron James, who is like-minded and incredibly supportive of her work.
At her alma mater, Buchtel Community Learning Centre, Savannah launched Akron: Women of our Future for young girls to provide one-on-one counseling and support for mainly 9th and 10th-grade girls. Both LeBron and Savannah continue their philanthropic work through the LeBron James Family Foundation. The Foundation is built on the 'We are family' philosophy and is mainly involved with redefining family and community in Lebron's hometown Akron. With the I PROMISE Program, LJFF assists more than 1,500 students and their families by providing for them. In 2018, LJFF collaborated with Akron Public Schools to build the I PROMISE School, revolutionizing education and creating a new urban education model.
How long has LeBron James been married to Savannah Brinson?
The couple has been together for 20 years now and has been married for 7 of them.
How old was Savannah Brinson when she had Bronny?
LeBron James Jr., popularly known as Bronny, was born to the couple when LeBron was 20 and Savannah was 18. She was expecting him when she was 17.
How many kids do LeBron and Savannah have?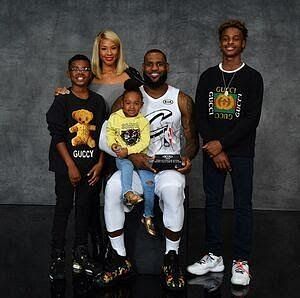 LeBron and Savannah have three children - two boys and a girl. The oldest is LeBron James Jr, also known as Bronny, born in 2003 followed his father's footsteps and is a skilled basketball player who is rumored to have committed to Duke Blue Devils men's basketball team representing Duke University. Bronny stands tall at 6 feet 2 and plays at the point guard and shooting guard positions. Their second child Bryce Maximus James, born in 2007, also has an interest in playing basketball just like his father and older brother. The youngest is Zhuri James, born in 2014.
LeBron and Savannah's Wedding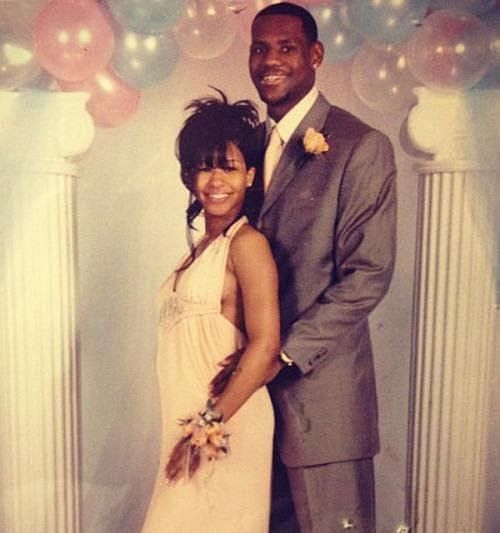 After being together for a decade, LeBron finally decided to pop the question on New Year's Eve 2011. He asked former American basketball player and his former Miami Heat teammate Dwayne Wayne to hold on to the ring right up until the ball dropped at midnight, following which he proposed. Savannah accepted his proposal, and the couple officially exchanged vows in 2013 in the presence of around 200 family members and friends. The celebrations went on for three days. The festivities were attended by many celebrities, including Dwayne, Gabrielle Union, NeYo, and JayZ.