Top 6 animal invasions in sports
News
12 Mar 2013, 22:27 IST
4.60K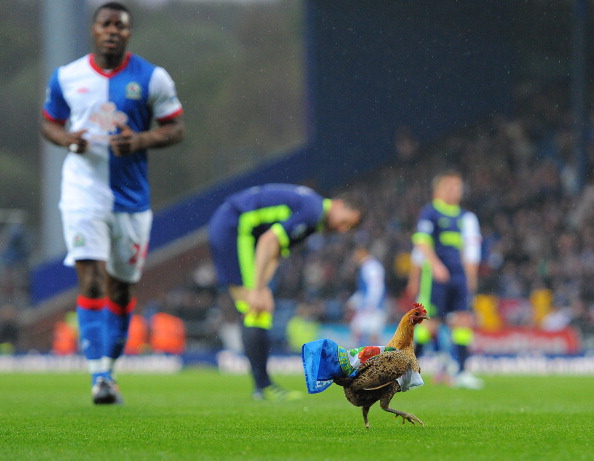 After the video of a marten wreaking havoc in a Swiss division match went viral, the marten became an overnight hero. Animals invading pitches is not something new, though biting players certainly is.
Here is a list of the top 6 animal invasions in any sport.
Cat-attack at Anfield: Anfield is one of the greatest stadiums in the world and any football fan would absolutely love to go there. It seems cats also feel the same. After having a nice run along the park, the tabby cat halted, much to the relief of the stewards, and was subsequently ushered out of the pitch. After all, why should humans have all the fun?
Pigeon-hitting at Headingly: This resembles shooting more than cricket. While fielding, Jacques Rudolph threw the ball straight at a flying pigeon that was knocked straight off its feet… err wings, and was hauled away like a lizard. And they even showed a slow motion replay. Despite the fact that I despise pigeons, that was pretty sickening.
Chicken dribbles past football players: In the European Cup Winners Cup match in 1986, this chicken somehow entered the field and managed to avoid every single tackle put in by players of both teams. He was later sent off for 'fowling' the players.
Bat trouble during Basketball game: A college basketball game was interrupted by an unexpected player – a bat. The game was temporarily stopped as the bat swooped in, wreaking havoc all over. And with no stop to the bat's annoying antics, the players and coaches started bombarding the winged mammal… with towels. And the match officials even went to the extent of turning off the stadium lights, which, to their delight, worked.
Owl-kicking in Columbia: Animal lovers will hate this particular incident more than the others in this list. In a match between Junior de Barranquilla and Deportivo Pereira (Columbian league), an owl (which, incidentally, is also the mascot of Junior) was struck by a pass and was lying on the field when Luis Moreno of Deportivo kicked the bird in the air in an attempt to get it off the field. Sadly, the owl died two days after the incident and Moreno was made to apologize to the entire nation.
Kangaroo takes cars for a ride: This particular kangaroo must have some serious suicidal tendencies. Invading a Bathurst 1000 car race in Australia, this 'roo created quite a scene as all the racers were trying to swerve past the marsupial without hurting it. Though all the drivers managed to avoid the kangaroo, it gave the drivers and spectators quite a scare.