Emphatic double for Sarath Kumar
888 //
22 Dec 2012, 20:08 IST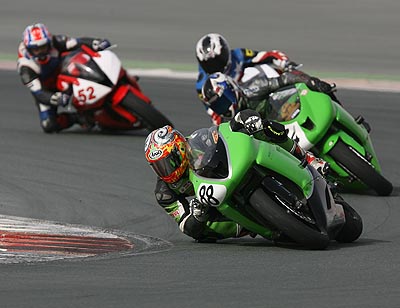 Chennai - Shankar Sarath Kumar of Team Musli Power Ten10 Racing, underlined his status as country's top rider with a fine double in the fifth and concluding round of the FMSCI's MMSC-SIDVIN Indian National Motorcycle Racing Championship, here Saturday.
The 21-year old from Chennai, who is eyeing a ride in the 2013 Spanish championship, came up with two stunning rides that saw him win the Group C 165cc Open and the Honda CBR 250R races by the proverbial country mile.
Sarath destroyed the challenge in both races and his handsome win over another iconic India rider Krishnan Rajini of Moto-Rev India in the Honda one-make championship, was quite emphatic as he spared over nine seconds to the superbike champion.
Sarath thus avenged his defeat to Rajini in the previous round, but neither rider is in contention for the title as both joined the Honda one-make series only midway through the season.
Sarath was equally dominant in the 165cc race that he won quite comfortably with A Prabhu of Moto-Rev India finishing second ahead of Sumit Lucas Topo of Performance Racing. The championship leader Shyam Shankar came in fourth.
Also scoring a double was R Ramesh Kumar who won two novice races in the Group D 130cc and Yamaha YZF R15 (one-make championship) categories on a day that witnessed a few crashes from which those involved walked off without suffering any major injuries.
The results:
National Championship:
Group B – 165cc Open (6 laps): Jagan Kumar (TVS Racing) 1 (11mins, 45.530secs); Harry Sylvester (TVS Racing) 2 (11:48.355); Deepak Ravikumar 3 (11:49.863).
Group C – 165cc Open (6 laps): Sarath Kumar (Musli Power Ten10 Racing) 1 (12:25.770); A Prabhu (Moto-Rev India) 2 (12:30.692); Sumit Lucas Topo (Performance Racing) 3 (12:31.172).
Group D – 130cc (Novice) 6 laps: R Ramesh Kumar 1 (14:21.014); Kamlesh Thakur 2 (14:21.093); Abdul Wahab 3 (14:31.230).
One-Make Championship:
TVS – Apache RTR180 (Novice) 6 laps (Short loop): Rajesh Rathina Kumar 1 (11:26.068); SK Prakash 2 (11:30.007); Vivek Mani (11:38.079).
Honda – CBR 250R Open (6 laps): Sarath Kumar 1 (12:13.123); Krishnan Rajini 2 (12:22.662); M Gautham 3 (12:33.468). CB Twister (Novice, 6 laps, short loop): Md Intekab Alam 1 (08:47.287); Setu Babu 2 (08:47.467); Akash C 3 (08:48.690).
Yamaha – YZF R15 (Novice, 6 laps, short loop): R Ramesh Kumar 1 (07:54.558); Harshit 2 (07:54.732); Arun Muthukrishnan 3 (07:55.525).