| | |
| --- | --- |
| Name | Kevin Durant Jr. |
| Net Worth | Approximately $200 million |
| Age | 33 years (born 29 September 1988) |
| Residence | New York |
| Marital Status | Single |
| Source of Wealth | Professional Basketball, Endorsements, Investments |
| Salary | Over $42 million annually. |
| Endorsements | Nike, Google, Alaska Air group, Beats by Dre, American Family Insurance, BBVA, Sparkling Ice, Panini, NBA 2K, Gatorade, Sonic Drive-in, Skullcandy, Sprint |
| Endorsement Earnings | Approximately $35 million |
| Philanthropy | Kevin Durant Charity Foundation |
How much is Kevin Durant' Net Worth in 2022?
Kevin Durant's net worth reportedly stands at $200 million in 2022.
Kevin Durant's Salary
Kevin Durant's salary over the past 4 years amounted to $164,255,700. Over the last 5 years, his salary has almost doubled from $20,158,622 in 2015-16 to $40,918,900 in 2021-22. He will earn $44,119,845 in the 2022-23 NBA season.
Kevin Durant' Endorsements
Almost half of Kevin Durant's net worth is earned through his various endorsements.
Kevin Durant joined forces with Nike in 2014. The deal with Nike, for 10 years, is estimated to be worth $300 million and also includes a $50 million retirement package.
Google
Kevin Durant featured in a commercial for Google along with other celebrities like Sia, John Legend, and Chrissy Teigen in 2014.
Alaska Air Group
In 2017, he teamed up with Alaska Air Group to support youth and education programs in San Francisco Bay Area
American Family Insurance
In 2015, Kevin Durant was roped in as a brand ambassador for American Family Insurance.
BBVA
In 2013, Kevin Durant was roped in as a brand ambassador of the Banco Bilbao Vizcaya Argentaria bank, which has been the official bank of the NBA since 2010.
Sparkling Ice
Kevin Durant's association with Sparkling Ice began in 2014. In 2016, the brand announced the unveiling of a basketball court in Seattle, which was part of Kevin Durant's Charity Foundation. The initiative was to increase the number of basketball courts accessible to underprivileged youth.
His many other endorsements include brands such as Panini, NBA 2K which is a basketball simulation game, Gatorade, Sonic Drive-In, Skullcandy, and Sprint.
Kevin Durant's Investments
Thirty-Five LLC operates as a venture capital firm. It invests in early-stage and start-up companies. Kevin Durant set up this investment vehicle with his agent/manager, Rick Kleiman. The firm funds almost forty-odd ventures, which have been estimated to be around $15 million.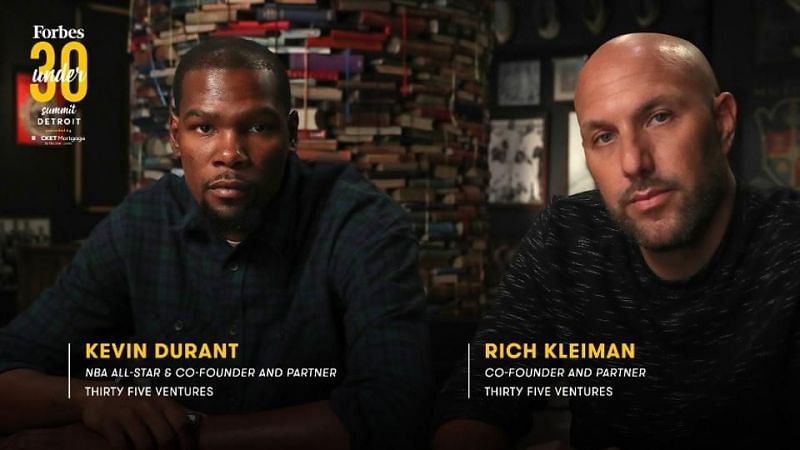 A few of the ventures that have been invested in include
Yoshi: on-demand car care start-up

Rubrik: cloud data management start-up

Postmates: food delivery service

Whoop: wearable fitness tracker

Robinhood: stock trading platform

Weedmaps: cannabis e-commerce platform
Kleiman and Durant are also involved in sports-related companies as well. He recently joined Philadelphia's Union ownership group as an investor and community partner, with a five percent stake and an option to add five more. Durant has also invested in the high school highlights app Overtime. He has also taken on the role of producer in 'Basketball County: In the Water', a documentary on basketball in Prince Georges County, Maryland, where he grew up. Kevin Durant's latest venture is a personal podcast called "The ETCs". He also invested in many restaurants, including Pieology, a pizza company.
Kevin Durant' House and Car
Kevin Durant has spent around $30 million and bought houses in various parts of the United States. He is also known to sell his houses and invest in other properties. Quite recently, he had sold his Malibu house. His Oakland house has recently been listed for $6 million.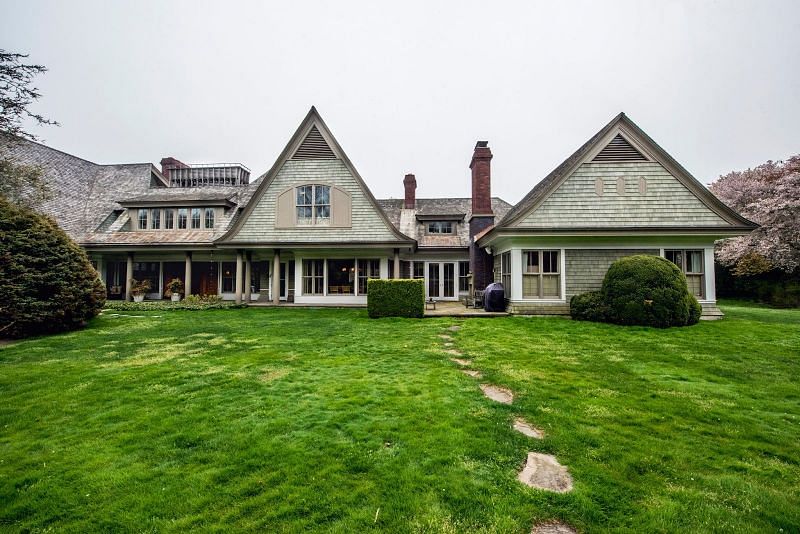 His favorite city, according to various interviews and reports, is New York City. He has found it quite refreshing to just blend into a space where people respect his personal space. The place also has deep roots in basketball culture, having produced stars like Kareem Abdul-Jabbar, and Kyrie Irving. The home of the Knicks, Madison Square Gardens, is known to be the 'Mecca' of basketball and has long been associated with the sport.
Kevin Durant is also known for his collection of luxury cars. He has often been seen driving a Ferrari California, costing around $2,00,000. He also owns various other cars such as a Lamborghini, Range Rovers, Ferraris, Porsches, various models of the Mercedes Benz, and a classic 1966 Ford GT 40. He also owns a Chevrolet Camaro SS, which is his most customized vehicle and is similar in style to that of his sneakers line with matte red paint and pinstripes.
Kevin Durant's Charity Work
During the course of his career, Kevin Durant has donated to several charities. One of his donations. for around $10 million, was to aid children in his native to help them attend college. He also has his foundation known as the Kevin Durant Charity Foundation, which works to enrich the lives of at-risk youth who belong to low-income backgrounds and to see them through educational, athletic, and social programs. The foundation has also allocated grants to supports programs for homeless people, girl empowerment, disaster relief, and social justice. Durant has also reportedly donated $1 million to Red Cross for tornado relief and to the University of Texas $3 million to aid their basketball program.
FAQs
Q. How tall is Kevin Durant?
A. Kevin Durant's height measures 6 feet 10 inches (2.08m).
Q. Is Kevin Durant an NBA champion?
A. The basketball superstar Durant won two NBA championships in 2017 and 2018.
Q. Who is the girlfriend of Kevin Durant?
A. Kevin Durant's girlfriend is Cassandra Anderson. They met in 2017 but are no longer together.
Q. When was Kevin Durant born?
A. Kevin Durant was born on September 29, 1988, in Washington, D.C., US.
Q. What is Durant's playing position in the NBA?
A. In the NBA league, Kevin Durant plays as a small forward or power forward.
Q. What is the net worth of Kevin Durant in 2023?
A. The net worth of Durant in 2023 is estimated to be around USD 200 million.