Born on July 20, 1996, in Melbourne, Benjamin David Simmons is a professional Australian basketball player. He plays power forward/point guard for the Brooklyn Nets in the National Basketball Association. Simmons attended high school (Box Hill Senior Secondary School) in Melbourne and then moved to Montverde Academy in Florida. Later, Ben joined Louisiana State University in 2015 and played only one season. In the 2016 NBA draft, Ben Simmons was drafted by the Philadelphia 76ers as the first overall pick. In terms of career highlights, Ben is a three-time NBA All-Star and NBA Rookie of the Year (2018).
| | |
| --- | --- |
| Name | Benjamin David Simmons |
| Net Worth | USD 8 million |
| Age | 26 years |
| Residence | California |
| Position | Point guard |
| Marital Status | Engaged |
| Source of Wealth | Basketball, endorsements |
| Salary | USD 33 million (2021-22 season) |
| Endorsements | Nike, Foot Locker, Upper Deck, Beats by Dre |
| Endorsement Earnings | Approx. USD 5 million |
What is Ben Simmons's Net Worth in 2023?
According to various online sources, the net worth of Ben Simmons is estimated to be around USD 8 million in 2023. The major contributor to his income is his professional basketball career. Additionally, his fortune is assisted by endorsement contracts and business investments.
Ben Simmons started his NBA career in the year 2016. He has attained significant prominence in such a short period of time and he has a long career journey ahead. Ben was born into a family of athletes and he got inspired towards the game in his childhood. After finishing his college career, Simmons entered the NBA in 2016 when he was selected by the Philadelphia 76ers. He signed his first professional contract with the 76ers. After serving the franchise for five years, Simmons was traded to the Brooklyn Nets in 2022 under another contract.
Ben Simmons's Salary
Ben Simmons continues to raise his popularity in the world of basketball with consistency and dedication. He was relatively famous during his college career days and worked hard to establish his identity. During the 2016-17 season, Ben was paid a salary of USD 5.9 million. He received US$6.1 million and US$6.4 million in the 2017-18 and 2018-19 seasons, respectively.
Furthermore, the Australian basketballer proceeded to seek a hike in his salary during the subsequent seasons. He earned US$8.1 million, US$30.5 million, and US$33 million in the 2019-20, 2020-21 and 2021-22 seasons. In total, Ben Simmons earned US$90.1 million as a salary alone in his career till now. The 3-time NBA All-Star is looking forward to developing a scintillating career ahead over the course of time.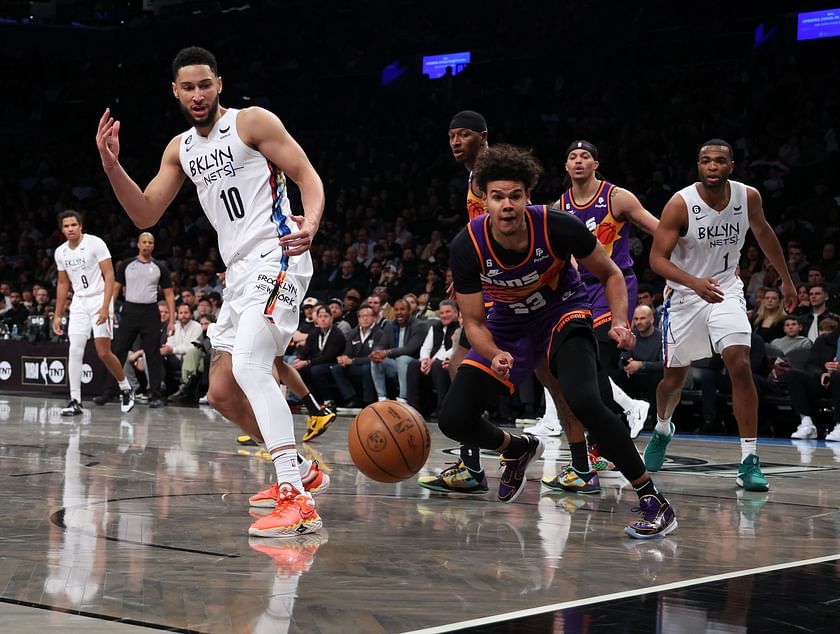 Ben Simmons's Endorsements
Ben Simmons is also getting himself featured with some renowned brands for commercial endorsement deals. Simmons is one of the best-paid athletes in the current sports scenario. The Brooklyn Nets point guard is already involved in a multi-year deal with one of the leading shoemakers Nike. After undergoing discussions with New Balance about potentially switching brands, Simmons signed a contract extension (three-year) with the brand. Ben was originally signed with Nike before the 2016 NBA draft with a 5-year deal worth US$20 million. He chose Nike after having discussions with Adidas as well.
Furthermore, Ben Simmons also has inked an agreement with Footlocker as well as Beats by Dre. He was signed to do some commercials for both organizations. The pro basketball player is also involved in an agreement with some other brands such as Upper Deck and popular wine brand Penfolds Wines. to create more wealth. Ben has already shown his love for Call of Duty. We can expect him to do a commercial for the same in the future. Following all these endorsement deals, his net worth is likely to witness a significant surge in the future.
Ben Simmons's Investments
Making investments in respectful brands or new business startups is another valuable idea to generate an additional fortune. Ben Simmons is also not likely to miss the opportunity when it comes to making healthy investments. Back in 2020, he joined the esports firm, FaZe Clan as an investor as well as a brand ambassador. He held the position of brand ambassador under the name 'FaZe Simmo'. According to the official statement, the then-Philadelphia 76ers forward will be the organization's brand ambassador. He will be responsible for content along with an advocate for gaming and esports. He will also work for the expansion of the firm globally. The terms and conditions of the agreement are still under the cover, however.
Ben Simmons's Other Sources of Income
The Australian basketball superstar Ben Simmons is already among the most successful players in the NBA. He is possessing an approximate net worth of 8 million USD and continues to grow year by year in his career. With the Brooklyn Nets, he received a salary of US$33 million for the 2021-22 season. The stardom of the athlete also unlocks other ways to create some additional income.
Besides his professional NBA career, Simmons also earns good fortune by having endorsement deals with different companies and brands. He has already become one of the most favorite players in the corporate world. That's why several big brands are looking forward to signing him for brand and product promotions. Additionally, Ben Simmons also takes interest in real estate to earn more bucks.
Ben Simmons's House
When we come to discuss Simmons' residential properties, we come across some luxury places. He owned a USD 17.5 million mansion in the summer of 2021 in Hidden Hills, Los Angeles. The 12,000 square feet area is decorated gorgeously with lavish items. It joins the trend of all-black farmhouses to exhibit dramatic exteriors. It utilizes glass and rustic wood along with the charcoal-colored brick. Additionally, the farmhouse features a spa, a swimming pool, a patio, two motor courts, a wood deck, and a cabana.
Furthermore, the Australian basketballer also owns a five-bedroom house in Moorestown, New Jersey. It is a beautiful destination that spreads 10,477 square feet and features six bathrooms, a fireplace, white oak hardwood floors, custom cabinetry and a wet and dry bar. In addition to that, the residential property also comprises a larger fish tank, an oversized movie theater as well as a private gaming room. It is located 23 miles away from the Wells Fargo Center.
Ben Simmons's Cars
Simmons feels no hesitation while adding new automobiles to his extensive car collection. The son of a former basketballer includes several luxury cars to make traveling more fun and comfortable. Firstly, Simmons has a Rolls-Royce Cullinan. It is a luxury sedan with a perfect blend of refinement and performance. You will get superior performance since the opulent SUV contains excellent dynamics, including 563 HP and 627 lb-ft of torque.
In the fleet, there is a Ferrari 488 Pista Spider that also exhibits a magnificent range of specs and performance. It shows attractive exteriors along with great stamina and unmatched character levels. The Spider version of the Pista equips a 3.9-litre twin-turbo V8 with 710HP power. It takes only 2.8 seconds to attain the 60mph speed mark. Lamborghini Urus is another gem in the car collection of Ben Simmons. The brand is majorly known for its high-performance track-bred supercars. It also comes with some great features to ensure pleasant driving on the road.
Rolls-Royce Wraith can also achieve a speed number of 60mph in just 4.5 seconds. It acknowledges a 6.6-litre twin-turbocharged V12 engine with 624 HP power. Ben drives this beautiful car rarely, however. In other four-wheelers in the fleet, there is Custom Ford F-150, Ferrari 488 Pista, Porsche 918 Spyder etc. All in all, Ben Simmons hosts a marvellous range of car brands in the fleet to cover distances in a fraction of the time.
Ben Simmons's Charity Work
Meanwhile, the Australian NBA superstar can also be seen doing some philanthropy. He is the founder of the Ben Simmons Family Foundation. It is an Australia-based charitable trust that works for the betterment of underprivileged children and communities. It works dedicatedly to promote education, wellness and technology through focused actions. In addition to that, he also organized annual basketball camps to support children belonging to Helping Hoops. This initiative gives children an opportunity to learn game skills under Simmons' supervision.
FAQs
Q. How old is Ben Simmons?
A. Ben Simmons was born on July 20, 1996, in Melbourne. He is 26 years old.
Q. How tall is Ben Simmons?
A. Ben Simmons stands 6 feet 10 inches (2.08m) in height.
Q. Is Ben Simmons an NBA champion?
A. No, Ben Simmons is still waiting for his first NBA title. He is a 3-time NBA All-Star.
Q. Is Ben Simmons married?
A. Ben Simmons is engaged with TV presenter Maya Jama. They are yet to marry each other.
Q. What is Ben Simmons' nationality?
A. Ben Simmons belongs to Australia and he was born in Melbourne.
Q. When did Ben Simmons enter the National Basketball Association?
A. Ben Simmons entered the NBA in 2016. The Philadelphia 76ers picked him up in the 2016 NBA draft.