Born on February 8, 1990, Klay Alexander Thompson is an American professional basketball player. He plays for the Golden State Warriors of the National Basketball Association. Thompson won many awards with the United States National Team during the 2014 World Cup team and 2016 Olympic teams. Golden State selected him with the 11th overall pick in the first round of the 2011 NBA draft. Earlier, he played high school and college basketball for Santa Margarita Catholic High School and Washington State University, respectively. He has a family sports background, as his mother played basketball in college, and his father was selected as the first overall pick.
| | |
| --- | --- |
| Name | Klay Thompson |
| Net Worth | USD 70 Million |
| Age | 33 years |
| Residence | Los Angeles |
| Marital Status | Unmarried |
| Position | Shooting Guard |
| Source of Income | Basketball, Endorsements |
| Salary | $37,980,720 |
| Endorsements | Panini, Body Armor, Gillete Bevel and NERF |
What is Klay Thompson's Net Worth in 2023?
As of 2023, the net worth of Klay Thompson is estimated to be around $70 million. He is one of the most prestigious players in the NBA. Most of his income comes from the basketball court.
He is a four-time NBA champion with the Warriors, five-time NBA All-Star, and two-time All-NBA Third Team honoree. Apart from this, he was also named to the NBA All-Defensive Second Team. He was selected as the 11th overall pick by the Golden State Warriors in the 2011 NBA Draft. During his basketball career, he spent most of his time playing for the Golden State Warriors. Apart from his basketball earnings, Thompson earns massive sums from endorsement deals and other investment projects.
Klay Thompson's Salary
The American professional basketball player Klay Thompson has signed a 5-year deal with the Golden State Warriors worth $189,903,600 that has guaranteed him $189,903,600 with an annual average salary of $37,980,720. He will earn a base salary of $40,600,080 during the 2022-23 season.
Apart from his basketball career, he earns significant money from his endorsement deals and investments. He has endorsement deals with various brands, including Panini, BodyArmor, Electronic Arts, Gillette and NERF.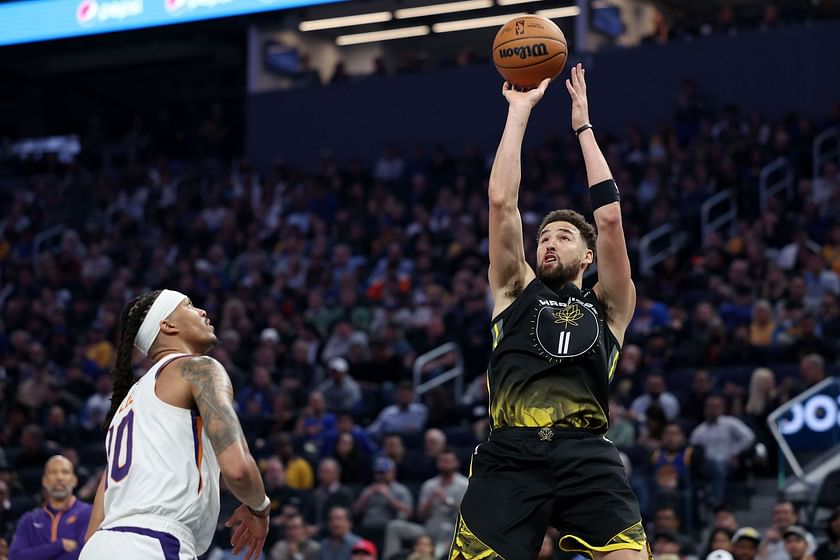 Klay Thompson's Endorsements
Some of his net worth comes from his brand endorsements with various brands. After suffering many injuries, he added endorsement deals with Waiakea Water, NERF and Bevel. These endorsement deals add a significant portion to his wealth. As per the reports, he earns around $14 million yearly from his brand sponsorships. Since his introduction to the NBA, he has signed endorsement deals with companies such as Panini, Gillette, BodyArmor, NERF and Anta Sports Products.
Further, Thompson is among the few players with a sponsorship deal with the Chinese shoe company, Anta. He signed a 10-year deal worth around $80 million with this shoe company in 2016. Apart from this, he is also a co-founder of Just Live CBD.
Klay Thompson's Investments
Klay Thompson discussed his investment journey in an interview. He claimed that understanding the world of investment has been its own journey for him. He has invested in a number of fields, including technology, sports and wellness. Recently, he made large investments in several big companies, i.e. Sleeper, Dapper Labs, Carbon Health, Sundae etc.
There is always an opportunity for investments in business startups that reach the globe's far corners. Thompson always tried to add fun to the business areas. He left the well-known sneaker company Nike to join the Chinese sneaker company, Anta.
In addition to this, Just Live CBD was co-founded by him, with USWNT star Alex Morgan. This company makes a variety of cannabis products for sleep, stress, relief and recovery. He himself credits the company as their products helped him to recover fastly.
Klay Thompson's House
Thompson owns a new house facing the seaside, 400 miles from the Los Angeles headquarters. It is a huge house with an area of 3500 square feet. The house's interior is very attractive, and the ambience surrounding the house is very calm. This house has three bedrooms.
Klay Thompson also has a 2400 square feet house in California where his family resides. He bought this house in 2015 and renovated it during the pandemic. The house's interior is well designed as per his family's needs. This house has an exquisite design. This house has an approximate value of around 2.2 million USD.
Thompson never revealed where he lives now but has provided some clues about his location. In a recent interview, he talked about his dog adjusting to city life, which can be a clue for his fans to know his location. Some pics of this house are very charming as it is wonderfully redesigned by a luxury designer, Tiffany Howell. Thompson claimed that he has a great affection for his old home. He did not want to sell his house, so he renovated it.
Klay Thompson's Car

Along with playing basketball, Thompson shows a great interest in driving luxury and muscle cars. He has a great collection of luxury and sports cars. Besides these sporty cars, Klay is also interested in owning vintage cars. The iconic Lincoln Continental (1970-79 era) is his first personal favourite car from his car collection. This car used to come with a V8 engine that produces 365 hp. After this vintage car, next comes the muscle car, Chevy Camaro. This car has many engine variants, including a 275 hp V6, a 375 hp V6 and a 455 V8.
Moreover, the BMW i8 is the other vehicle in his garage. This car has a 1.5-litre 3-cylinder turbocharged petrol engine, an 11.6 kWh battery, and two electric motors powering all four wheels. This car produces a power of 369 bhp and has a 0-60 acceleration time of just 4.1 seconds. After these sedan cars comes the SUV, Range Rover Velar. This car has many variants producing 247 hp, 335 hp and 395 hp. A 4*4 variant is available in all the trims. Mercedes G-Wagon is the next car in Thompson's car collection. It is a unique SUV with hardcore offroading abilities and insane luxury. This SUV is powered by a twin power-charged V8 engine that produces 416 hp.
Klay Thompson's Charity Work

Thompson is very dedicated to the well-being of society. He devoted his time and funds to helping various nonprofit organisations. He worked for the sake of people in the California Bay Area in 2015. The charity work of the Thompson family expanded in 2017 when they created the Thompson Family Foundation. The main motive of this foundation is to motivate youth through fitness and education.
Thompson Family Foundation helped people affected by Hurricane Dorian. They provided both short and long-term relief to the affected people. This storm caused total devastation of $3.4 billion, equal to a quarter of the country's GDP. The foundation claimed to improve the life of the Bahamans affected by the storm.
FAQs
Q. What was Klay Thompson's best season?
A. As per the records, 2017-18 is claimed as the career-best season for Thompson.
Q. What is Klay Thompson's win-loss record?
A. Klay Thompson has a win-loss record of 472-219 in his career.
Q. What is Klay Thompson's career-high?
A. The American basketball player Klay Thompson scored his career-high 60 points in a game against the Pacers on December 5, 2016.
Q. Does Klay Thompson have a ring?
A. Klay Thompson holds four rings from his NBA victories with the Warriors.