Dwyane Tyrone Wade Jr., born January 17, 1982, is a former American professional NBA player. He spent the majority of his career playing for the Miami heat. He played 16 NBA seasons in his entire career and is a 3 times NBA champion and 13 times NBA All-star. He was selected by the Miami Heat as the 3rd overall choice in the 2003 NBA Draft. Dwayne was Miami Heat's all-time leader in points, assists, games, shots taken, and shots made. He also won the gold medal with team USA in the summer Olympics of 2008. Wade was honored by being named to the NBA 75th Anniversary Team as one of the finest players in league history and he is also considered one of the greatest shooting guards in NBA history.
| | |
| --- | --- |
| Name | Dwyane Tyrone Wade Jr. |
| Net Worth | $170 million approximately |
| Age | 41 years (born January 17, 1982) |
| Residence | Miami Beach, Florida |
| Position | Shooting guard |
| Marital Status | Married |
| Source of Wealth | NBA player |
| Salary | $24 Million |
| Endorsements | Panini, Gatorade, New Era, Li Ning Company Ltd, Hublot, TNT |
Dwayne Wade Net Worth in 2023?
The former American guard has a net worth of $170 million. During his career, he earned around $199 million in salary alone. Apart from his professional basketball career, a major portion of his wealth came through other sources of income, mainly endorsements. He is currently an analyst for TNT.
Dwyane Wade's Salary
Dwyane Wade spent 16 seasons with the Miami Heat, and won three championships with them and earned a total amount of about $157 million. He also had one season with each of the Cleveland Cavaliers and Chicago Bulls in between from 2016-18, where he made almost $38 million. His total earnings is around $199 million from the NBA.
Dwyane Wade's Endorsements
Dwyane Wade endorses some big brands that includes
Panini, Gatorade,

New Era,

Li Ning Company Ltd, and

Hublot.
The most notable endorsement agreement of his career is the shoe contract he signed with Li Ning in 2012. Dwyane Wade's first shoe deal was with Converse, a six-year deal for $4,00,000 a year in 2003. By 2006, the 'Converse Wade 1' was selling more than a million pairs each year.
He left Converse in 2009 and joined Nike's Jordan line. Dwyane Wade and the Chinese company Li-Ning agreed to a $60 million, ten-year agreement in 2012. This progressed to a lifelong agreement with an equity stake.
Dwyane Wade's Investments
Along with famous musician Drake, Dwyane has invested in a digital sports media startup company 'The Mars Reel', which will cover top high school athletes and their teams. There are other celebrities involved in this venture.
Real Estate
Dwyane and Gabrielle own three houses. The first one is a waterfront Miami mansion which they acquired in 2010. The house was listed for sale in 2019 for $32.5 million, which was reduced to $29 million, with no takers yet. The second mansion is situated in Sherman Oaks, which the couple bought in 2018. Their most recent acquisition is a residence in Hidden Hills, spread across 22,000 square feet.
Dwyane Wade's Other Sources of Income
Apart from his various endorsements, Dwyane Wade has appeared in television shows, commercials, and magazines. He has also been featured in People Magazine's 50 most beautiful people and has also been recognized as one of the best-dressed players in the NBA by GQ. One of Dwyane's first ventures is with bow tie company 'The Tie Bar.' Recent reports also indicate that he has ventured into the sock industry. He is looking to launch his own sock line - ranging from the athletic, casual, dress, and the like.
Dwyane Wade is also part of the wine industry. He currently has a line of Napa Valley red wine sold for $250 a bottle. He also has tie-ups with the Swiss watch brand Hublot.
As per reports Gabrielle and Dwyane have sent in trademark applications for Kaavia James and Shady Baby, the former for a fashion line that includes clothes, hair care products, and jewelry. The latter, Shady Baby, is for a loan-out company.
Dwyane Wade's House
Dwyane Wade owns a $11 million mansion named Château Artisan in the outskirts of Miami. The mansion is over the freshwater lake which includes 20,000 square feet of living space, eight bedrooms, seven bathrooms, five powder rooms, black granite pool and all of the luxurious amenities.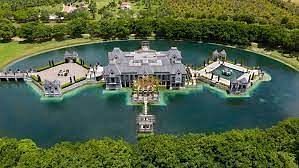 Dwyane Wade's Car
The three times NBA champion owns some 16 luxury cars like the Mercedes SLR McLaren, Porsche 911 GT2 RS,McLaren MP4-12C, McLaren 570S etc.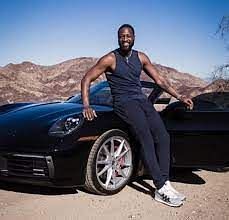 Dwyane Wade's Charity Work
Dwyane founded 'The Wade's World Foundation' in 2003, which supports community-based organizations that work with at-risk children to promote education, health, and social skills.
He announced a partnership with former Miami Heat teammate Alonzo Mourning's charitable foundation in 2008 and co-hosted ZO's Summer Groove, an annual summer fundraising event.
Dwyane also donated money from his foundation to keep the Robbins, Illinois public library from closing in 2009. In 2010, Dwyane, along with Alonzo Mourning, founded the Haitian earthquake relief fund. Wade is known for visiting sick children and is an Ambassador for Hoops for St. Jude's Children's Research Hospital.
FAQs
Q. How much is Wade worth?
A.. Dwyane Wade has a net worth of about $170 million as of March 2023. The American basketball player is well-known and has represented some of the best NBA teams and won three championships.
Q. Dwyane Wade Height?
A. The former Miami guard player is 6 feet 4 inches Tall (1.93m) and weighs about 100 kg or 220 lb. He can play as either the shooting guard or the off-guard. He is thought to be among the best slashers in the NBA.
Q. What does Dwyane Wade do for a living now?
A. Wade is presently the host of The Cube's American adaptation. He also endorses several brands
Q. Why did Dwyane Wade retire early ?
A. As LeBron was traded to the Cavaliers he finds it tough to win any championships further as winning requires a team effort, coordination and a lot more.