DeMar DeRozan is an American basketball player born on Aug 7th, 1989. He plays for the Chicago Bulls in the NBA and is currently playing his 8th season. He is known for his mid-range shooting and is regarded by many as the purest mid-range shooter in the NBA right now. He is a five-time NBA All-Star and was named to the All-NBA Second Team in 2018 and 2022 and to the All-NBA Third Team in 2017. DeRozan is part of the US Basketball team that won the Gold Medal at the 2014 World Cup in Spain. He was also a member of the US team that won the Gold Medal at the 2016 Rio Olympics. He was selected by the Toronto Raptors as the 9th overall pick in the first round of the 2009 NBA Draft.
| | |
| --- | --- |
| Name | DeMar DeRozan |
| Net Worth | $24 million approximately |
| Age | August 7, 1989 (age 33) |
| Residence | Toronto |
| Position | Shooting guard |
| Marital Status | Married |
| Source of Wealth | ProfessionalBasketball, Endorsements, and Investments |
| Salary | $27.3 million |
| Endorsements | Nike, Gatorade, Spalding, Klipsch Audio |
DeMar DeRozan Net Worth in 2023?
As of 2023, Thef five times NBA All-Star for the Chicago Bulls, DeRozan has a net worth of $24 million.
DeMar DeRozan Salary
DeRozan signed a three-year, $82 million contract with the Chicago Bulls in 2021, where he is currently the second-highest paid player. He will be paid $27.3 million for the 2022–2023 season. Earlier after playing four seasons with the Toronto Raptors, on July 14 2016, DeRozan re-signed with the Raptors on a five-year, $139 million deal.
| | |
| --- | --- |
| Season | Salary/year |
| 2019-20 | $27.3 million |
| 2020-21 | $27.3 million |
| 2021-22 | $27.3 million |
| 2022–23 | $27.3 million |
DeMar DeRozan's Endorsements
He has an endorsement deal with Nike, a deal he has signed in 2018. He also endorses Gatorade and owns a Mercedes Benz G63. Before the 2017–18 season, DeRozan extended his contract with Nike, and he was chosen to lead the relaunch of Kobe Bryant's first signature sneaker.
DeMar DeRozan's Investments
In February 2022, DeMar made an investment in the shoe rental company KYX World. Dedicating to his hometown of Compton, DeMar introduced his own clothing line in 2019 under the name Comp10.
DeMar DeRozan's House
DeMar DeRozan owns a $4.5 million River North mansion which includes a 20,000 square feet area that he buys from Michael Jordan's former spouse who listed it for sale. The home has four fireplaces, a three-car heated garage, a library, a recreation and pool room, six bedrooms and an elevator with five stops.
DeMar DeRozan's Car
The Bulls guard owns several cars like the Mercedes Benz AMG G-Wagon. In May 2014, he bought the Benz G63 from Prompter Sports and also has the Ford F-150 Raptor as another cool vehicle.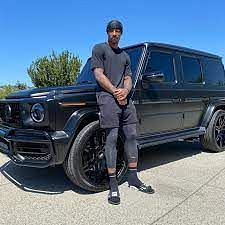 DeMar DeRozan's Charity Work
During his time with the Toronto Raptors, DeRozan collaborated with the Make-A-Wish Foundation to fulfill the wishes of kids in Canada. Plus, During his first season in the NBA, DeRozan established a Slam Dunk Book Club in Toronto. For nine years, more than 100 children attended to learn, and practice basketball. From the middle of February to the middle of April, the group met every Saturday, and DeMar made sure the kids met him at the end of each session.
FAQs
Q. How many 50-point games does DeRozan have?
A. DeRozan has been an NBA All-Star five times, and in 2018 and 2022, he was chosen to the All-NBA Second Team and the All-NBA Third Team, respectively. He has scored fifty points or more in two games.
Q. How tall is DeMar DeRozan ?
A. The Chicago Bulls guard is 6 '6 " (1.98m) tall and weighs about 100 kg (220 lb) and plays at the position of Shooting guard.
Q. Why did DeRozan not play?
A. DeRozan missed Friday's game in Portland as in Wednesday's game against Philadelphia in the third quarter he suffered with a right quad injury.
Q. How many 30-point games does DeMar DeRozan have?
A. DeMar DeRozan has 172 games with 30+ points under his belt. Plus, With 998 points, DeMar DeRozan scored the most points of his career against the Knicks.
Q. Does DeRozan have a ring?
A. The Chicago Bulls player doesn't own any rings in his career.