Tristan Thompson is a Canadian-American professional basketball player who last played for the Chicago Bulls in the National Basketball Association (NBA). All through his NBA Career he has played for the Boston Celtics, Sacramento Kings, Cleveland Cavaliers and Indiana Pacers. He was with the Cavaliers squad when they won the 2016 NBA Championship and was selected by the Cavaliers as the fourth overall choice in the 2011 NBA Draft. For his high school freshman year, Thompson attended St. Marguerite d'Youville Secondary School in Brampton, and then eventually decided to attend Saint Benedict's Preparatory School in Newark, New Jersey for his sophomore year. He only played one season of college basketball for the University of Texas' Longhorns, and then declared for the NBA draft. Thompson also plays for the Canadian national team.

| | |
| --- | --- |
| Name | Tristan Trevor James Thompson |
| Net Worth | Approximately $50 million |
| Age | 32 years (born 13 March, 1991) |
| Residence | Brampton, Ontario |
| Position | Center |
| Marital Status | Unmarried |
| Source of Wealth | Professional Basketball, Endorsements, Investments |
| Salary | $9.7 million approximately |
| Endorsements | Beats by Dre, Compex, Moet & Chandon (Nectar Imperial Rose), Mountain Dew and Nike. |
Tristan Thompson's Net Worth in 2023?
The former center for the Chicago Bulls has a net worth of $50 million. He was the highest Canadian drafted player in the 2011 NBA draft. His earlier professional basketball career contracts, organisation salary, brand sponsorships are some of the sources of the income. He also has a vast social media presence on varied platforms and endorses several brands.
Tristan Thompson's Salary
Tristan Thompson last played for the Chicago Bulls in 2022. The predicted salary for Thompson in 2023 is $9.7 million. His primary sources of revenue come from his playing career with the Canadian National Basketball Team, the NBA, and endorsement deals.
Salary History
| | | |
| --- | --- | --- |
| Season | Team | Salary |
| 2011-12 | Cleveland Cavaliers | $3,726,600 |
| 2012-13 | Cleveland Cavaliers | $4,006,080 |
| 2013-14 | Cleveland Cavaliers | $4,062,000 |
| 2014-15 | Cleveland Cavaliers | $5,138,430 |
| 2015-16 | Cleveland Cavaliers | $14,260,870 |
| 2016-17 | Cleveland Cavaliers | $15,330,435 |
| 2017-18 | Cleveland Cavaliers | $16,400,000 |
| 2018-19 | Cleveland Cavaliers | $17,469,565 |
| 2019-20 | Cleveland Cavaliers | $18,539,130 |
| 2020-21 | Boston Celtics | $9,258,000 |
| 2021-22 | Sacramento Kings - Indiana Pacers | $8,946,611 |
| 2021-22 | Chicago Bulls | $1,000,000 |
| Total Earnings | (11 seasons) | $118,137,721 |
Tristan Thompson's Endorsements
Along with his Basketball career, he has also made appearances in YouTube, NBA app advertisements and Keeping Up With The Kardashians. In 2015, Tristan apparently had a deal with Canada's very own restaurant chain- Tim Hortons. Thompson has been endorsing some renowned brands like
Beats by Dr. Dre,

Compex,

Moet & Chandon,

Mountain Dew, and

Nike
Tristan Thompson's Investments
Thompson is known to be a big spender and is known to have a luxurious car collection. He is also known to give back to the community through his charitable efforts. He founded The Amari Thompson Fund in honor of his younger brother.
Tristan Thompson's Other Sources of Income
The former Chicago Bulls player is quite active on social media platforms and has 3.7 million followers on Instagram. He earns between $6,000 and $10,000 per post. He is known to post about his 2 kids. Thompson's other sources of income mostly include his endorsement deals and the content he shares on his social media platforms.
Tristan Thompson's House
Tristan Thompson bought a massive 10,584 square foot property for $12.5 million that is two miles from Kardashian's Hidden Hills home. The mansion has six stylish bedrooms, ten bathrooms, a fireplace in the garden and a rose garden in the backyards.
Back in 2020, he also sold his gated mansion in LA's increasingly swank Encino neighborhood, for $8.5 million, The 10,000 sq. ft. manor houses have 7 bedrooms and a total of 7 bathrooms, plus all the latest luxurious amenities.
Thompson also owns a house at Cleveland earlier which he sold after he joined the Boston celtics. The lakeside house has a six-bedroom, seven-bathroom for $2.5 million. The property also includes a wine cellar, billiards room, poker room, theater, a full bar, and a gym.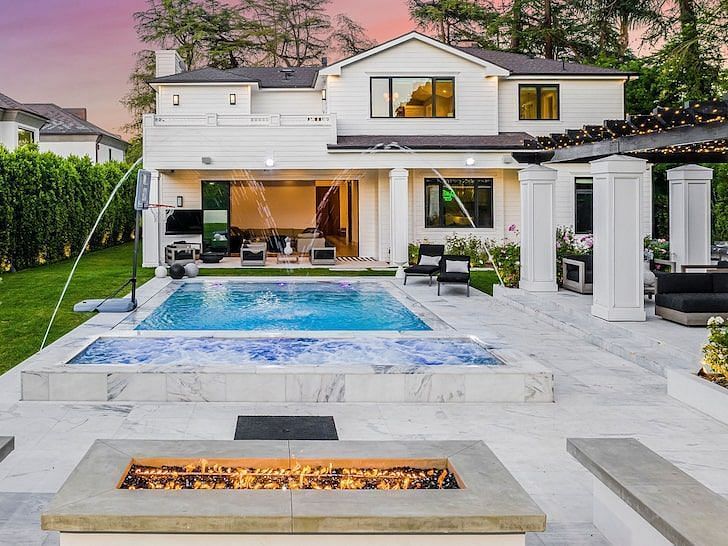 Tristan Thompson's Car
The NBA champion is known to own a collection of eight high-end vehicles. Range Rover, Lexus, and Lamborghini are included in the collection.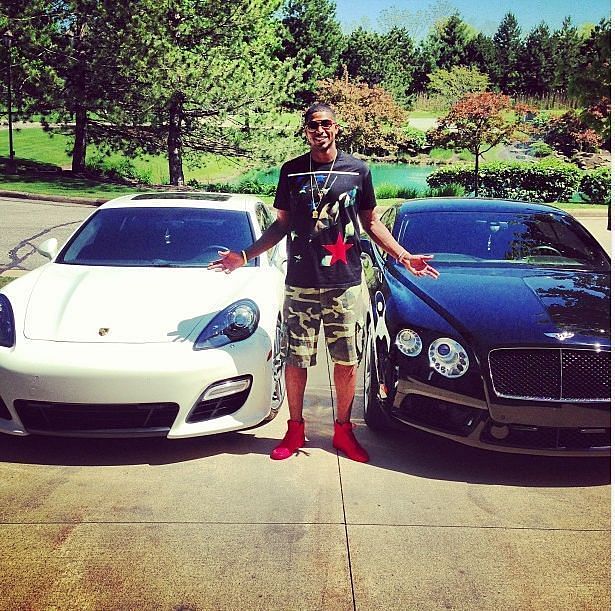 Tristan Thompson's Charity Work
Tristan is the founder of The Amari Thompson Fund which he started in honor of his younger brother. The Fund helps children diagnosed with neurological disorders by supporting their epilepsy treatment. Thompson's youngest brother Amari has a neurological disorder and experiences seizures almost daily due to his condition.
While Thompson was with the Cleveland Cavaliers, he was one of seven NBA players nominated for the 39th annual J. Walter Kennedy Citizenship Award which is presented by the Pro Basketball Writers of America. Community service by Thompson consisted of purchasing turkeys and full bags of groceries for 150 families from Historic Greater Friendship Baptist Church in Cleveland, shopping sprees for children, as well as working to raise awareness of domestic violence and pediatric epilepsy.
He also runs the Cleveland Children's Rehabilitation Hospital, BLOCKS 13, and Greater Cleveland Food Bank.
FAQs
Q. How long did Khloe Kardashian dating Tristan Thompson?
A. Tristan Thompson and Khloe Kardashian have been together for the last six years but their relationship never went that smooth and are facing many ups and downs in the relationship between Khloé Kardashian and Tristan Thompson, Together the couple had two kids.
Q. Tristan Thompson's height?
A. The former center for the Chicago Bulls was reported to be about 115 kg or 254 lb and 6 feet 9 inches or (2.06m) tall and plays at the position of center.
Q. What ethnicity is Tristan Thompson?
A. Tristan Thompson is Canadian American basketball player who was drafted in the 2011 NBA draft and won a championship with the Cavaliers in 2016 NBA championship.
Q. Does Tristan Thompson have a gf?
A. Yes, Tristan Thompson is currently dating Texas fitness model Maralee Nichols. On December 3, 2021, Maralee Nichols gave birth to a son, named Theo.