La Liga Articles
Will Cesc Fabregas make a return to the EPL? Reports have surfaced in Spain today that Barcelona are willing to listen to offers for Cesc Fabregas, ...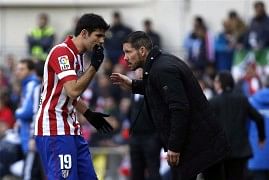 Simeone and Atletico's destructor-in-chief Diego Costa Rewind to August 2013. Atlético Madrid are preparing for the 2013/14 season without ...
Antoine Griezmann, the talented French winger According to the Mirror, Antoine Griezmann is on the radars of a multitude of Premier League clubs, ...
Manchester United and Arsenal are reportedly monitoring the situation of Cesc Fabregas after a recent poll suggested 50% of Barcelona fans would ...
Chelsea manager Jose Mourinho suffered his first defeat at home since 2011. Losing at home is something that Chelsea manager Jose Mourinho is not ...
Luka Modric may reunite with Jose Mourinho at Chelsea We have found a new FIFA agent in Francis Gallardo, who has regularly reported that Chelsea ...
Kiko Casilla of RCD Espanyol has been catching the eye of a number of big clubs. Arsenal and Manchester United's reported target Kiko Casilla, of ...
Liverpool will still like to bolster their already formidable frontline According to The Mirror, Liverpool are still chasing Barcelona youngster ...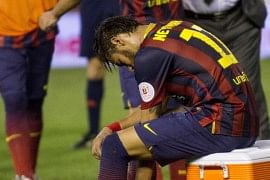 Neymar could be sidelined with an injury for the rest of the season. Things couldn't possibly get any worse for Barcelona, as they face yet ...
Dejected Lionel Messi Eight days. It took just eight days for Barcelona to perceive how will they conclude this season-TROPHYLESS. After the ...
Tata Martino has got it all wrong at Barcelona Barcelona are out of all the three competitions (Champions League, La Liga and Copa del Rey) within ...